Ladders are so common that it's easy to forget the risks involved in using them.
OSHA estimates that, for general industry companies, falls from ladders — step, straight, combination, and extension — account for 20% of fatal and lost workday injuries.
Most of these incidents would have been prevented by compliance with OSHA standards. Falling from heights, one of the most-cited OSHA violations, includes ladder safety violations.
If your business is covered by federal (or state) OSHA, and you make ladders available for your employees to use, you're required to adhere to ladder training and safety standards. The good news? These safe practices help you protect workers and prevent costly injuries.
Review the OSHA ladder regulations (and accompanying images) to ensure your employees take the necessary steps to avoid falls. 
For an in-depth review of the OSHA Ladder Requirements for Construction, which includes ladders used in emergency operations and tactical law enforcement operations, click here.
What are the OSHA Regulations for Ladders?
The OSHA general industry requirements for using ladders are covered under 1910.23 – Walking-working Surfaces: Ladders. They stipulate the structural requirements and usage restrictions for various types of ladders. They also include guidelines on ladder setup and usage and restrict unsafe behaviors like attaching ladders together to reach a greater height.
The employee training requirements for ladder safety are also covered within 1910.30 Walking-Working Surfaces. If you're an employer, it's your responsibility to train your employees to use ladders safely. If an employee feels unsafe, they have the right to refuse work.
The OSHA general industry ladder requirements can be summarized as follows:
Use one! A step stool or ladder is required when attempting to reach or perform tasks overhead. Don't step on chairs, boxes, bins, or other objects.
Choose the right style, height, material, and performance (duty) rating required for the job.
Inspect ladders before initial use and before each work shift: replace defective ladders.
Set up and use your ladder according to the manufacturer's label.
Climb and balance safely.
Avoid hazards and misuse like ascending a closed ladder.
Communicate ladder-related hazards like damaged or defective equipment.
Train all employees on the above requirements (if applicable to you).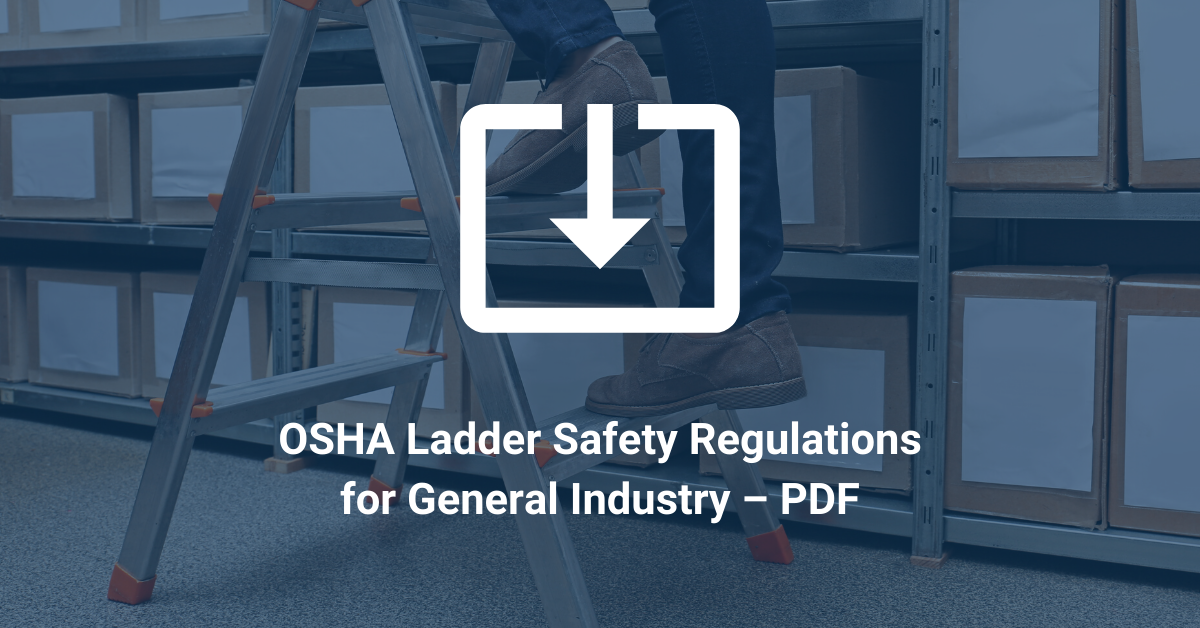 View and print the complete 1910.23 OSHA Ladders Standards PDF. (Retrieved from osha.gov on 1/10/2020)
You can also view and print the popular OSHA Portable Ladder Quick Card here.
Let's take a closer look at the OSHA regulations and requirements for ladder safety.
Choose the Right Ladder
Using ladders safely begins with choosing the right one for the job. OSHA regulations list a few types, including stepstools, stepladders, rolling ladders, extension ladders, and self-supporting ladders. However, the standards are meant to apply to any portable ladder used by your employees, even when not expressly listed. 

All ladders in use must be able to support their maximum intended load and have parallel rungs supported by a rail on each side (portable single-rail ladders are prohibited). Rungs must be equally spaced and shaped/built so that the user's foot will not slip during normal use.
When choosing the correct ladder for the job, read the label carefully. Also consider ladder type, height, and duty rating. Metal ladders should never be used for electrical work or near uninsulated electrical conductors.
1. Ladder Types and Uses
Select a style that gives you the support you need for the job. Common ladder types include:
Step stools – Stools are used when a small amount of height is needed to reach shelves or overhead storage. According to OSHA standards, step stools must be sturdy and able to support the intended weight of the task. Stools over 24 inches high require a handrail.
Self-supporting (step) ladders – Often A-shaped, these ladders stand up on their own and come in a wide variety of materials and duty ratings. Height ranges from 6 to 30 feet. Self-supporting ladders must have a spreader or locking device that is locked before using. Never use a self-supporting ladder in the closed position.
Straight ladders – Lean a straight ladder onto a structure to reach an upper level. When using a straight ladder, the top of the ladder must exceed the height of the structure it's leaned on by three feet and it must be leaned at a 75-degree angle—i.e. 1:4 or 1 foot out from the wall for every four feet of ladder height. Height is typically between 10 to 30 feet.
Extension ladders – Extension ladders, available in 16 to 60-ft heights, are straight ladders with a base section and a fly section that can be adjusted for various heights.
Platform ladders – Platform ladders are step ladders with a platform area and a top handrail. The same guidelines apply as for A-frame ladders.
Rolling ladders – Also known as rolling staircases, rolling ladders are commonly used in stock-picking scenarios such as in warehouses, or to reach equipment of a specific height, such as the feed bin on a production machine in a factory. Some straight ladders have wheels but aren't considered rolling ladders. No ladder with wheels should ever be rolled while carrying an occupant.
Your ladder's feet should enable it to hold the weight of you and your supplies without slipping or digging too far into the ground.
If you don't have access to the right ladder for the job, or if you are asked to operate a ladder incorrectly, notify someone right away. Under OSHA law, you have the right to refuse work until you can perform your duties safely.
2. Ladder Height Regulations
Select a ladder that will allow you to complete your desired task while remaining securely balanced, and you should never stand on the top two rungs of a step ladder or above four rungs from the top on an extension ladder.
An extension or straight ladder used to access an elevated surface must extend at least 3 feet above the point of support (see diagram). A ladder extended to a height of 48-ft or longer requires a 6-ft extension beyond the eave.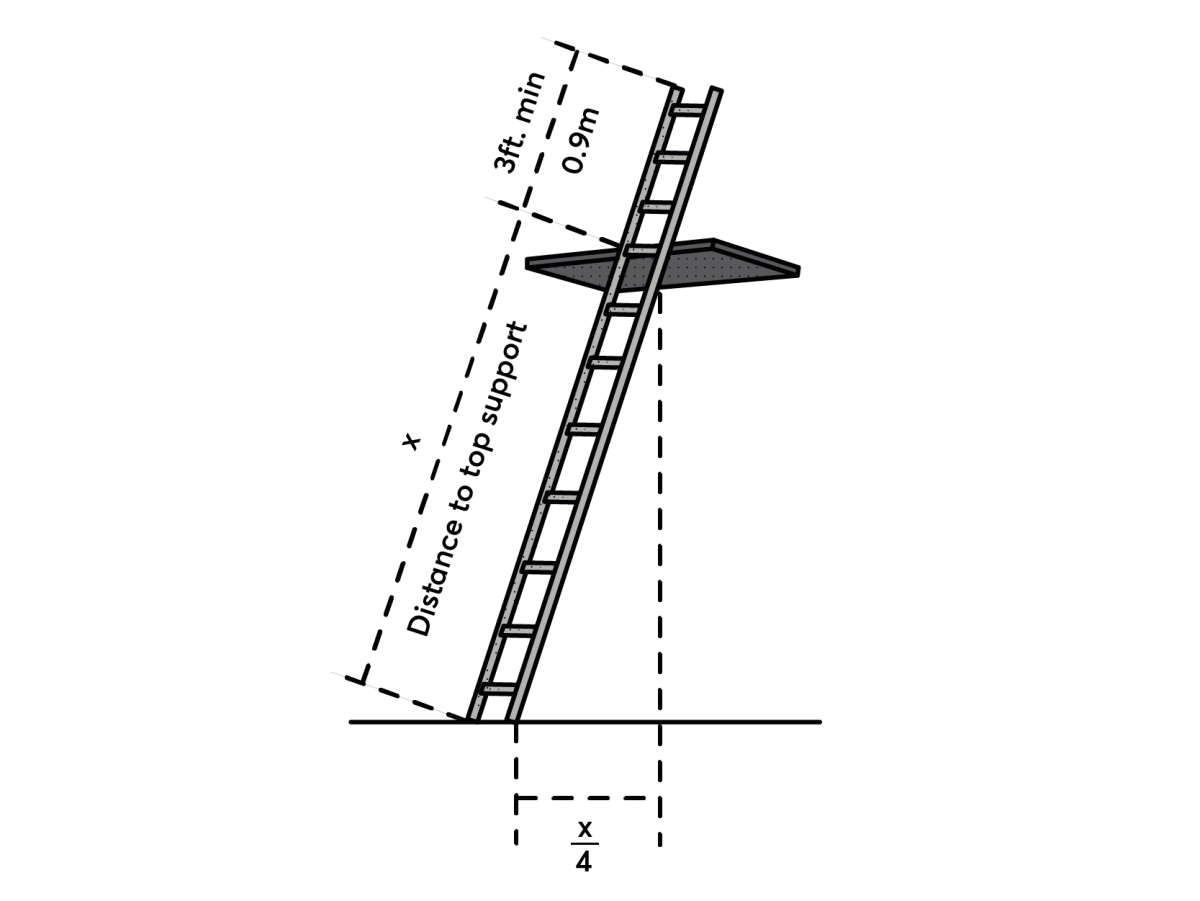 Never climb an extension ladder while hand-carrying tools or material; climb first then hoist tools up using a rope or block and tackle.
A 6-ft. step ladder has an average reach of 10 feet, an 8-ft. ladder has a 12-foot reach, and so on.
Don't use the top cap of an A-frame ladder as a step. Instead, use a taller ladder.
3. Ladder Duty Rating
Use the ladder duty rating listed on the label to determine whether the ladder is stable and strong enough to support the job. 

The ladder duty ratings and weight limits are:
Type 3: Maximum weight of 200 lbs, light-duty for household use
Type 2: Maximum weight of 225 lbs, medium-duty for painters, handymen, and other simple projects
Type 1: maximum weight of 250 lbs, heavy-duty for professional and/or industrial use with lightweight tools and equipment
Type 1A: maximum weight of 300 lbs, extra heavy-duty for professional and/or industrial use with medium-weight tools and equipment
Type 1AA: maximum weight of 375 lbs, super duty for heavy jobs
Take the weight of your clothing and PPE into account, as well as the weight of any tools and materials you will be using.
The weights of commonly used tools and materials are:
5-gallon bucket of paint – 60 lbs
Portable sprayer – 20 lbs
Ceiling fan – 30 lbs
Toolbox – 35 lbs
Bundle of shingles – 70-100 lbs
A sheet of plywood – 80 lbs
Three 4×4-foot lumber boards – 80 lbs
How to Set Up Your Ladder Correctly
To set up your ladder correctly, inspect your ladder for damage such as bends, dents, sharp edges, grease/slickness, loose rungs/bolts, damaged footpads, and stuck or damaged hinge spreaders.
Use a ladder equipment inspection checklist to ensure your reviews are thorough and accurate every time.
OSHA Ladder Checklists
The Safesite inspection template library includes a number of ladder safety checklists, including:
Use Safesite to conduct these inspections and more using your mobile device.
If there is paint or another material making a complete inspection impossible, don't use the ladder.
After determining your ladder is in good working condition, inspect the working surface to determine that it's free of debris that could affect your ladder's stability. Also, inspect the area for electrical hazards.
If the surface is clear and the ladder's feet are appropriate for the surface-type, install your stand-alone ladder by locking the hinges, or leaning your straight ladder according to the 4-1 rule.
What is the 4-1 Rule for Ladders?
The base of your ladder should extend 1 foot for every 4 feet of height between the working surface and the point of contact. When done correctly, the ladder will meet the ground at a 75-degree angle.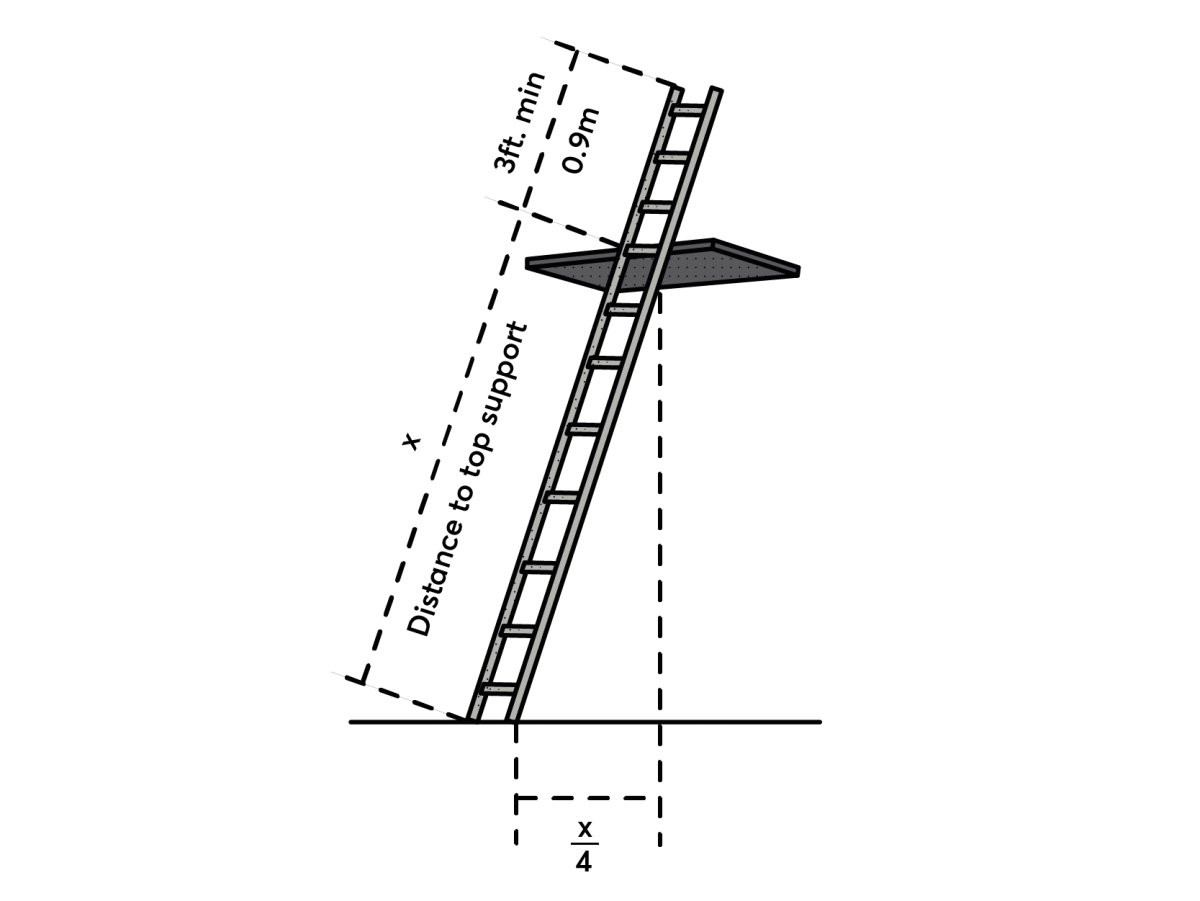 Your employer should provide ladder setup training during your orientation and with the introduction of new ladder-related hazards, for example, new ladder types or new working surfaces.
Climb and Balance Safely
Ascend properly by maintaining three points of contact with the ladder at all times. Face the ladder, climb hand over hand, and stay between the rails.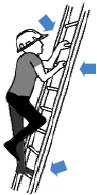 Don't carry tools or other supplies while climbing. Instead, hoist tools using a pulley system or electric hoist.
Leaning too far away from the center of the ladder can cause falls. Keep your waist between the rails to ensure your ladder's center of gravity stays where it should.
Avoid Hazards and Misuse
Take fall hazards seriously when using a ladder. Think proactively and prevent contact with anything that could affect the stability of your ladder, such as slippery surfaces, other people, and vehicles.
If your ladder is set up in a high traffic area, such as a doorway or aisle, secure your ladder and/or set up a barricade around it to prevent accidental contact.
Don't try to gain additional height by stacking ladders on other items, such as boxes, truck beds, or other ladders. Instead, request a different type or length of ladder. Do not attempt to perform the task until an adequate ladder or other equipment, such as a scaffold or scissor-lift, is provided.
Ladders and Fall Protection
Although personal fall protection is required for workers exposed to a potential fall from an unprotected edge of six feet or more, fall protection is not required for workers on fixed ladders 24 feet or less, or on portable ladders of any height.
However, providing additional protection is encouraged. Safeguards like a fall arrest system anchored above the worker can stop falls from a height of 6 feet and greater.
Tying off the top of an extension ladder and blocking its feet is also recommended.
Communicate Ladder-related Hazards
If you notice damage to a ladder during an inspection, immediately label the ladder according to its condition. If the ladder is not salvageable, destroy it immediately.
Ladder Safety Signs & Labels
The following ladder safety labels are valuable for communicating potential hazards:
Ladder Inspection Adhesive Labels or Tags – Record the dates and results of ladder safety inspections.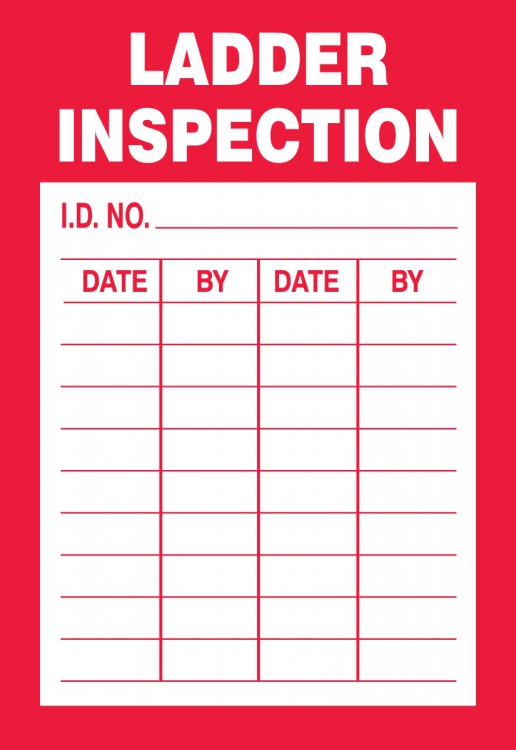 Danger Do Not Use Tags – Mark unsafe ladders immediately with a "Danger" tag so that no one uses them.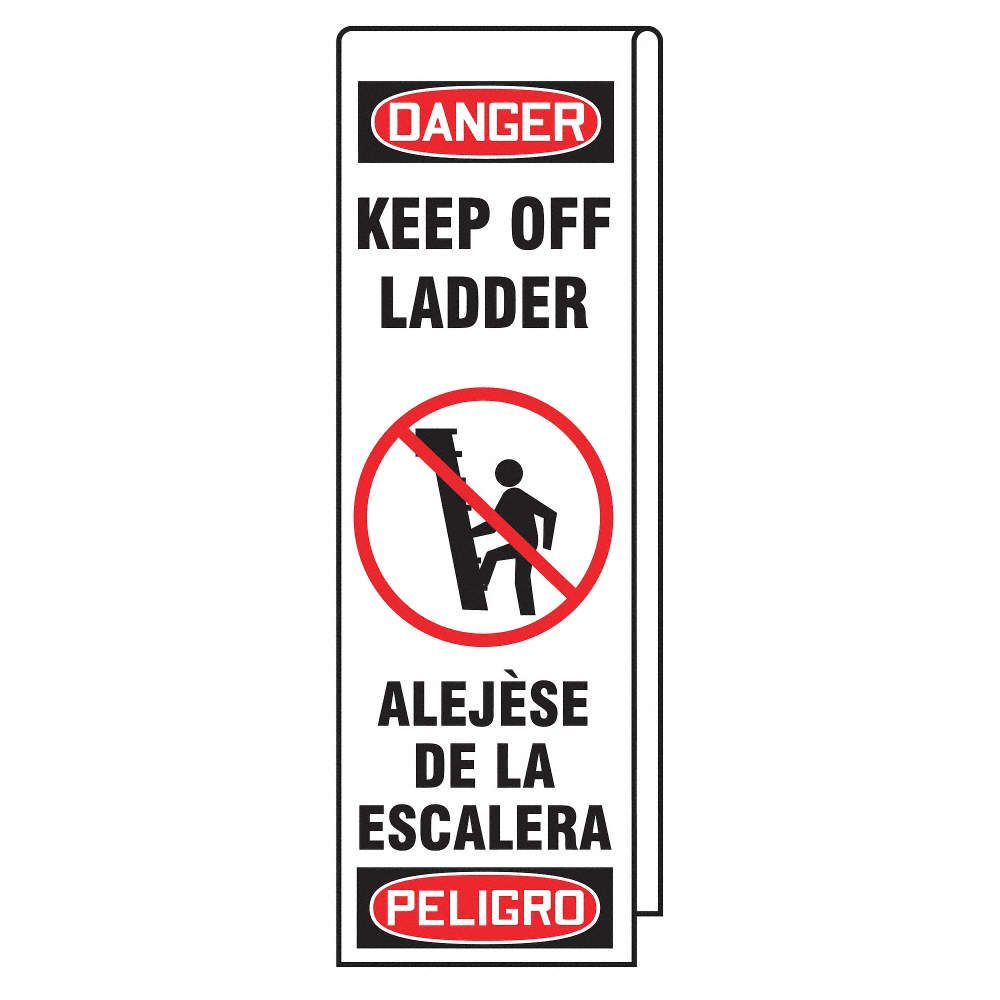 Max Capacity Adhesive Labels – For ladders without a manufacturer's tag, communicate maximum weight capacity with a third party or self-made label.
Ensure that employees do not use ladders that have damaged or missing safety labels. Contact the manufacturer to replace the labels, or replace the ladder.
Ladder Safety Training
OSHA regulations also stipulate that you must train your employees to follow the above regulations. Training in an employee's first/primary language is recommended. Initial and as-needed training is required.
Your employees must know how to choose, inspect, climb, and work from a ladder safely. Specifically, you must ensure that training is provided by a qualified individual and covers:
the nature of fall hazards and how to recognize them
how to minimize fall hazards
when and how to use fall protection systems, including inspection and maintenance of those systems
the nature of ladder (equipment) hazards, and how to recognize and minimize them
Your new employee orientation should include ladder safety training if ladders are present in the workplace, but your responsibility doesn't end there. You are also responsible for retraining employees to keep the information fresh and top-of-mind.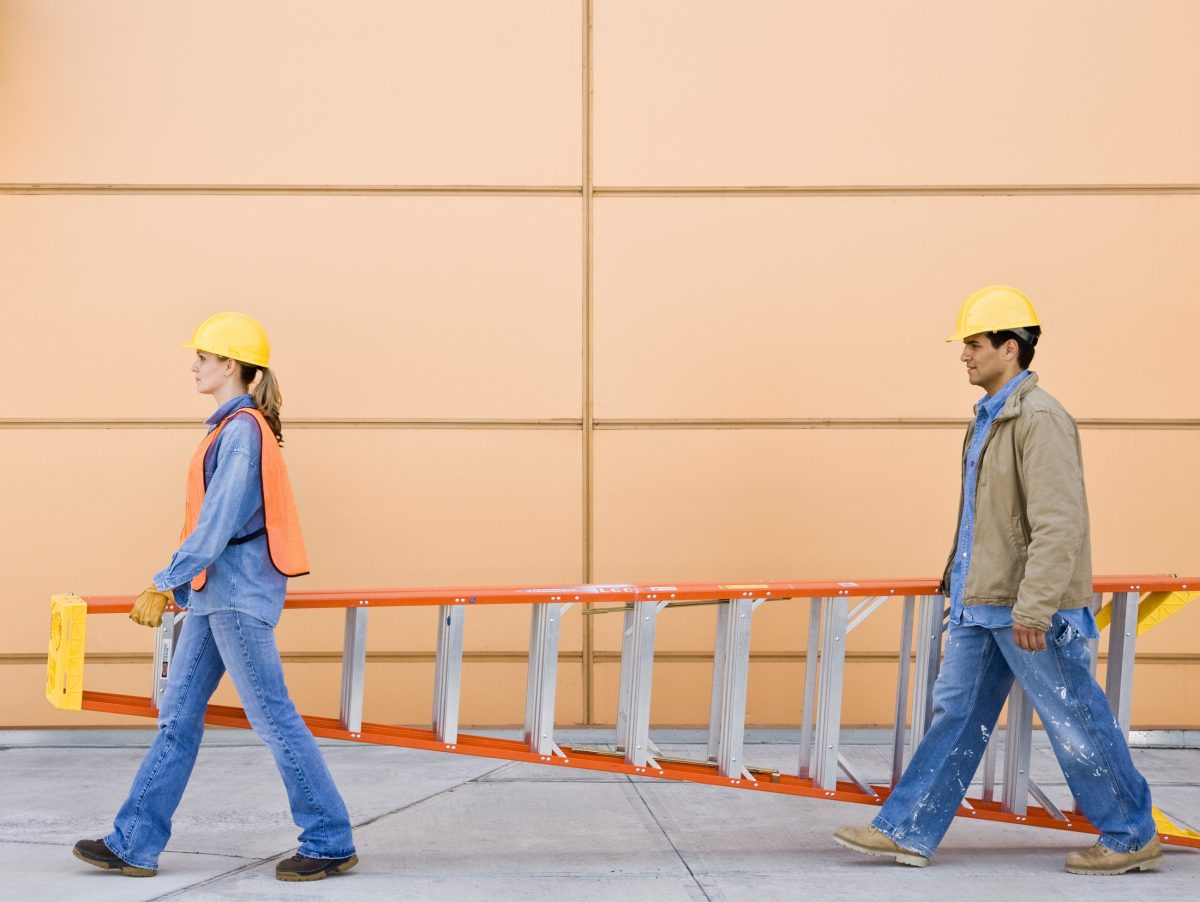 OSHA stresses retraining after workplace changes that affect the relevance of past training, after standards change or are updated, and when an employee(s) demonstrate inadequacy in safety practices.
If you require safety practices beyond OSHA standards, such as fall protection when working on portable ladders, train every employee on the proper protocol for setting up and using personal fall protection in every required circumstance.
While OSHA will not cite you for violating your own written safety practices, if you neglect training your employees in such a way that they are seriously injured, you may still be cited for violating the General Duty Clause.
OSHA Ladder Training Tools and Resources
You can train your employees to use ladders safely using a variety of methods, mediums, and tools, starting with in-person, live training.
OSHA-Required In-Person Training
OSHA encourages training in as close to real-life experiences as possible. Make qualified persons available to demonstrate and assist employees as they practice proper ladder use.
Online and Video Ladder Safety Training
Digital ladder safety training can be used as a refresher and/or platform for quizzing your employees on proper ladder use.
Ladder Meetings and Toolbox Talks
Ladder safety meetings and toolbox talks may or may not have the experiential component referenced above. Safesite has a number of meeting notes in its safety meeting library, including:
Choose the Right Ladder
Extension Ladder Safety
Step Ladder Safety
Whatever training method is used, be sure to record the date of training, employee name, topics covered and any completed quizzes or tests.
Maintain these records for the duration of the worker's employment plus three years.
In Summary
Use OSHA ladder safety rules to prevent falls. The regulations stipulate how to choose and use various types of ladders. They also require that employees receive on-the-job training in ladder safety.
To improve your ladder safety program, review our top OSHA safety checklists or download Safesite on iOS or Android to browse the complete template library. Stay safe out there!
Hear the Latest from Safesite
Subscribe to our newsletter to receive the latest updates.
Hear the Latest from Safesite
Subscribe to our newsletter to receive the latest updates.