Featured
Safesite's Step-by-Step Guide to Safety Program Digitization
Safety program digitization can be a daunting task for any type or size company, especially with the variety of solutions available on the market. The ROI for safety program digitization is clear, and in the near future, it will be essential for any company that wants to remain competitive and sustainable.
In this guide, Safesite CEO Peter Grant shows walks you through an easy-to-follow framework for your company to approach the challenges of digitization. Use it to level up your safety program and continue to keep your workforce safe!
The 5 Steps to Safety Program Digitization
Safety program digitization adds a lot of benefits for your whole organization. Getting started is even easier than you think. You can initiate the digitization process as soon as today by following five tried-and-true steps:
Establish a Committee of Stakeholders
Define the Drivers
Outline Your New Digital Workflows
Select and Pilot Potential Digitization Solutions
Select and Deploy the Solution
Here's how the process flows.
1. Establish a Committee of Stakeholders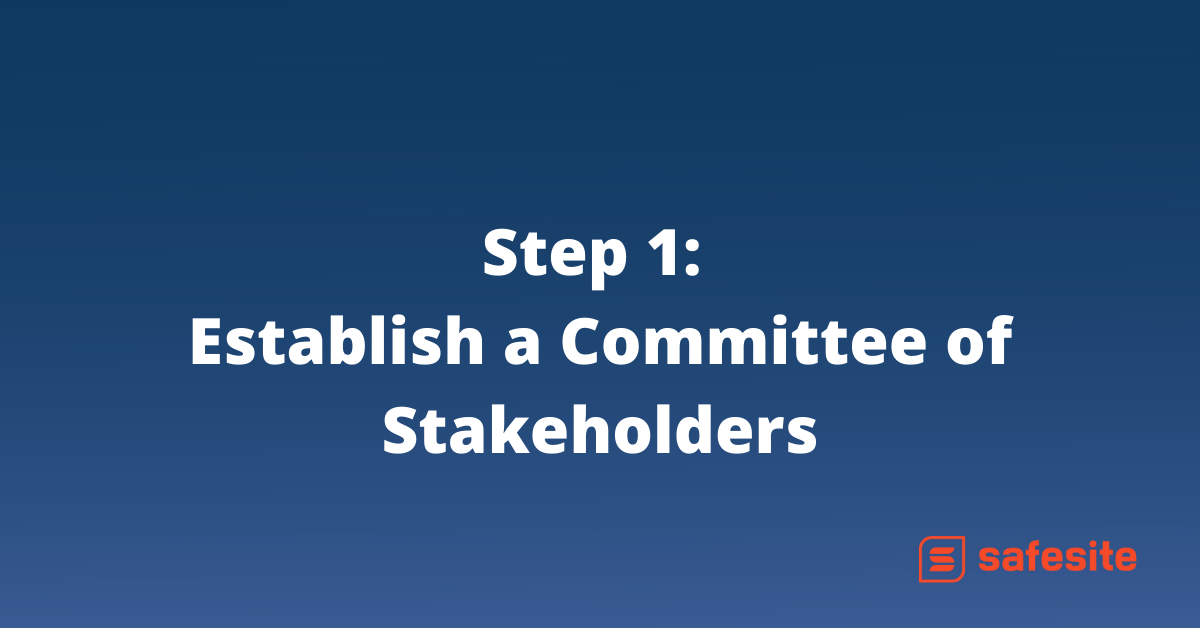 Establish a "Safety Digitization Committee" that regularly meets to review the project progress, provide input on direction and allocate resources to ensure successful outcomes.
Ideally, the stakeholders represent a cross-section of your organization and will be made up of those who have a business or personal alignment with improving the safety performance of your business. Example stakeholders include:
Leadership – CEO, Business owner
Risk management – Compliance/Risk managers, CFO
Safety management – Safety Director, Safety officers
Field supervisors – Foreman, Frontline workers
Propose a timeline for the project with the committee including each step below as milestones. Avoid rushing the process. Instead, ensure all stakeholders align on the timing and deliverable expectations of the project.
2. Define the Drivers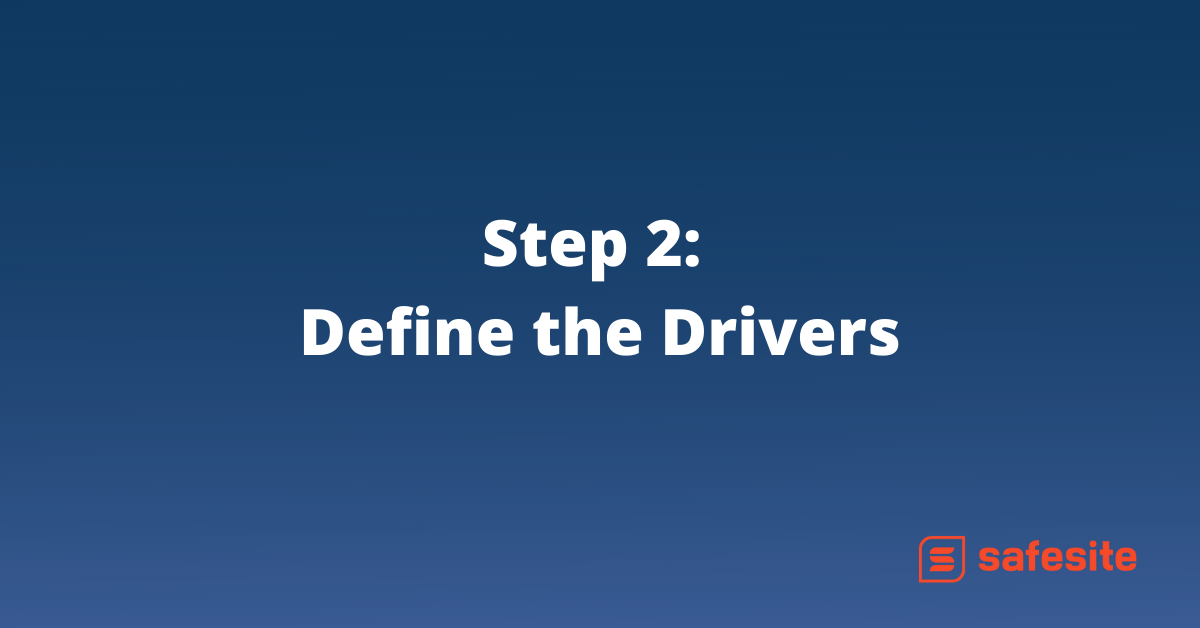 The committee should decide on the business drivers behind digitizing your safety program. Make sure you select measurable drivers and identify a starting point to reference when measuring performance. Select up to 4 drivers and rank in order of priority.
Common drivers include:
Regulatory compliance
Incident reduction
Market competitiveness
Organizational risk management
Operational standardization
Insurance costs
Profit growth
Employee pressure
3. Outline Your New Digital Workflows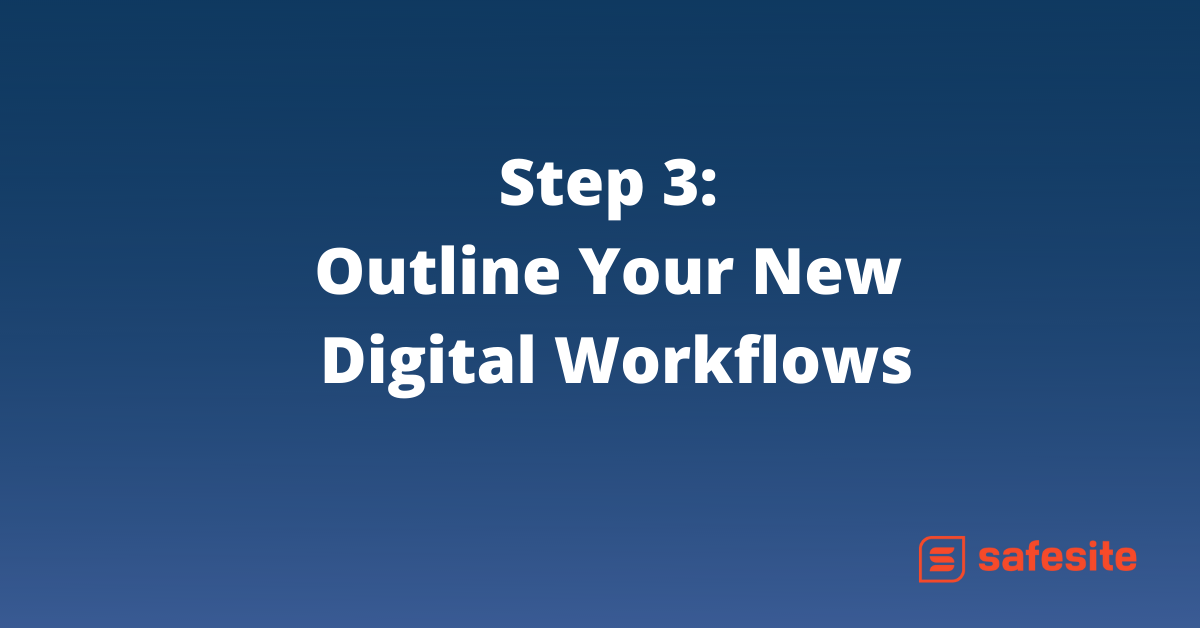 Use a process map to outline your safety workflows and identify areas suitable for digitization. It's important to recognize that you may not be able to take on 100% of your safety program in the initial phase.
What activities to digitize
Who the stakeholders are and who will capture data
Where you will send data and what formats you need
How you intend to consume, present, and action the data
As you work through the process, ensure that you field the expectations of the desired safety program from as many stakeholders as possible, both inside and outside of the Safety Digitization Committee.
4. Select and Pilot Potential Digitization Solutions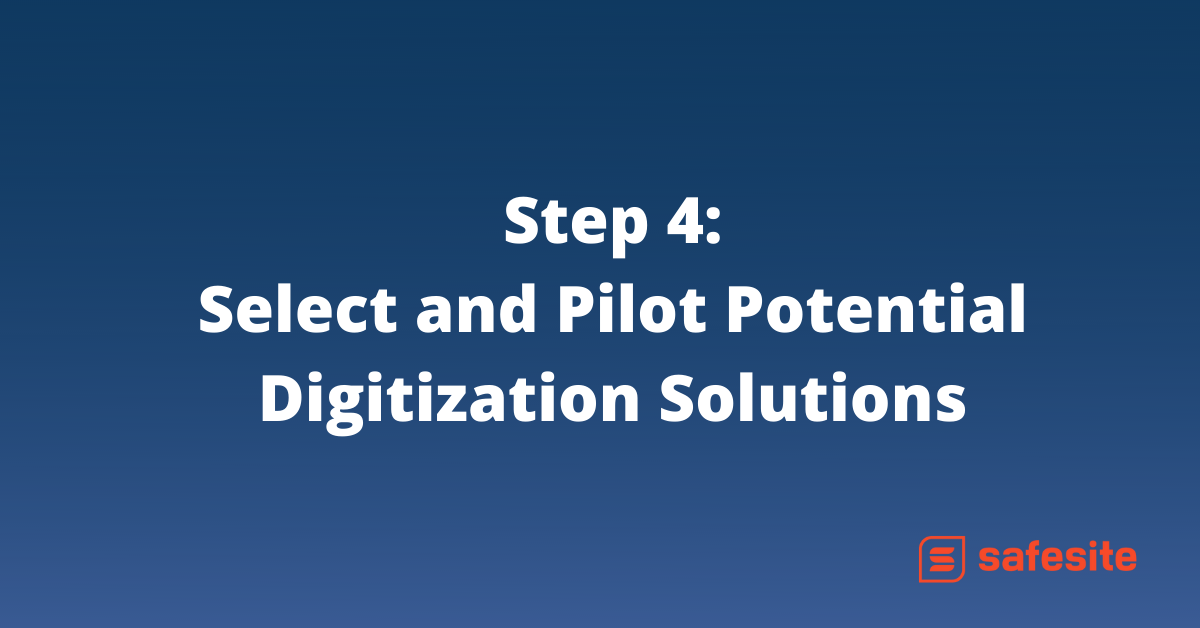 Select the technology that fits your safety workflows and can deliver upon your drivers. Then, use the power of the committee to source potential solutions from the market.
Different types of solutions for facilitating safety processes include:
Point Applications (completes 1 simple workflow, eg inspections)
Safety Management Platform (comprehensive platform focused on safety)
Project Management Platforms (a comprehensive platform that manages a range of tasks and workflows including safety)
Compliance Platforms (platforms designed to ensure compliance typically used by larger or international companies who need to conform to ISO standards)
Sensors/IoT (Hardware devices that transmit safety data to a platform — best for specific use cases or workflows)
Computer Vision (CCTV cameras coupled with software that can detect safety issues)
Key questions to ask when assessing options include:
Does the solution cover multiple workflows?
Will it minimize steps and arduous data entry tasks?
Is there deployment and user training available?
Does the technology integrate with other solutions?
Will the solution provider offer enough support?
With your answers in hand, you can then narrow your options down to 2-3 solutions and pilot them in the field with multiple committee members over a period of up to two months.
Tip: You should also make sure to continue regular committee meetings during the pilot phase to circulate feedback and assess the technologies ability to deliver on project drivers.
5. Select and Deploy the Solution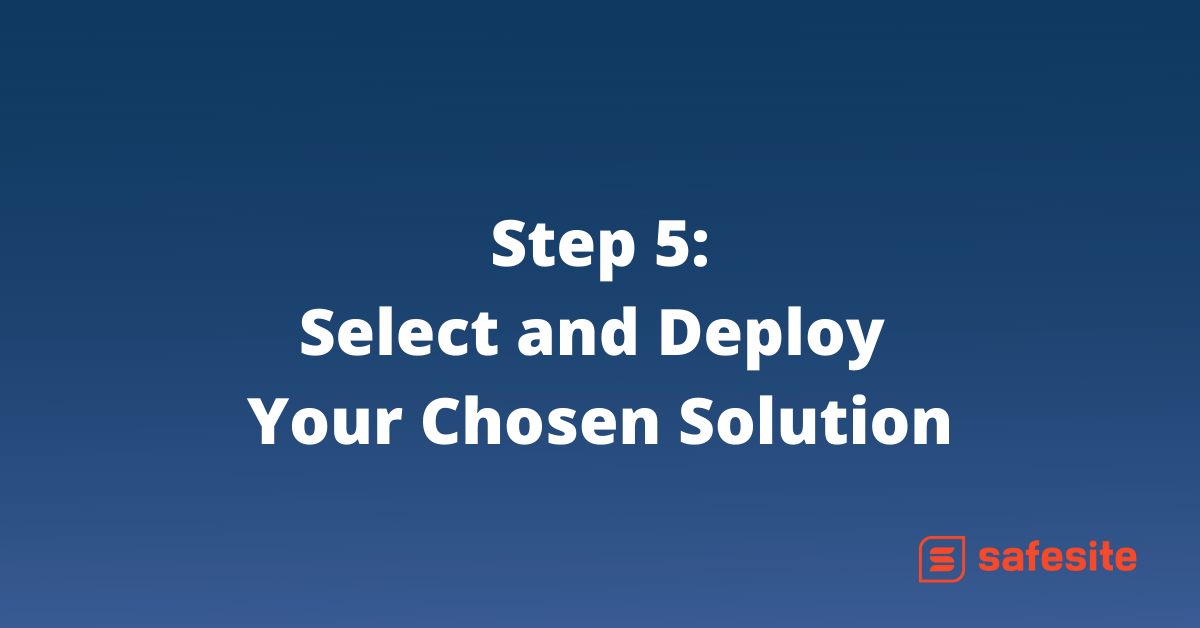 If none of the technology you pilot is satisfactory, that's okay. You can easily repeat step 4 with no harm done.
After all, it's vital to select a solution that meets your requirements as closely as possible and all stakeholders agree that it is the best solution to move ahead with.
Once you reach a consensus, you are now ready to complete the final task of the Safety Digitization Committee — deployment of your new safety solution.
Get Started Today: Launching Your New Safety Program Digitization Solution
Follow the steps below and tailor them as milestones to the particular needs of your organizations:
Define the rollout timeframe with the solution provider. This may be in one go or multiple stages.
Finalize the contract with the solution provider. You can always negotiate a lower cost with a longer contract. Since you have done a thorough pilot, you can be sure that the solution will be a good fit for your organization for many years to come
Define an internal incentive structure. The structure should promote the use of the new solution and build engagement in your updated safety program. This can include prizes, BBQs, bonuses, etc.
Provide a statement from company leadership to all employees. Use the statement to announce the new solution and reaffirm leadership's commitment to ongoing support of the company safety program. Set execptations for employee engagement in the solution and outline performance monitoring.  
Train your team on the use of the system. Ideally, you should appoint a safety software champion to train new employees and centralize any technical issues found, routing them to the solution provider
Regularly review the impact of the new solution. You'll particularly focus on the impact the solution had on the initial drivers, particularly in the first six months after deployment.
Ensure that you share both the wins and challenges with all stakeholders. If the solution is not providing the ROI expected, identify the root cause promptly and address it. You don't want to lose momentum and waste all of the hard work you have put in.
Your Safety Program Digitization Project Can Start Today
The ROI of safety can be compounded when you remove the burden of running a safety program on paper. Getting started with safety program digitization can save all stakeholders time and save the organization money.
Did you know? Engaged Safesite users save 8 hours per week on administrative tasks and engaged organizations can lower their incident rate by as much as 57%.
Read their stories or schedule a demo for your Safety Digitization Committee to learn more about how Safesite can help your organization go beyond compliance.
Hear the Latest from Safesite
Subscribe to our newsletter to receive the latest updates.
Hear the Latest from Safesite
Subscribe to our newsletter to receive the latest updates.