Safety
A Safety Guide to Industrial Robotics Hazards
Industrial robotics offer automation that can enhance safety, but the robotics themselves can introduce their own hazards.
According to the World Robotics 2021 Industrial Report by the International Federation of Robotics, around 310,000 industrial-scale robots are operational throughout U.S. factories. Use of robots is increasing. As robotic technology advances, the same report projects continuing increases in global annual installations of industrial robots for the next several years.
Typically, people associate the use of industrial robots with the auto industry. Still, industrial robots are prevalent in other manufacturing fields. Companies are also making use of industrial robots in construction, and in agriculture.
This guide can help you perform a safety risk assessment pertaining to industrial robots. Let's dive into the fundamentals of industrial robotics, its safety standards, risks, and hazards to the health and safety of the workplace environment.
What Is Industrial Robotics?
The Occupational Safety and Health Administration (OSHA) defines industrial robots as "programmable multifunctional mechanical devices designed to move material, parts, tools, or specialized devices through variable programmed motions to perform a variety of tasks."
Companies use these robots to perform hazardous, highly repetitive, and unsafe tasks. Industrial robots have robotic arms that move in multiple directions. These industrial robots are programmed and designed to execute tasks in various environments.
What Safety Advantages Do Industrial Robotics Offer?
Industrial robots paired with AI automation have become an integral part of the manufacturing that produces most of today's products. Industrial robots can undertake human tasks that could normally involve infections, explosions, or other hazardous situations.
Robotics designers or operators can rig robotic arms with custom-designed grippers to hold fragile objects and lift heavy loads simultaneously. In fact, you can equip robotic arms with just about any tool to ensure top-notch precision, speed, and accuracy that significantly outmatches that of humans.
You can also equip robotic arms with different vision systems and sensors to make it easier to view images. The vision and sensor feedback can work in line with AI to make logical decisions about the robotic arms' behavior.
Protection from Environmental Hazards
Industrial robots improve safety when it comes to dealing with common environmental risks at work. Whether the environment involves excessive noise, extreme temperature, high dust levels, or chemical exposure, robots can handle situations that involve these serious risks for workers.
Industrial robots help safety managers focus on value-added tasks rather than getting caught up in resolving basic safety issues like the use of safety glasses and earplugs.
Protection from Mechanical Hazards
With industrial robots performing tasks, humans are kept from struck-by hazards, caught-in hazards, caught-between hazards, and others. These hazards are not completely eliminated, as the robots themselves can introduce these specific hazards (more on that below).
Whether robotics present more protection than risk is the subject of much discussion. But it is true that in many cases, robotics protect from mechanical hazards. When operations become a "no-touch" zone, it especially improves workers' safety and minimizes potential exposure.
Improving General Safety Awareness
Another advantage of using industrial robots is that they enhance awareness of workplace safety. After long periods of time performing repetitive tasks, workers can become inattentive. When installing the same bolts repeatedly in an assembly line, for example, it's only natural that workers get distracted.
And disengaged workers are often the ones to experience accidents. On the other hand, robots can install the same bolts for eight hours straight, allowing workers to take care of less monotonous tasks. This automation increases workers' situational awareness, fostering a better safety culture in the facility.
Minimizing the Potential Risk of Repetitive Injuries
As they do for common environmental risks, industrial robots raise awareness about potential risks that workers face from ergonomic issues. Something as straightforward as installing screws often involves risks like carpal tunnel and other repetitive physical injuries.
Replacing some of these tasks through automation, industrial robotics can reduce injuries involving repetitive physical motion.
What Safety Standards are Used in Robotics?
The Occupational Safety and Health Administration (OSHA) offers safety considerations for industrial robotics but not specific safety standards for them. OSHA does offer related General Industry standards, including the control of hazardous energy (lockout/tagout – 1910.147), machinery and machine guarding (1910 Subpart O), and selection and use of work practices within the Electrical subpart (1910.333).
OSHA also refers to standards by The American National Standards Institute (ANSI), the International Organization for Standardization (ISO), and the American Welding Society (AWS) as those that are likely relevant to modern industrial robots.
When operating industrial robots, manufacturing industries follow ANSI safety requirements. ANSI gives requirements for the manufacture, remanufacture, installation, and safeguarding methods to protect those associated with robot operation.
ANSI presents safety standards for industrial robots and robot systems in ANSI/RIA R15.06-2012. These standards cover not only safe design but also hazards associated with robots, along with requirements meant to reduce or eliminate risks connected to these hazards.
As a supplement to the above standards, ANSI and the Robotics Industries Association (RIA) presents safety standards for collaborative robots in RIA TR R15.606-2016.
The ISO also specifies safety standards for industrial robots. For example, ISO 10218-1:2011 presents requirements similar to the first ANSI document mentioned above (ANSI/RIA R15.06-2012). As a founder of and the sole U.S. representative of ISO, ANSI seeks to both influence and align with ISO.
In addition to citing standards from other organizations, OSHA has also partnered with the National Institute for Occupational Safety and Health (NIOSH) and the Association for Advancing Automation (formerly the Robotic Industries Association, mentioned above) to enhance both knowledge of, research into, and communication about the safety of industrial robotics. As a result of this alliance, in January 2022, OSHA announced updates to the OSHA Technical Manual on Industrial Robot Systems and Industrial Robot System Safety.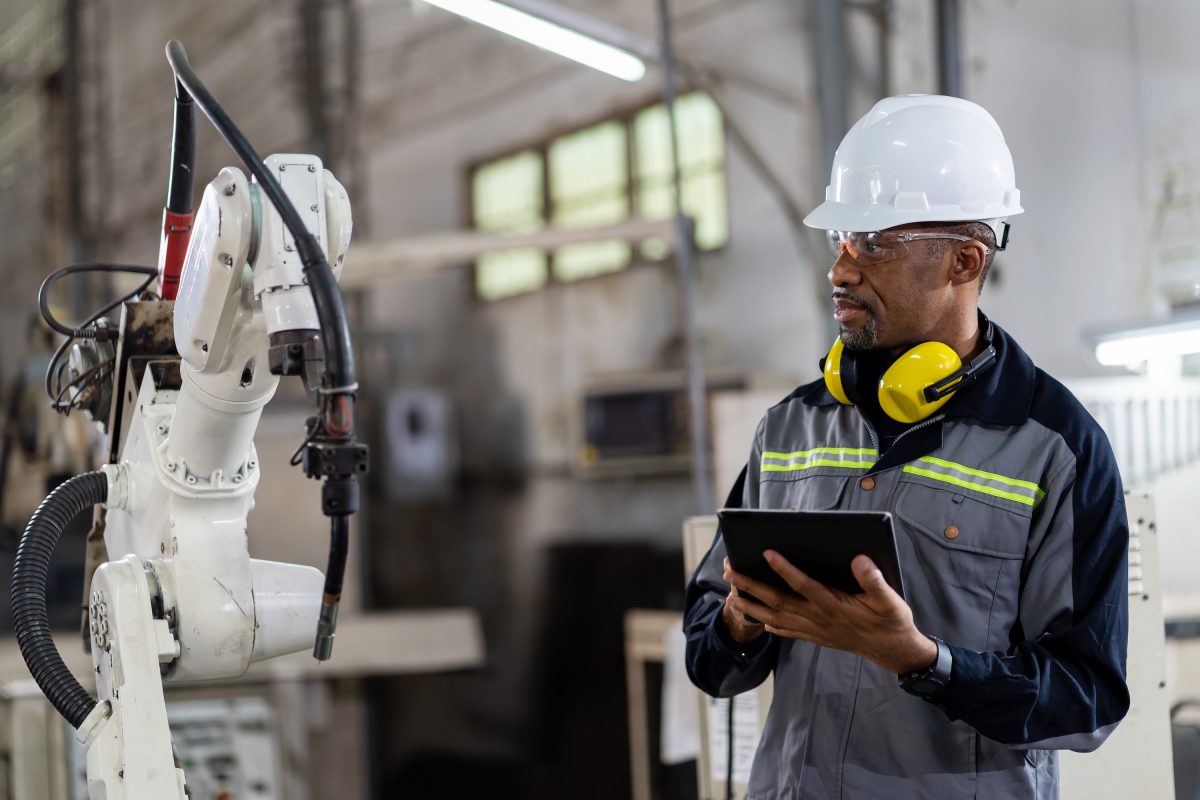 What are Some Hazards When Working with Robots?
Industrial robot safety and work involves more than one type of potential hazard. Here is an overview of essential hazards that become an issue when working with robots:
Installation Hazard
One of the main potential hazards of working with robots involves poor installation. Improper installation of a robotic system and failure to take into account testing measures serve as potential hazards and make the work environment dangerous.
Power System Hazard
As human interaction with robots increases, so does the risk for exposure to electrical currents. The control of hazardous energy (lockout/tagout), which can also restrict unauthorized access, is crucial to minimize risks with industrial robots. When robots stay connected to power sources or otherwise retain power, they continue to be a potential danger for operators and any other nearby persons.
Controlling Hazard
Controlling errors like electromagnetic interference and software malfunctions can lead to unintended, imprecise, and counterproductive robot movements—or even compromise the entire control system.
Human Error
Robots often remove human error from the work being done. But if human error was involved in the robotic setup, it will have an indirect effect on the work being done. Errors such as poor maintenance, incomplete setup, and redundant programming often create robotic accidents.
Mechanical Hazard
This type of potential hazard is also unexpected, making the workplace environment more dangerous for the staff. Machine guarding can reduce risks associated with moving machine parts. But with robotics, risks can still be present for struck-by hazards, caught-between hazards, and other similar hazards.
Environmental Hazard
This type of potential hazard stems from external factors that are out of the control of the workers. In any case, this impacts the operational capacity of a robot system in the form of a power failure or cable issues.
Access Hazard
In many instances, workers without proper authorization are not aware of the safety parameters to enter the restricted zone and work with the robots. Lack of training or information among workers creates more unawareness on "how" to collaborate with the robot that oftentimes leads to serious incidents.
Real-World Incidents Involving Industrial Robotics
Examples of incidents involving industrial robotics also reveal the hazards they can present.
At an auto parts supplier in Alabama, an assembly line abruptly restarted after a worker entered a robotic station to perform maintenance. The robot fatally crushed her two weeks before her wedding day. OSHA proposed $2.5 million in fines and issued citations for several failures, including failing to follow energy control procedures, for exposing workers to hazards without shutting down and securing stored energy, and for failing to implement proper machine guarding.
Working for an Ohio manufacturer, an employee came into contact with a machine part on a robotic press line. His arm was crushed and required amputation surgery. Investigators determined that the company failed to offer sufficient safeguards associated with the machine's danger zone. Combined violations brought OSHA's total proposed fine for this manufacturer to $3.42 million.
Another incident occurred at a water bottling company in Washington. A laser guided vehicle (LGV), which is a driverless forklift, struck a warehouse dock coordinator, inflicting fatal injuries. Investigators believe that a sensor meant to initiate a stop did not detect this worker, who was outside the path of the sensor. An emergency stop meant to prevent such incidents had not been initiated.
How Can Companies Reduce Incidents with Industrial Robotics?
If robots are in your workplace, make sure to account for them in your occupational health and safety (OSH) management plan. Perform a risk assessment to examine the level of risk that industrial robots present at your particular jobsite.
The best ways to reduce safety-related incidents with respect to industrial robots is to prioritize safety training and follow safety standards. Since most companies have started to use automated robot systems, it is fundamental to ensure worker safety. For instance, safety managers can start by clearly marking workspaces.
Similarly, safety coordinators should educate and inform workers about floor spaces and how to work while the robot is operational. In industrial robot safety, safety managers' main objective should be to follow the most relevant OSHA rules, along with ANSI standards for robotics. Employees working in close physical proximity to robots should get proper safeguards and training.
The Current Need and Future of Industrial Robots
You can expect industrial robots to become more affordable with more technical features and capabilities. Once industrial robots are paired with further advancements, manufacturers can install, maintain, and assemble them at a much faster pace and cut back on many costs.
You can also expect to see a more positive impact on the current industrial robotics industry. Industrial robots will continue to become prevalent, and occupational safety professionals should raise their understanding of current and future safety initiatives.
The current OSHA safety considerations and the ANSI standards identify hazards and control measures meant to protect staff. But since the severity and number of risks continue to increase for workers, OSHA plans to update its governing rules and use cases of robots in modern facilities.
Industrial robots have the potential to render a wide range of benefits and opportunities that can have an organization-wide impact on health and safety. In most cases, industrial-scale robots can assume the responsibilities of employees in hazardous environments.
A Smarter Way to Manage Robot Safety
Industrial robotics can dramatically improve productivity in manufacturing and other fields. But while they reduce some kinds of risks to safety, they also introduce hazards.
It's important to conduct safety meetings to inform employees of these hazards and methods of reducing risks. It's also critical to conduct inspections of industrial robots and lockout/tagout procedures.
With the help of a safety management system, you can streamline safety processes, raise the level of safety engagement, and even reduce the frequency of incidents.
Learn about a smarter safety management system that can help you both save time and enhance safety.
Hear the Latest from Safesite
Subscribe to our newsletter to receive the latest updates.
Hear the Latest from Safesite
Subscribe to our newsletter to receive the latest updates.