Construction
10 Tips for Temporary Project Site Shutdowns (with Checklist)
The construction industry is facing very uncertain times over the next several weeks and months. As we have seen in cities like Boston, there is a chance that project sites will have to either cease operations or significantly ramp down in order to limit the spread of COVID-19.
In the event that you must temporarily shut down a project site, apply the tips in this temporary site shutdown checklist to avoid surprises when you get back to work.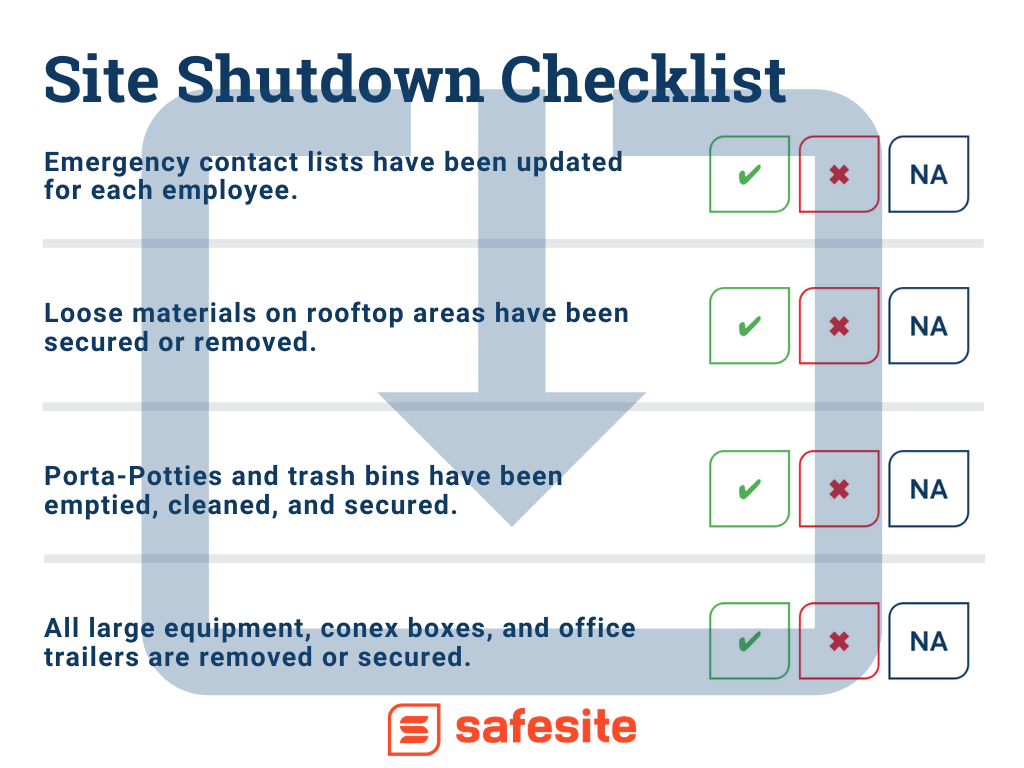 1. Update Employee Contact Info
Update your employee emergency contact information. Additional contacts may also be important. This may include phone numbers, email addresses, and additional emergency contact numbers for spouses, partners, or relatives.
You may need them to make contact with your employees to share updates about work availability, communicate about COVID-19, or check in on employee wellbeing.
2. Clean All Porta-Potties
This is one you won't want to forget. Have all Porta-Potties on-site cleaned (and secured) so when workers return they are in acceptable shape for use.
Also request that every unit has a hand sanitizer unit installed and filled with the proper alcohol-based solution for future use.
3. Take Out the Trash
Empty all dumpsters and trash receptacles to prevent unsavory issues with rodents, scavengers, or windy weather.
4. Set Up Hazard Barriers and Warnings
Using your most recent Job Hazard Analysis as a guide, go down the list of hazards on the job site and secure them.
Take the time to thoroughly clean up and post proper warning signs. Place warning tape, temporary barricades, or alarms around dangerous areas, such as trenches, scaffolds, cranes, etc.
Be sure your hazard warnings are properly secured. Remember that work areas could be hazardous to a worker or vendor who stops by — or even to civilians who wander in.
5. Lock Up Equipment and Materials
Go out now — before all sites in your area are shut down — and purchase locks and chains to have ready to use for locking up gang boxes, Conex boxes, and valuable materials. Consider parking heavy equipment in front of the doors to Conex boxes to make it more difficult to open and enter by unauthorized personnel.
Consider placing tracking Bluetooth beacons such as Dewalt Tag or Milwualkie Tick inside heavy equipment, large tools, and even Conex boxes. You can connect these beacons to the free mobile app on your smartphone to monitor equipment status. (Bonus points for those that figure out how to connect these beacons to a mobile hotspot left on-site to maintain connectivity!)
6. Document Work in Place Progress
Use apps or software to document installed work that updates the project BIM files. This can help validate and provide digital backup of work in place that you should be paid for.
7. Take Photos of Work in Place
Use your smartphone or a 360-degree camera to take photos of recently installed work.
Also consider taking photos of warning signs, barricades, and any other security measures left in place to warn people about site hazards.
8. Remove Assets and Equipment
For example, take whatever items you can back to your lay down yards or storage areas such as small generators, conduit benders, pipe threaders, and welders.
Remove your valuable technology tools such as laser scanners, total stations, and drones. Your home facility is probably more secure than a job site during a shutdown.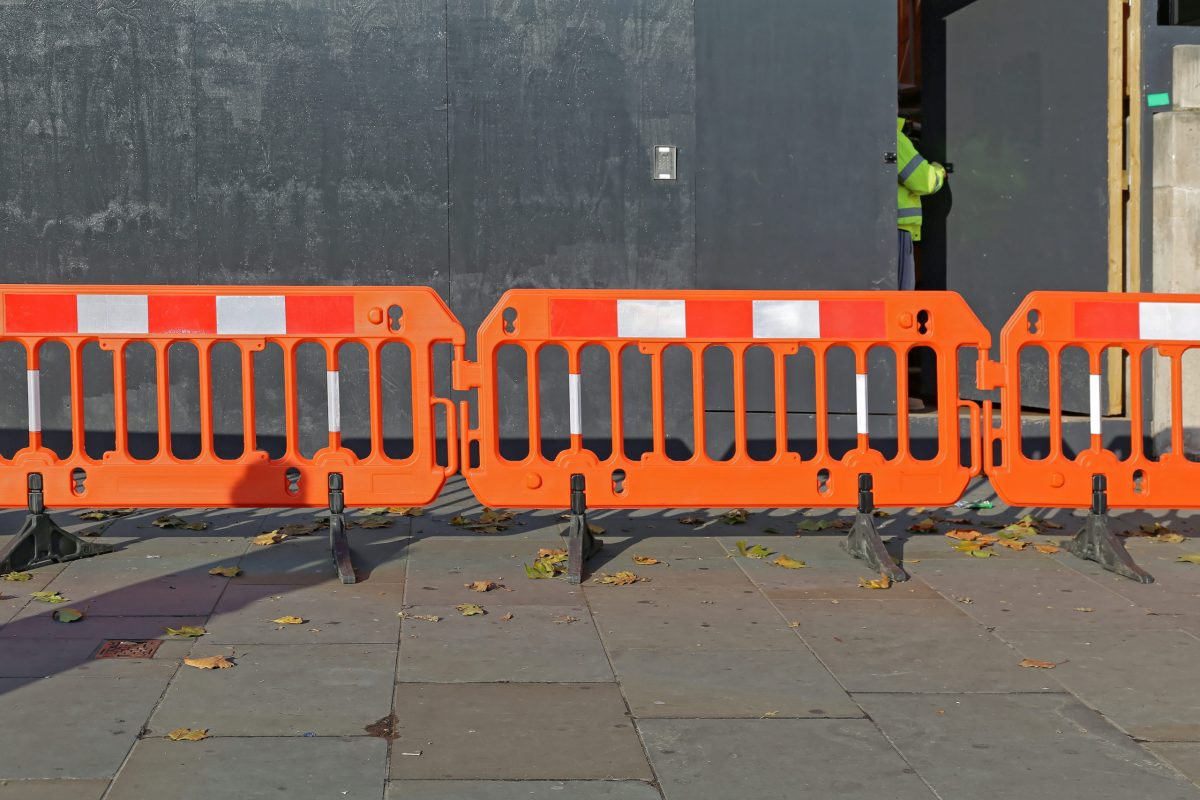 9. Secure High Areas
Rooftops, cranes, scaffolds and other high areas present a unique hazard to your assets and to civilians during a shutdown.
High winds and falling objects can cause immense property or personal damage. Remove all uninstalled materials from rooftops and open levels.
Also, secure or barricade access points to ladders, scaffolds, or other areas people may be tempted to access.
This advice goes for items on inclines too. Be sure that anything that could roll away is properly chocked and tied down.
10. Send Your Site Status Reports
Once you have completed your project shutdown and security measures, file and store a report documenting the steps you took. Your report should include final site checklists (like this one) and positive safety observations, such as photos of warning signs.
Documentation will provide critical information in the case of an accident.
After the Shutdown
After a successful site shutdown, you may want to consider:
Providing minimal site staff or security to monitor the site.
Setting up web cameras to record unauthorized activity.
Create a checklist for reopening the site.
It goes without saying that we are in unprecedented times. The construction industry must be prepared for multiple future options. Prepare for a worst-case scenario that involves a total shutdown for your sites for several days or weeks.
You'll beat the rush of orders for locks and hazard signs, and you'll be able to get back up and running sooner after it's over.
Have thoughts on this checklist? Join the conversation on LinkedIn.
Hear the Latest from Safesite
Subscribe to our newsletter to receive the latest updates.
Hear the Latest from Safesite
Subscribe to our newsletter to receive the latest updates.