Sharing a near miss is second nature. It's a relief to tell a loved one about a narrow escape at work. And it's entertaining to share a video of a worker on a ladder stacked on — you guessed it— more ladders.
While it's natural to share close calls in a casual way, reporting a near miss often goes against human nature. For one, reporting means taking time away from the task at hand. Two, it calls attention to everyone involved in an event that would have otherwise gone unnoticed. Many employees fear being blamed, shamed, or even punished for reporting.
Should we brush off close shaves? Not if reporting them makes the workplace safer—and it does. When a report is used to improve safety processes, workplace injuries and deaths decrease.
What's a Near Miss?
According to the National Safety Council (NSC) and OSHA Alliance, near misses are events that could have led to bodily harm and/or property loss but didn't—this time.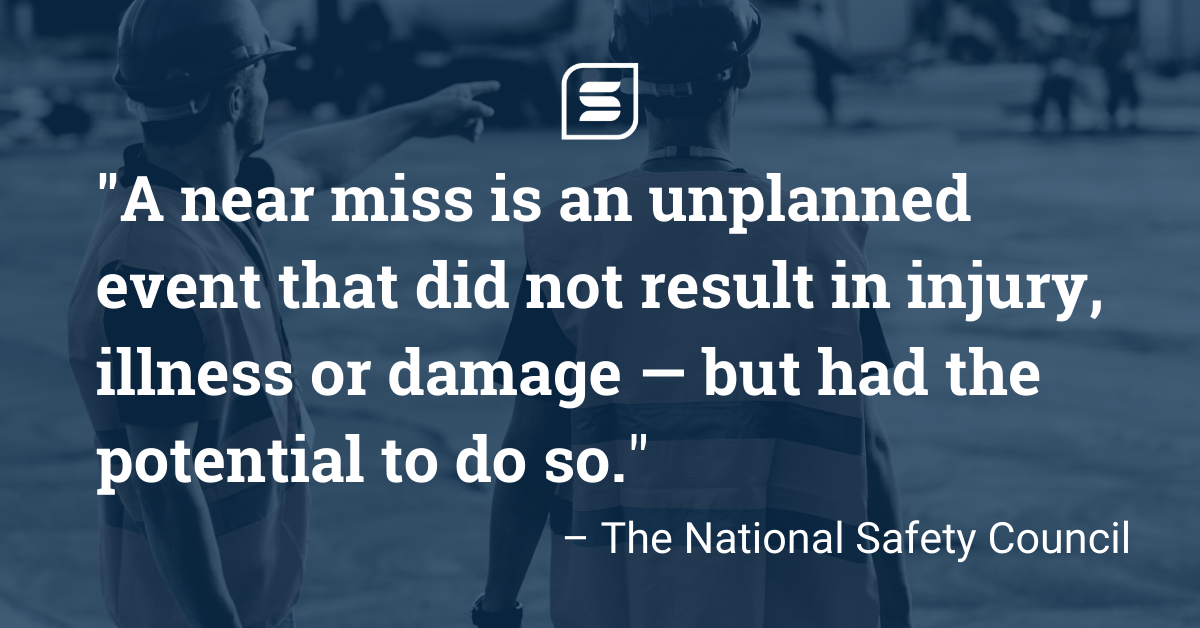 Take, for example, a missing hazard label. The missing label itself is not a near miss, but if an employee is nearly injured by the improperly labeled substance, the event would be considered a near miss.
A near miss report should lead to hazard resolution and preventative measures. However, if the event isn't reported or addressed, a serious injury could easily result—possibly only hours later—from the same or similar circumstances.
That's why reporting is strongly recommended by OSHA. Although a near miss system isn't required under OSHA law, eliminating known hazards is required. Regular reporting allows you to correct unsafe conditions and reduce costs associated with workplace injuries.
What a Near Miss Isn't
If the event led to property damage or bodily injury, it's an incident.
Where there wasn't an event or action at all, most people use the terms hazard, safety concern, or unsafe condition. Reporting unsafe conditions is equally important, of course, and some companies roll hazards onto their near miss reporting form while others handle them separately.
30 Near Miss Examples
Below you'll find 30 near miss examples that could apply to various industries. Use them as guides to determine when to report and how to describe an event. In each of these scenarios, you'll see that the event could have easily led to a preventable injury had the event played out to its logical conclusion.
Slips, Trips, and Fall Near Misses
A worker slips on condensation that had dripped onto the floor but doesn't fall (this time).
A worker trips over an unmarked step and falls without injury.
A trip occurs when a worker attempts to walk through packaging materials dispersed across the floor.
A fall occurs when a worker attempts to ascend an unstable ladder.
You trip and fall in a dimly lit space.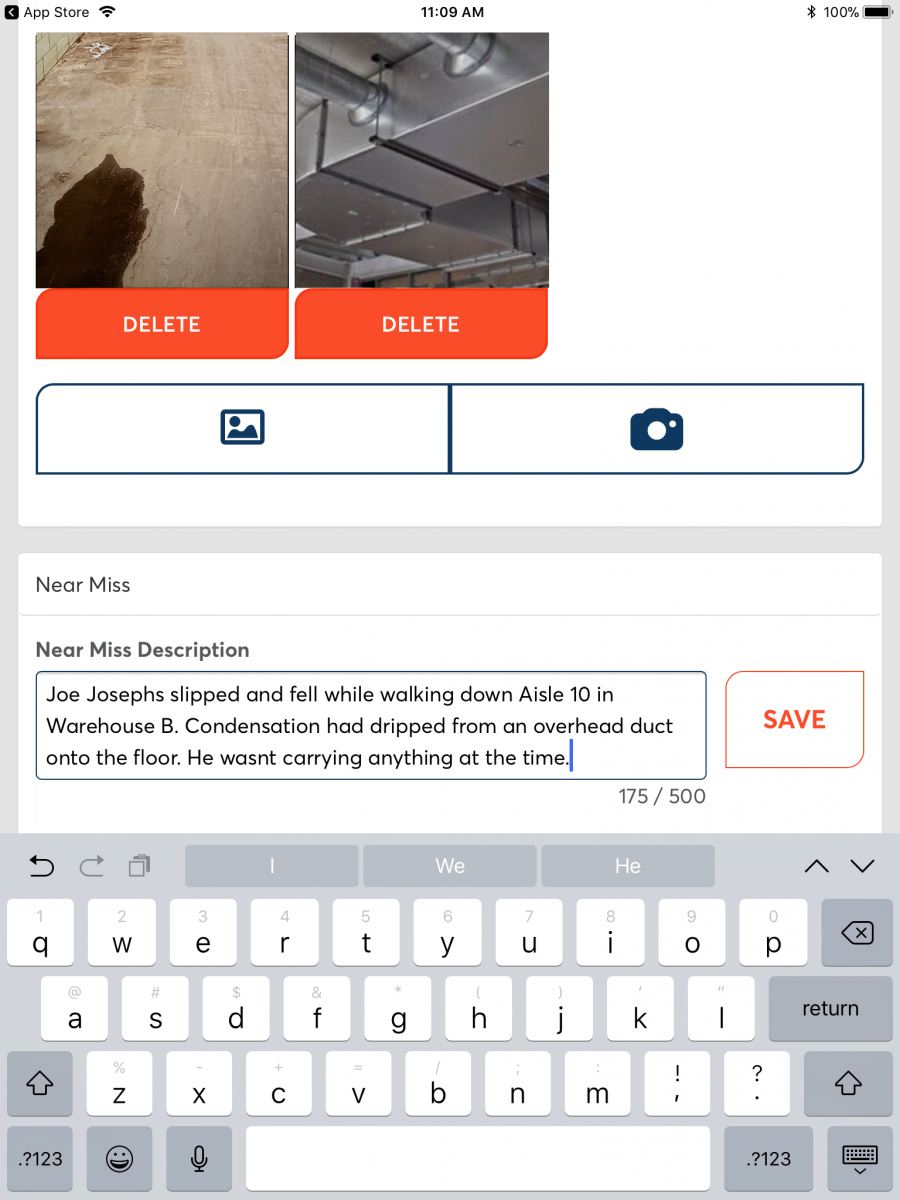 Tip: In your report, be sure to include all conditions and circumstances that led to the slip, trip, or fall.
Risky Behavior and Horseplay Near Misses
You jump down to another level, like everyone else does, putting too much pressure on your back and knees when landing.
A worker slips off of a pallet jack while riding it down a warehouse aisle.
A co-worker attempts to quickly retrieve an item left on a steep roof alone, without fall protection.
A worker continues working while lightheaded and eventually faints.
Two workers roughhouse and make contact with a third worker.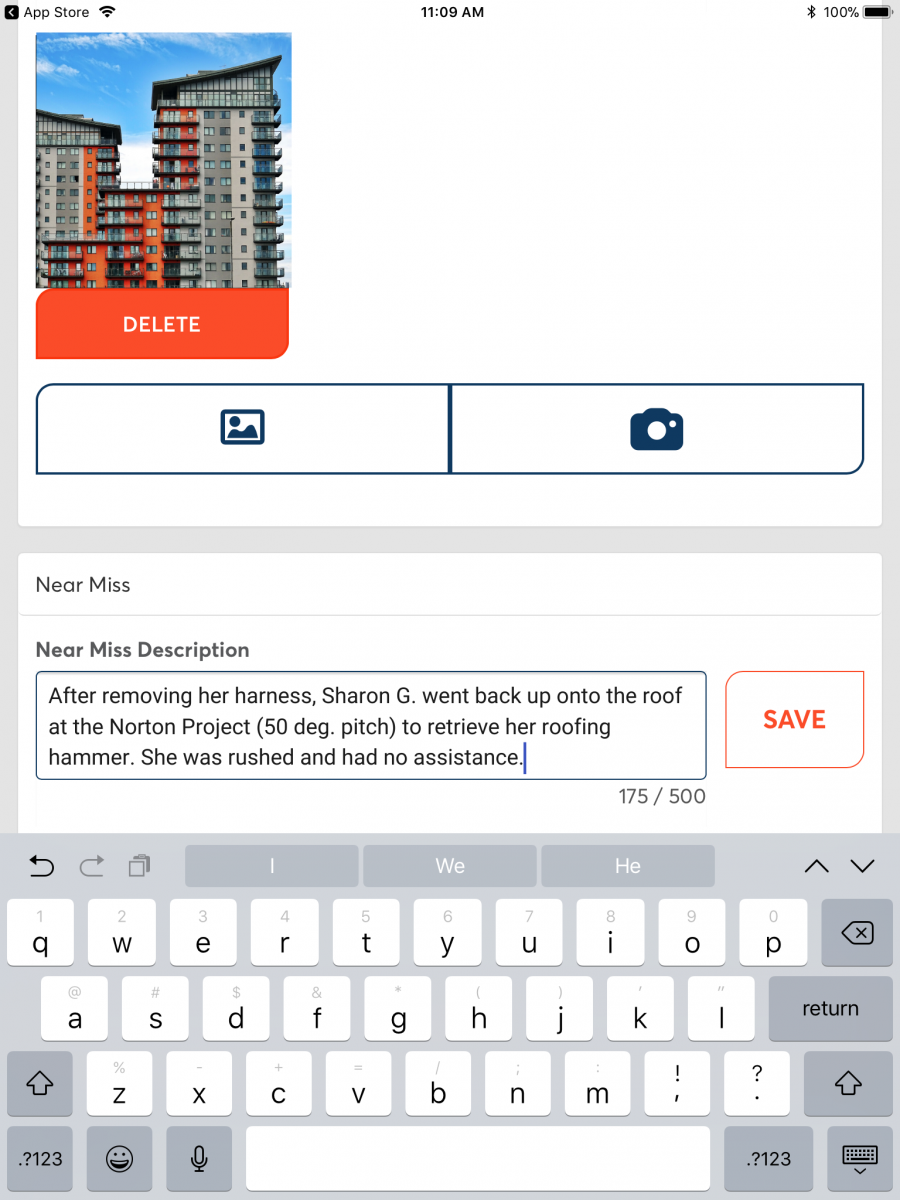 Tip: Don't use a behavior-driven near miss to cast blame. Instead, implement measures to prevent similar events in the future.
Narrow Escapes
Your leg was momentarily caught between a pallet of materials and a support structure (no injury).
A worker's clothing gets caught in machinery; it tears before an injury is sustained.
A worker jumps out of the way moments before getting hit by a hot item being carried by another worker through a narrow walkway, narrowly avoiding severe burns.
A worker finds a live, damaged electrical cord that is lying in a pool of water before contact is made.
A 5-gallon bucket of paint falls from heights, landing close to a worker (without injury or property damage).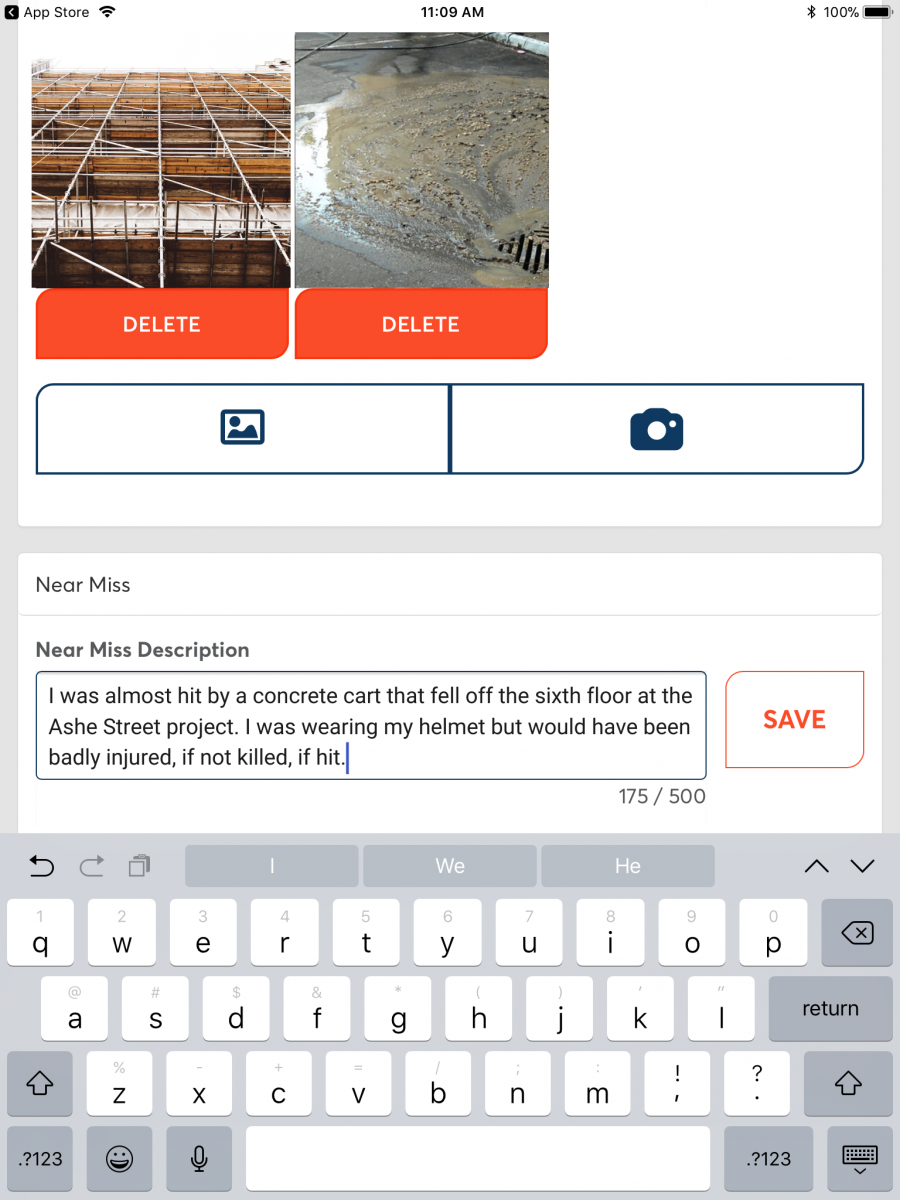 Tip: Narrow escapes often happen due to a combination of unsafe practices. Identify and address all contributing factors.
Working at Heights
While working on a third-floor roof, one worker throws an object to another, causing him to lose his balance in an attempt to catch it.
While working on a 55 ft. roof, you lean onto an unsecured skylight panel and fall but are caught by your protective gear.
A worker who is not wearing fall protection on a roof stumbles and slides.
Poorly maintained scaffolding begins to lean when workers ascend.
A co-worker sets up fall anchors and you notice errors before you begin working for the day.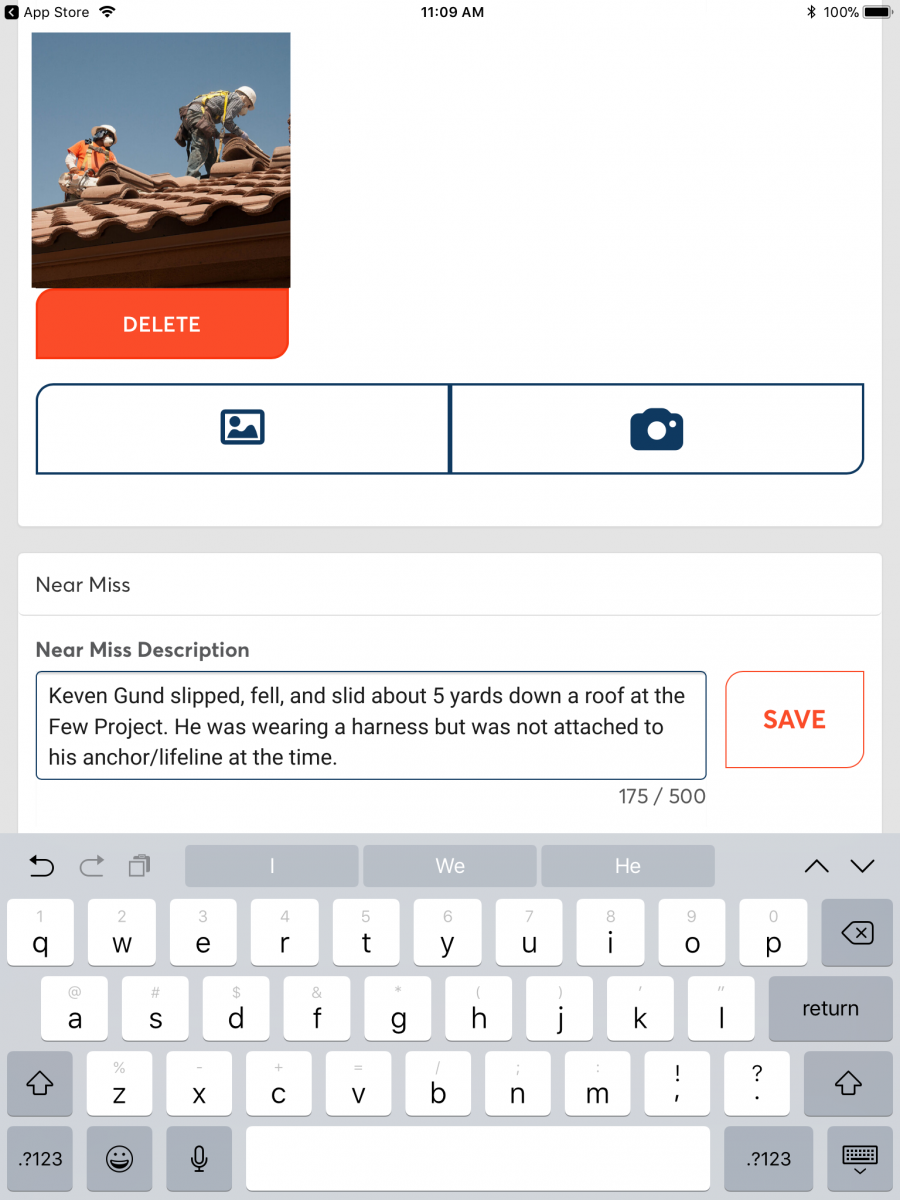 Tip: Fall protection is the most commonly cited OSHA violation. Reporting near misses in this category can save a life.
Signage & Hazard Communication
An area of the workplace is under construction but employees weren't notified, so multiple workers walk through the area without taking proper precautions.
Two moving vehicles nearly collide at an intersection with low visibility.
You nearly come into contact with a harmful substance that had been temporarily stored in the wrong container.
You nearly touch an extremely hot surface due to a broken indicator light.
Due to missing signage, electrical work is nearly performed on equipment that requires lockout.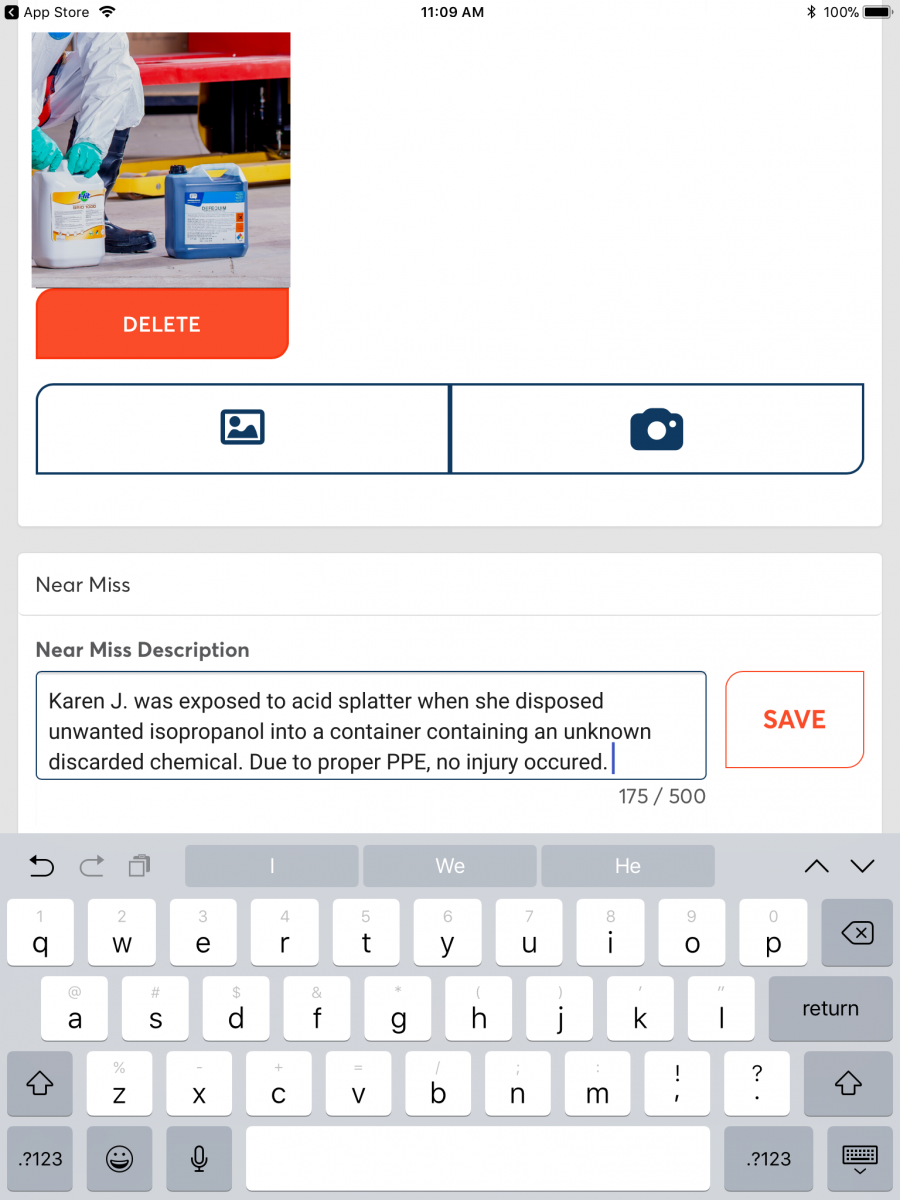 Tip: Communication is the most common root cause of hazard-related near misses.
Equipment Operation & Maintenance
A worker operates a heavy trencher without checking for the presence of underground utilities.
A co-worker operating a skid steer near a trench causes a wall collapse while no workers are inside.
A worker attempts to manually clear a jam from a dangerous piece of equipment without cutting power to the machine.
A crane operator has a near hit with a worker.
A piece of poorly maintained equipment sparks; the sparks fall into flammable materials.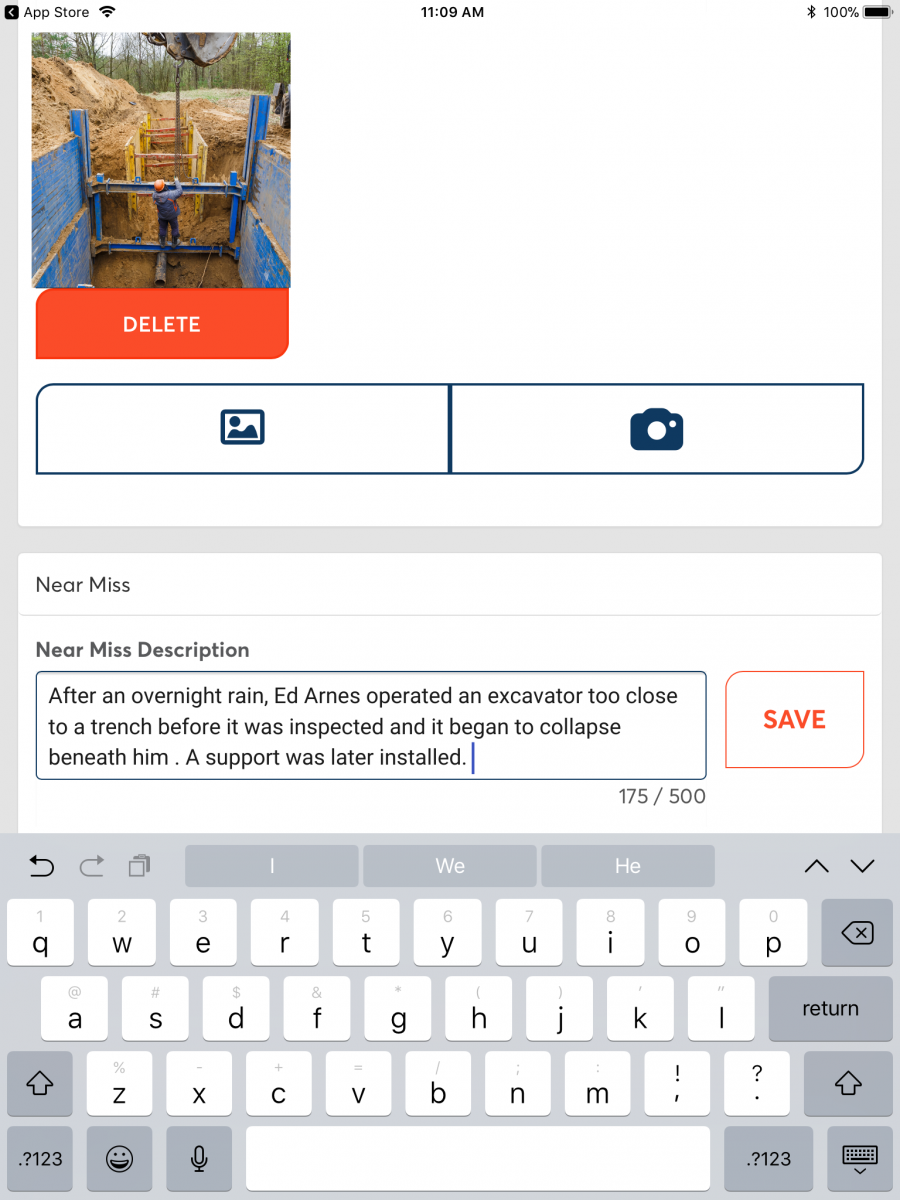 Tip: As your training and re-training systems improve, your near misses in this category should decrease.

Improve Your Near Miss Reporting System
According to Emory University's EHS department, the same things that cause near misses cause incidents. By monitoring near misses, you're also fulfilling your goal to reduce workplace accidents.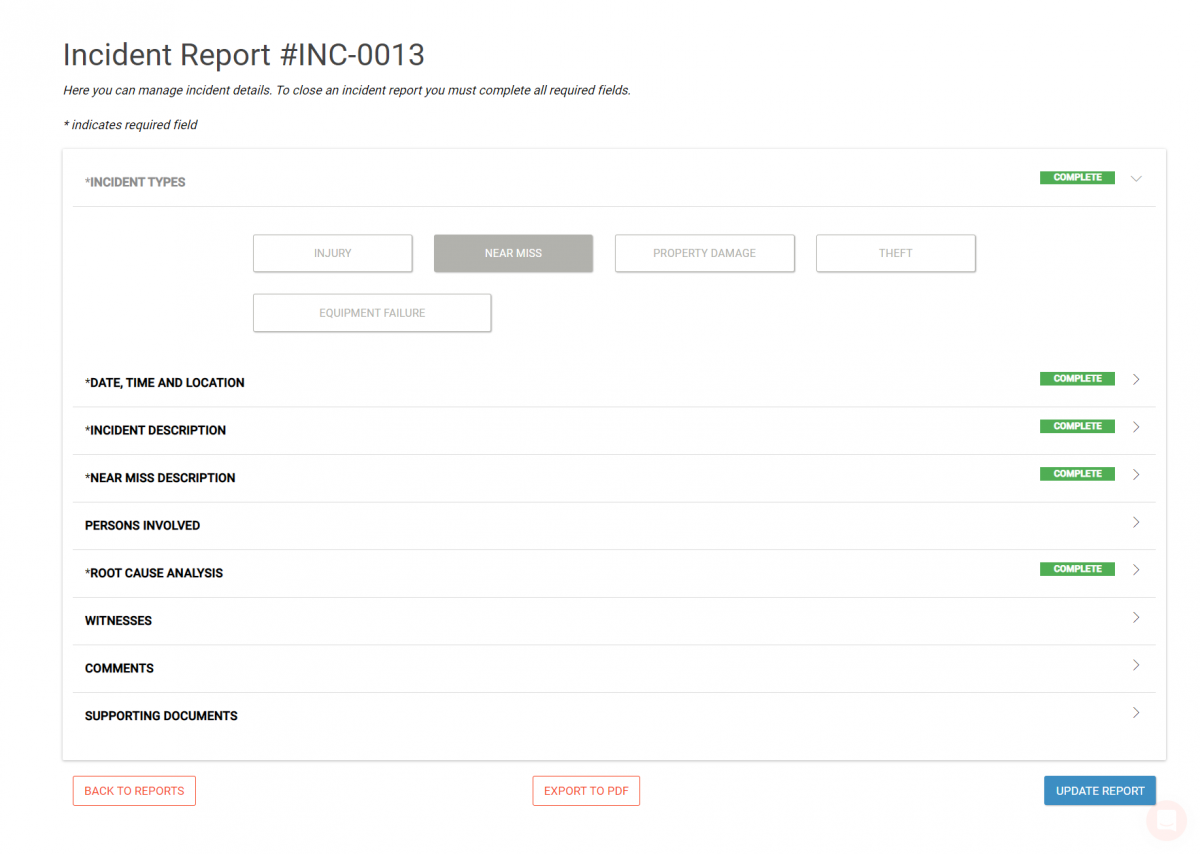 For Employees
If you're an employee, report near misses to reduce your chances of being injured at work. An easy way to determine if an event is reportable is to ask yourself if an injury could have occurred had the chain of events not been broken by someone noticing and avoiding the hazard.
If your employer doesn't have a near miss system, the Safesite app is a free, easy way to start. You can use the app free of charge on iOS or Android devices to quickly:
Report associated hazards.
Notify key staff of the event. (You can invite users from your dashboard.)
Keep track of actions taken to address the issue.
Or, you can print out a stack of near miss forms (Google Doc) and start making your workplace safer. If starting a system is not your call, you can email these resources to your supervisor or employer.
For Employers
Do your managers blame subordinates after a close call? Do you blame or retaliate against managers? If so, you may be cutting off a potential lifeline. A record of close calls can improve your safety practices and decrease your incident rate, but employees won't report if they fear getting into trouble for the event—or even for taking the time to report it.
When employees do report, investigate and respond. After a near miss:
Address hazards immediately.
Identify a root cause.
Address the root cause at the process and/or training level.
Keep your reporting system simple and easy. Use reported close calls to train all of your employees and refine your processes.
Near Miss Process Examples
Example 1 – Semi-Digital Process
Equip managers with a digital near miss reporting tool.
Teach employees to report near misses (verbally or on paper) to their managers, who will then record the near incident on the app while in the field.
Encourage and/or incentivize employees to share near misses.
When a near miss occurs,

Immediately address related hazards.
Record all of the details of the event, including images of the area where it occurred.
Identify a root cause.
Address the root cause at the equipment/supplies, process, or training level.

Monitor near miss trend reports to make deeper improvements over time.
Example 2 – Fully Digital Process
Equip all employees with a digital near miss reporting tool.
Teach employees best practices for filling out your digital near miss form, including:

Immediately address related hazards.
Record all of the details of the event, including images of the area where it occurred.
Identify a root cause.
Address the root cause at the equipment/supplies, process, or training level.

Monitor near miss trend reports to help you make deeper improvements over time.
Example 3 – Paper Process
Equip all job sites with paper near miss reports.
Teach employees best practices for filling out your near miss form, including:

Immediately address related hazards.
Record all of the details of the event.

After submitting a paper report to a site manager:

Identify a root cause.
Address the root cause at the equipment/supplies, process, or training level.

File or digitize paper reports and store for a year or more depending on documentation regulations for your industry.
Use Safesite to Manage Near Misses
Safesite is a real-time near miss and incident reporting app. To report a near miss, fill out a short digital incident report form on desktop or mobile (available for free on iOS and Android). Include a description of the event and, if needed, identify a root cause, associated hazards, and/or add images. For step-by-step instructions on reporting near misses with the Safesite app, visit our help center.
In addition to incident and near miss reporting, employees can use Safesite to quickly log hazards, create tasks, and send daily reports.
Summary
A near miss is an event that could have been a workplace accident had things played out differently. Near miss reporting isn't required by federal OSHA but it is a common safety management practice.
Keep a record of—and respond to—close call events to reduce the likelihood an injury or illness will occur. Get started with a paper or a free digital reporting system, like Safesite. To improve your system, eliminate blame casting, investigate near misses, and implement site-wide improvements.

Get the latest from Safesite
Subscribe to our newsletter for the latest updates.