Featured
Form Builders VS. Safety Management Software
If you have a safety data entry backlog, you're not alone. Many leaders are sitting on a pile of paper forms — and a goldmine of data — that could be used to lower incident rates and empower a stronger safety culture.
Enter safety software.
Almost every vendor promises easy, effective alternatives to chaotic paper and spreadsheet systems. These software solutions typically fall into a few broad categories:
Form builders and audit apps, which allow you to recreate paper-based forms in the cloud
Project management software, which offers comprehensive bidding, billing, and management tools with fields for safety information
Safety management software, also known as EHS software, which is a dedicated digital safety management system for all tasks and processes
In this comparison guide, we examine how two safety solutions — form builders and safety management apps — measure up to the competing priorities of safety managers like you.
Safety Software: Choosing the Right Option
Safety professionals need a solution that's simple to learn and easy to use. But simplicity isn't the be-all-and-end-all of a product. Just as you don't fill out paperwork for fun, you don't want to use a safety management solution for entertainment. So, in addition to basic functionality, you also want something that gets results, makes administrative tasks easier, and draws actionable and shareable conclusions.
Faced with a growing number of options, many companies stick with what they know: spreadsheets and their natural extension, form builders. It's not hard to see why. Form builders are systems that are most like digital versions of the old paper systems. No muss, no fuss.
But are they missing out on tools that could transform safety?
The value in choosing software isn't just in digitization. Real value — the kind that helps every employee get home safe — lies not just in software's ability to hold information, but to help you learn from it.
Before we begin to explore your options, let's define the two safety solutions, just to make sure we're all on the same page.
What Are Form Builders?
A form builder is a type of software designed to build digital forms. Its purpose is to help you digitize your safety paperwork using templates. Form builders will hopefully save you some time and a few trees.
Once ready, you then use these templates to document safety activities and information. You can then share, store, and print as needed — sometimes through the app and other times through downloading and then sharing through other solutions.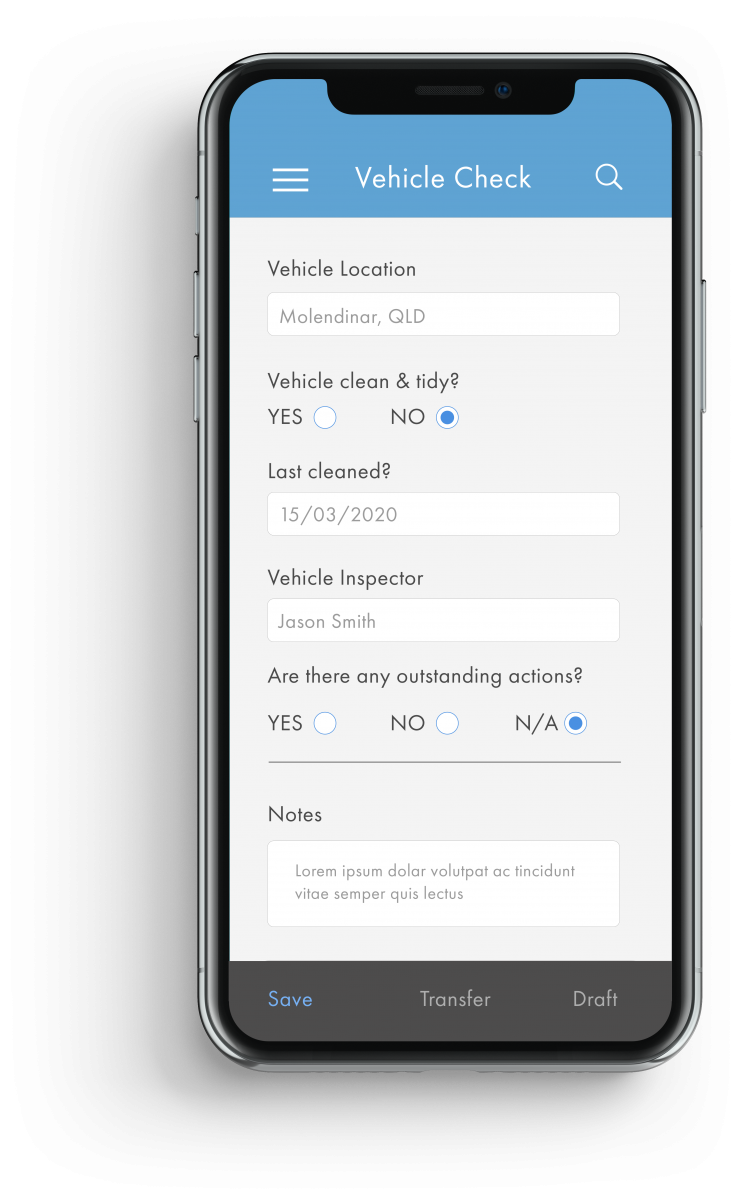 Sometimes known as Do-it-Yourself (DIY) apps, form builders are "low code or no-code" products. Any employee can use them to build a form in a cloud-based system and share it with their team members.
Formats: Native software, desktop app, and mobile app
Form Builder Examples: Microsoft 365, Smartsheet, iAuditor, ProntoForms
Cost: Freemium to $50+ per person per month (Capterra)
What is Safety Management Software?
Safety management software goes much further than a form builder. Also known as EHS software when there is an environmental component, safety management software is designed around formalized safety management systems.
The software has a distinguishable purpose: safety management software allows you to manage worker safety projects and tasks out-of-the-box. In other words, you don't need to spend days translating your old paper forms into digital forms and then back into your company's master Excel sheet. Safety management software comes built out with the features (sometimes referred to as modules or apps) you need.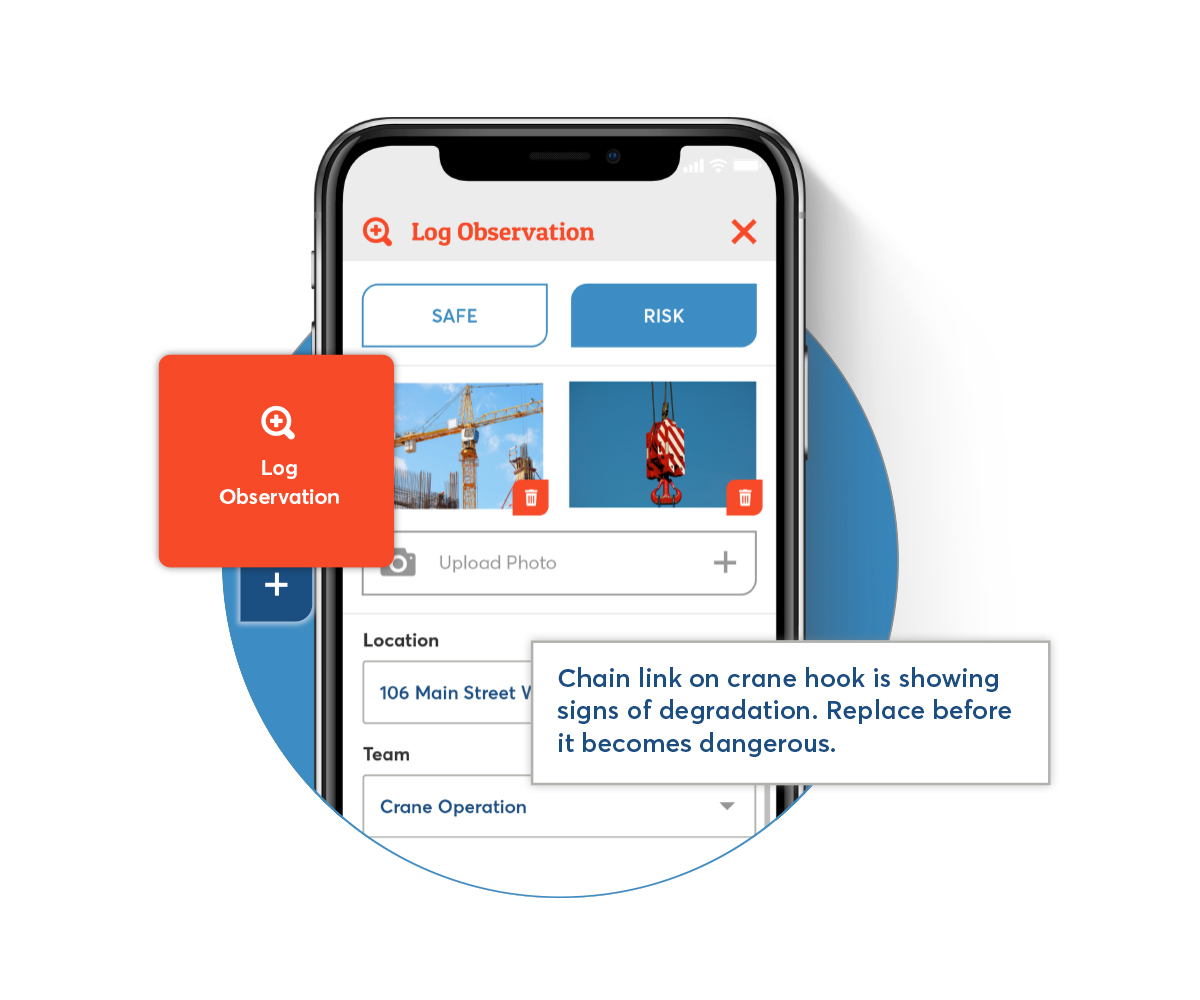 Safety software helps you apply your safety management system more efficiently by linking related tasks. For example, safety software allows you to raise a hazard during a safety inspection without the need to pull up a different form or return to the hazard to record it post-inspection. You can fill out the information, add photos, tag a location, and then assign it to a team to complete the prescribed corrective action.
One of the most significant value-adds offered by safety apps is the data insight potential.
Because the app collects all your information, it then transforms it into data and collates it to generate insights and metrics unique to your organization. You find actionable ways to improve safety within the same system used to capture the info. And you don't need to do any additional work. The software completes data analysis automatically.
Formats: Desktop app and mobile app
Safety Management Software Examples: Safesite, Cority, VelocityEHS
Cost: Freemium to $99+ per person per month (Capterra)
How Do Form Builders and Safety Management Apps Compare?
A quick overview of form builders and cloud safety management apps shows there's some overlap.
For example, safety management software may include a form builder feature and form builders may trend results in a dashboard (typically available if you subscribe and pay for the feature).
Generally, form builders are flexible solutions for recreating paper forms and templates. At its core, it's basic digitization. Form builders exist to better manage information and prevent superfluous data entry.
Safety management apps and software are more specialized. These apps are essentially a digital toolbox for managing all safety processes, including those that aren't form-based, such as observations. They also generate safety insights, transforming your safety information into actionable data.
To understand whether a form builder or a safety app works best for you, it's helpful to look at how these solutions measure up.
In other words, what's it like to use the product? And will it make your life easier while also keeping your team safer? Let's take a look.
Out-Of-The Box Comparison: Safety Software vs. Form Builders
| Feature | Safety Management Software | Drag-and-Drop Form Builder |
| --- | --- | --- |
| Incident Reporting | Real-time incident and near-miss communication and reporting | Incident and near-miss reporting |
| Safety Observations | Create positive and corrective safety observations to generate a better picture of safety trends | Create a safety observation inspection |
| Hazards | Raise hazards to resolve, including images (optional), and assign a person and timeframe or priority. | Complete a hazard identification form, and assign a corrective action. |
| Inspection Checklists | Use a free inspection template library and upload your own existing inspections, checklists, toolbox talks, and more | Build forms and checklists in the app |
| Dashboards & Reporting | Analyze insights based on incidents, near misses, hazards, and observations | See daily activity, insights sometimes available with Premium features |
| Safety Meetings & Toolbox Talks | Log attendance and conduct meetings using notes from our meeting library. | N/A |
| Multi-lingual Platform | English, Spanish, French, Portuguese, and more | English |
| Available Offline | Available in Offline Mode, data syncs when the device regains connection | Available Offline, data syncs when the device regains connection |
Feature Differences Between Safety Management Software and Form Builders
Day-to-Day Safety Management
Safety compliance and management is paperwork-heavy. Inspection results, observations (positive and corrective), safety talk attendance must be recorded or, as the saying goes, it didn't happen.
Whether you're tracking information for your own records or reporting to OSHA, your safety management solution needs to acknowledge the mountain of paperwork that makes your organization tick. Better yet, it should aim to streamline it and generate insights from it so that your company can be safer six, twelve, and eighteen months down the road.
Documentation
Even if you only need software for documentation, you still need something that allows you to record a number of data types. Audits with photo or video attachments, attendee signatures, and training records are each different forms of data that you'll need to set up in your new tool.
Safety management apps contain features and modules that are often ready-made to support these efforts. They are built with safety as a priority and documentation as a secondary means of keeping teams safe at work. You'll find everything you need to maintain a safety program, not just fill out some paperwork. That includes forms, photos, and signatures as well as simple communication functions.
Form builders may have some built-in safety templates, but they'll also have often templates for HR, marketing, and other departments unrelated to EHS. As a result, you can expect to do more tweaking at the outset and find you need to build anything that goes beyond basic safety management forms. You'll find your standard forms and templates within, but you may need to build custom reports, too.
Many companies that wish to simply re-create company forms lean towards a form builder. Yet they're usually missing out on the streamlined processes that digitization should offer, like safety notifications, data analytics, integrations, and one-click reporting.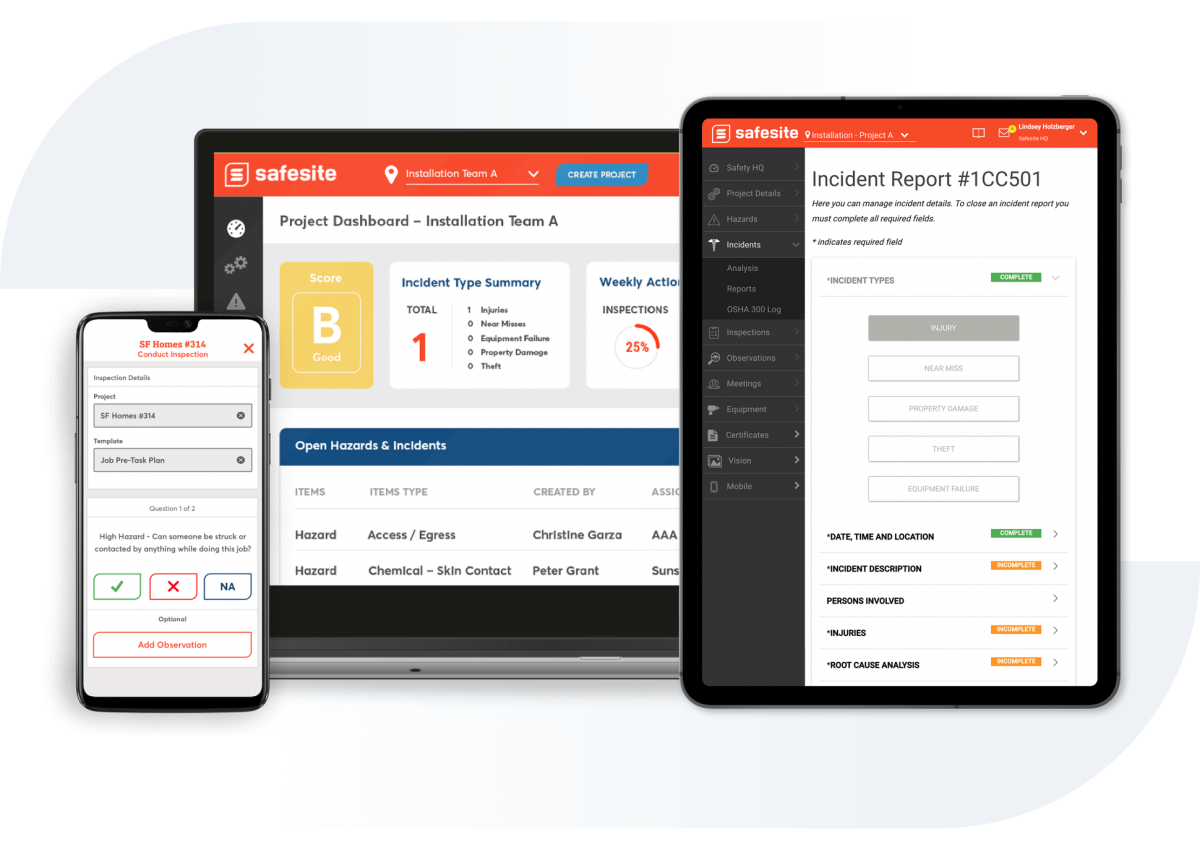 Communication
We can't underscore how important it is to communicate safety information in a timely manner — between team members, teams, and shifts. What good is recording a hazard and creating a paper trail if no one else knows about it? Or worse, they found out about the hazard as the result of an accident.
Safety management apps automate many communication channels. See a hazard? Document it, and the app lets everyone else on the team dashboard know. Safety management apps are also faster to set up since they already have an idea of the different roles and levels involved in safety and what each may need to know.
Here are just a few examples of ways safety apps help you communicate:
Summaries and reports are automatically sent to stakeholder inboxes at a time-frequency of your choosing
Responsible parties are notified when there is an outstanding hazard that needs to be resolved
Company stakeholders are alerted immediately when there is an incident on site
Form builders may or may not have intuitive notifications and email reports. Very often, they're reliant on the user to communicate messages manually. You may need to upload, download, and then email them, which adds three steps to an already cumbersome process. Among some form builders, the communication features are fairly robust and, while they require some setup at the onset, should function similarly to safety management apps once customized.
Incident communication is where safety management apps really shine. Incident notification must happen immediately, but the safety manager on duty will also need to ensure the area is secured and workers are safe. Plus, they'll need to begin communicating with insurance, emergency services, and witnesses ASAP.
Safety management software can instantly alert management on duty about an incident so that the safety manager can devote time to caring for the injured worker and recording what happened (also using the app!).
Form builders and safety management software can save you time that you'd otherwise spend entering data manually in your office. But when it comes to critical safety processes, like incident reporting, communication, and audits, safety management software is probably a more natural fit with your existing safety processes — and can even improve them!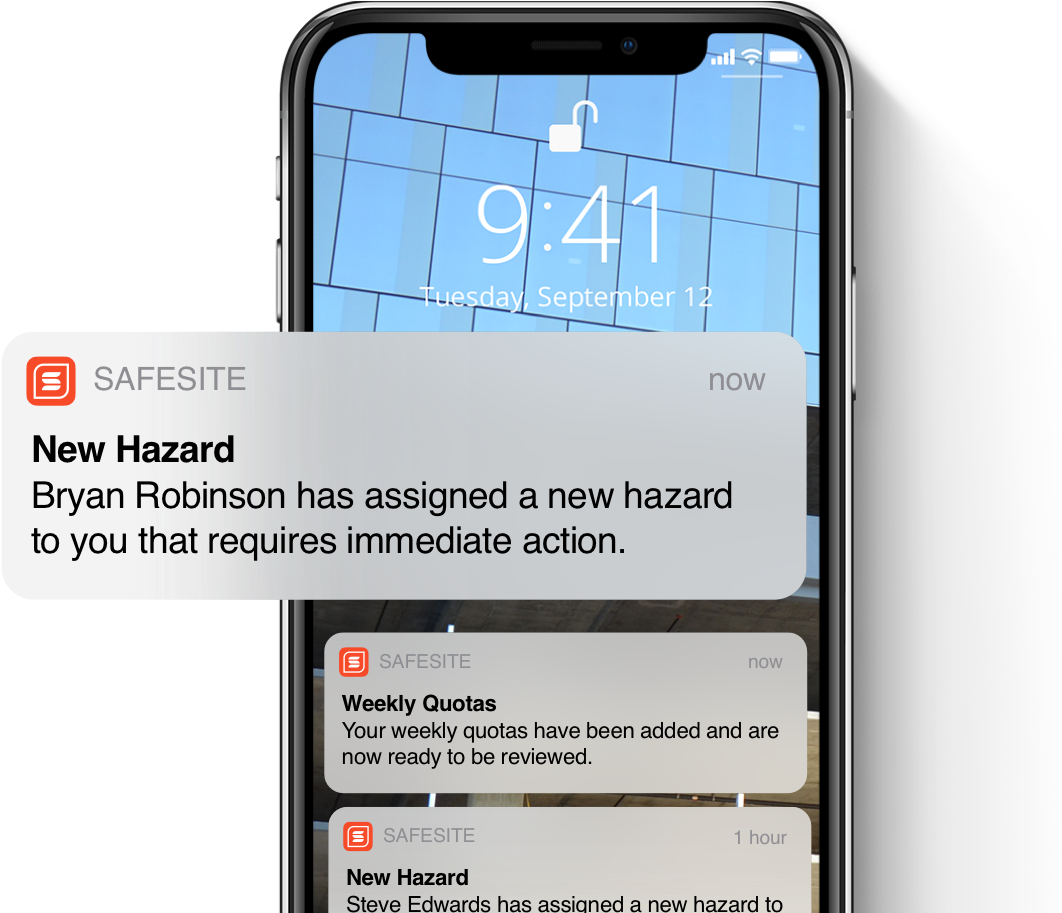 Setup & Scalability
How easy are these systems to set up? That's the real question. After all, you have a job to do, and you don't have days or weeks trying to learn a system that replaces your paper and list of Excel spreadsheets.
As we mentioned, going digital with your safety management can save time, reduce waste, and improve communication — if it fits the needs of your team. Software that is difficult to set up and integrate additional users may not save you time both now and in the long run.
Digital Safety Program Setup
When considering how the two types of software compare in terms of setup, you'll likely need to consider specific products. Most products implement limitations during demos. When you have limited functionality, you won't really know how quickly you can make it a workable tool without taking the plunge and paying.
In our experience, form builders typically require more hours to set up. You'll need to build your company forms within the app, set up notifications, and, if possible, set up any required triggers or dependencies.
On the contrary, a safety management app like Safesite can be used after a few clicks. Unlike form builders, there may not be an option to recreate your exact company form. However, our experience shows this is rarely an issue, as safety inspections, incident forms, observation forms, typically follow a very similar format, even across industries.
Adding Users and Locations
Setting up and deploying your safety solution goes beyond finding the right forms and features. It should be as easy to add users and locations as it is to get processes up and running.
Form builders focus on one thing: information collection. It's what they do best, but they don't allow for much collaboration – and they don't allow teams to communicate and collaborate in real time. If you can add users and locations, you may find the process cumbersome. Adding locations may also require you to create multiple accounts to differentiate.
Safety apps recognize that safety is a team sport. They recognize that you collect information to share it, which means they build in functionalities to add users and locations within your dashboard. You may be limited in users based on your subscription model, especially if you stick with freemium versions. However, you can still add users, usually with a few taps of a button.
With Safesite, all you need to do is use the Invite function to add members to your project. Just go to your project, hit invite, enter their email address, and you're done. You can then assign actions, track more information, and get a more comprehensive picture of your safety program.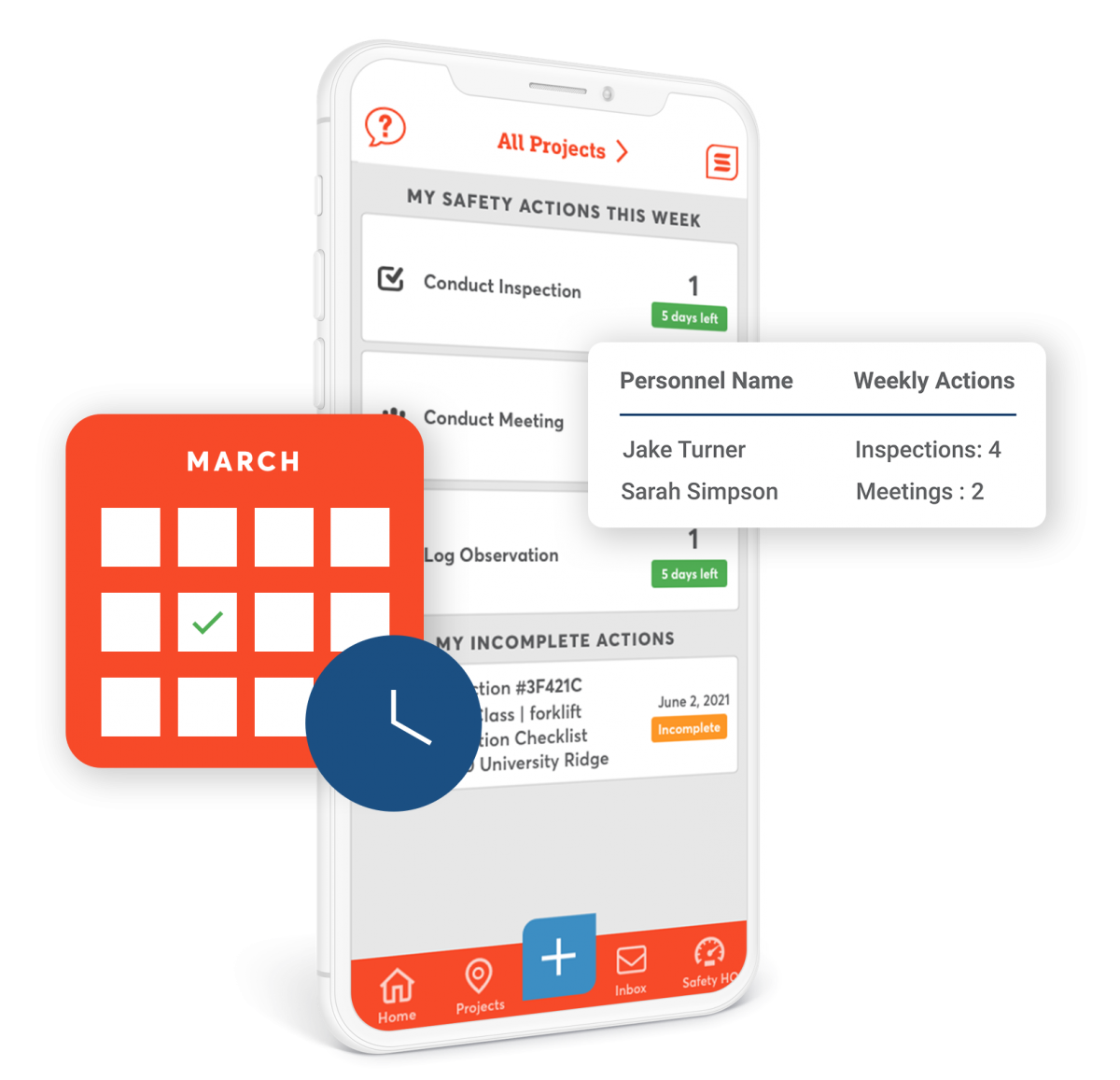 Safety App Pricing vs. Form Builder Pricing
While you can't put a price on safety, safety software comes at a cost. The trick is finding one with the most valuable features you need at a price that makes sense for the size and structure of your business.
There are so many software providers out there that it's impossible to compare prices or even pricing tiers. Thankfully, there are two overarching categories for pricing that most companies fall into. Here's how they can impact the cost of your business.
Free Demo
Freemium
Pay Per-User
Device Licensing
Pros: Free tour of the software, access to limited features.
Pros: Free-forever software, including all necessary features to function; easy to trial a product with no commitment
Pros: Full features available to all registered users on all their devices; easy to trial a product with no commitment
Pros: Ties software access through named devices for accountability
Cons: Access is limited until you pay.
Not useful for trying out a product across a team.
Cons: May need to subscribe to scale for large teams, to roll out for trades and subs, or to use for complex needs
Cons: Costs jump with big staffing jumps, making it less cost-effective for small or medium teams or for rolling out to trades and subs
Cons: Not easy to scale or use among distributed teams
Chart Covering Pricing Models for Safety Management Software and Form Builders
Safety Data & Trends
Our final metric deals strictly with data.
You might have noticed that when we refer to form builders, we refer to the inputs as information — not data.
Information is raw numbers, hazards, and observations. Information gives you the cold, hard facts. And having information is great.
But what you really want for a safety program is data. Data generates insights, actions, and solutions that transform your form or inspection into an opportunity to build safer workplace.
Form builders may display some information, and some even include dashboards with some data. However, they tend to focus on capturing and digitizing information rather than transforming it. You will still need to go in, extract information, and dedicate hours to examining it to produce something meaningful.
In our opinion, the difference between information and data is the most meaningful difference between a form builder and a safety app. Safety management apps use your data to make suggestions and help you make sense of what's in front of you right now and what could potentially happen in the future. A form builder may not tell you much more than your old spreadsheet did.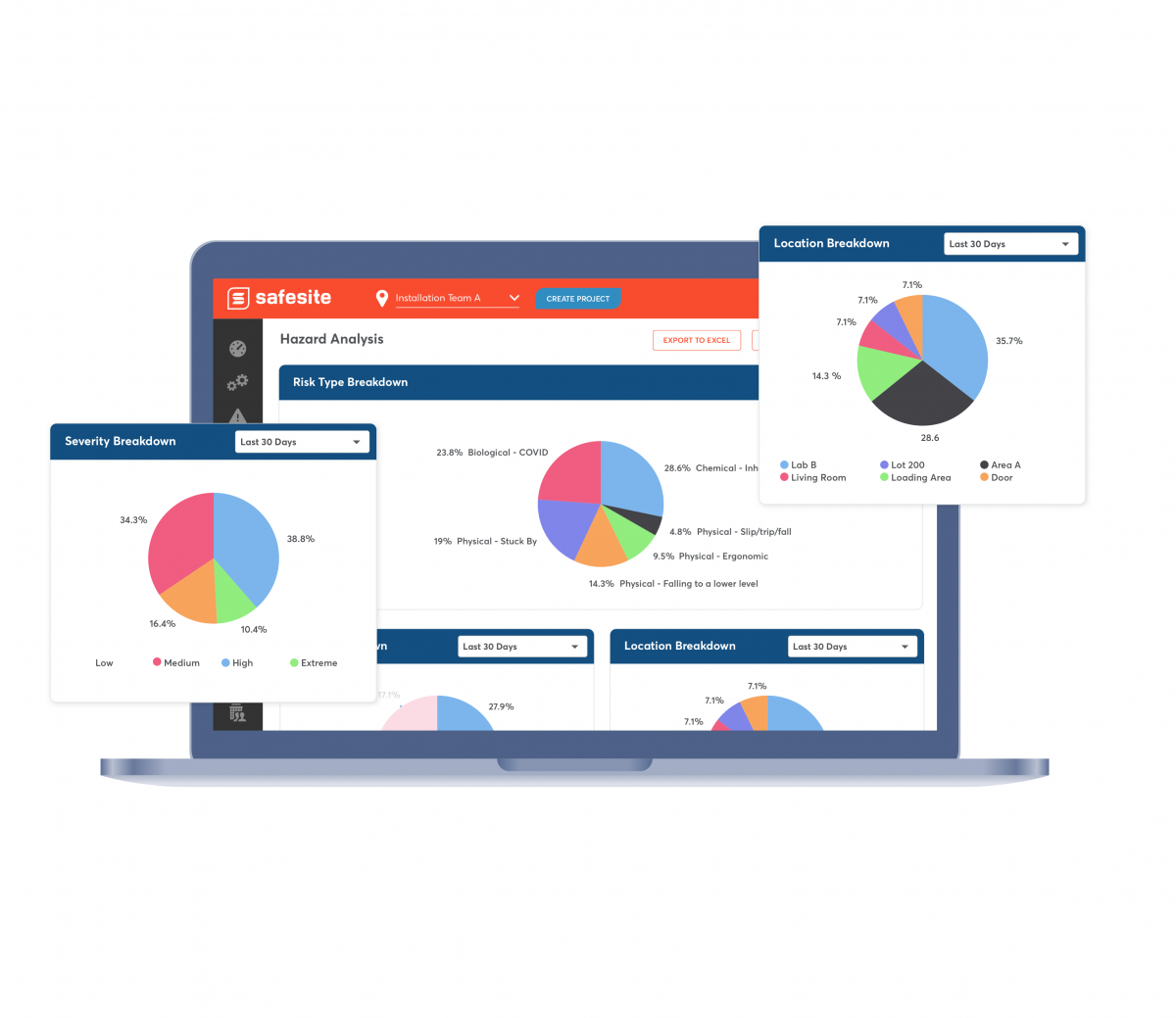 Getting Results
The most important thing to consider about digital safety management is whether it'll allow you to improve your program. You're not going to spend the time researching and adopting a solution that doesn't help you improve both productivity and safety.
When you choose a safety management app, you see the results in front of you. Safesite produces a patented Safesite Score that identifies where your team sits on the safety landscape. You watch your score go up after a week of completing positive actions.
If you choose a form builder, you can get results. However, you need to build both the means for achieving the results and the way you visualize the results for yourself. The delayed process tends to leave you working with lagging indicators and responding to past numbers rather than proactively reacting to incidents and preventing them from happening.
Safety Management Software Vs. Form Builder Data Comparison Template
| Features | Safety Management Software | Form Builder | Form Builder |
| --- | --- | --- | --- |
| | Safesite | DeviceMagic | ProntoForms |
| Aggregate Safety Observations | ✓ | ✓ | ✓ |
| Trending Safety Observations | ✓ | X | X |
| Corrective/Preventive Actions | ✓ | ✓ | ✓ |
| Leading Indicator Analytics | ✓ | X | X |
| Performance-Based Safety Score | ✓ | X | X |
Template Comparing the Features of a Safety Management Software vs. Form Builders
Safety Apps Vs. Form Builders: The Bottom Line
As a safety professional, you know the success of your safety program depends on your paperwork. While form builders are a great alternative to spreadsheets and paper forms, dedicated safety software and apps are built to support your entire program, not just streamline paperwork.
An all-in-one safety system is not only designed for safety needs. The app's support team also has inside knowledge that form builder customer success teams do not.
Effective safety apps consider which data is valuable for reducing incidents and saving lives. Your health and safety dashboard is like an extension of your brain: you know your people and the company's challenges, and your dashboard reflects your knowledge in graphs, scores, and insights. Your dashboard tells you where you can focus to make deep improvements and gives you proof to back up your decisions.
Hear the Latest from Safesite
Subscribe to our newsletter to receive the latest updates.
Hear the Latest from Safesite
Subscribe to our newsletter to receive the latest updates.