Construction
COVID-19 Face Masks: A Survey of US Construction Companies
For the past two months, construction companies have been equal to the challenge of supplying coveted N95 face masks to healthcare organizations. But will the construction industry be able to protect its own workers in the midst of COVID-19?
N95-grade protection (or higher) is still best for workers performing tasks around dangerous particulates like sawdust and silica dust. While OSHA has relaxed its requirements under very specific circumstances, compliance is a growing concern. OSHA will still issue citations for employers who don't show a good faith effort to provide adequate respiratory PPE. 
We surveyed 497 Safesite companies, including residential and commercial construction contractors and subcontractors across the US, to hear their challenges around respiratory protection for workers in the time of COVID-19.
Construction N95 Mask Survey Results
Bottom line up front: construction companies are still tuned in to the needs of healthcare workers. Even as manufacturers work to make more masks available, some areas face life-threatening shortages. Construction companies with supplies are working to fill those needs.
But construction companies are also concerned — and ultimately held responsible for — their employees. Activities like sawing, sanding, grinding, and cutting expose workers to a wide variety of disease-causing particulates like silica and lead. The symptoms often don't show up for years after the initial damage is done.
Contractors still in operation are struggling to protect workers.
Construction Companies Are Adapting
As a baseline, we asked survey participants if they were still working. Most US construction companies surveyed are still in full operation but have adjusted their work environments to accommodate remote office work and 6-ft social distancing.
It should be noted that representatives of companies that paused projects were much less likely to take the survey.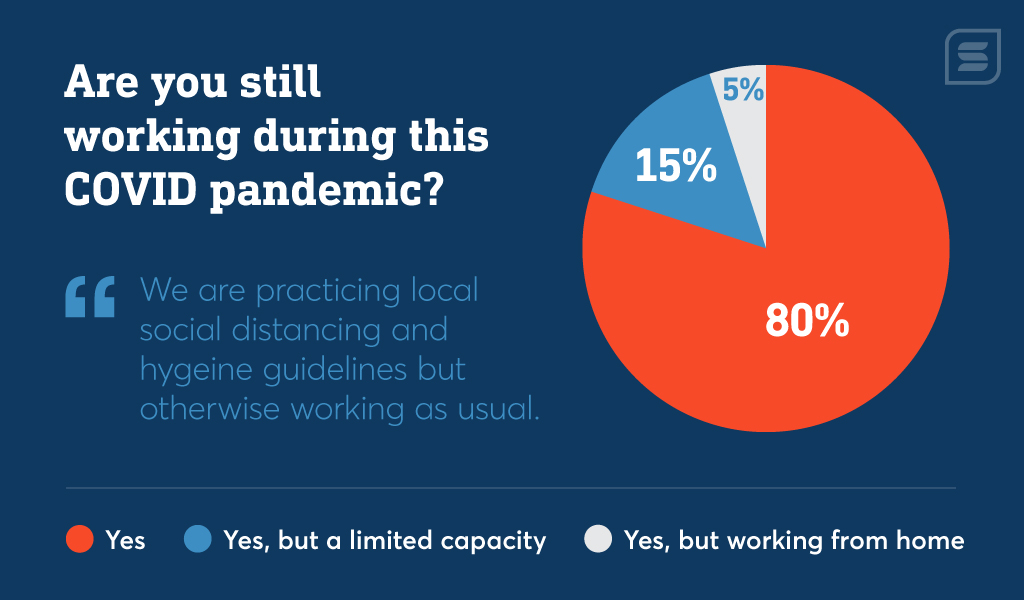 While it varies widely by geographic area, a small percentage of companies surveyed reported that some projects were paused in their area. In most states, construction is considered essential.
In addition to encouraging the use of home offices for administrative tasks and social distancing for field workers, participants also reported implementing:
frequent handwashing
temperature self-reporting at the start of each shift
adjusting sick leave policies to create a culture of safety, including self-isolation and self-reporting when needed
hazard raising after a field employee is symptomatic or diagnosed
disinfecting tools, equipment, surfaces, and facilities
cloth masks/dust masks as a layer of COVID-19 protection in the field
N95 Masks Aren't COVID-19 Prevention in Construction
Survey respondents report that they are not mandating N95 masks for COVID-19 prevention but are still mandating this level of protection or higher for certain tasks.
Even so, a few respondents reported that they have been unable to purchase new masks and have had to recycle old N95 masks. This is allowable under the current OSHA guidelines, but it's not ideal.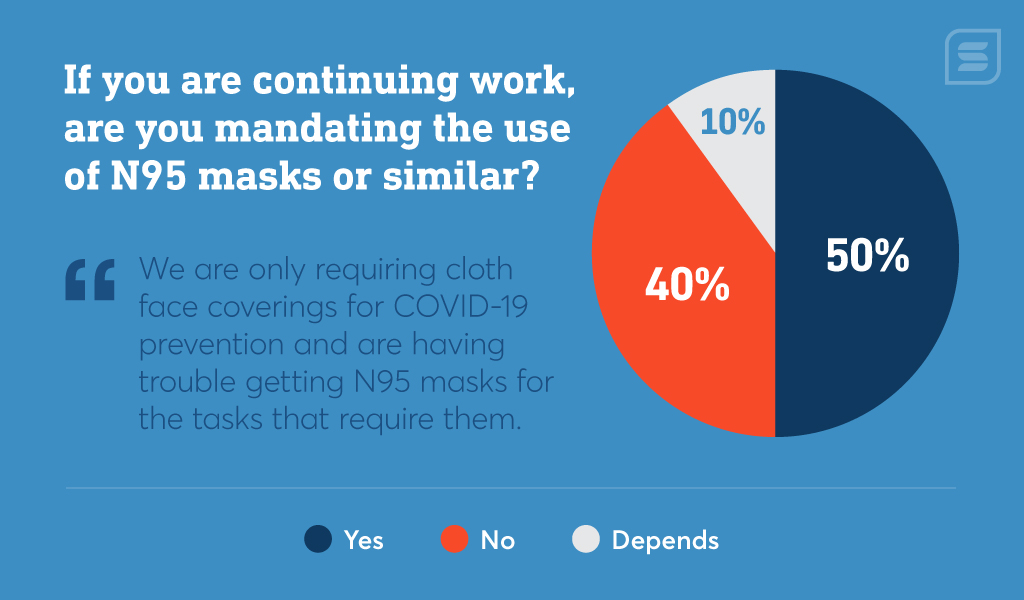 Long-term shortages of respiratory protection in construction could affect construction worker health years down the road.
N95 Masks (and Substitutes) Are Out of Stock
Over half of survey takers reported trouble obtaining adequate respiratory PPE for employees. 33% said they could not find sufficient respiratory PPE for employees.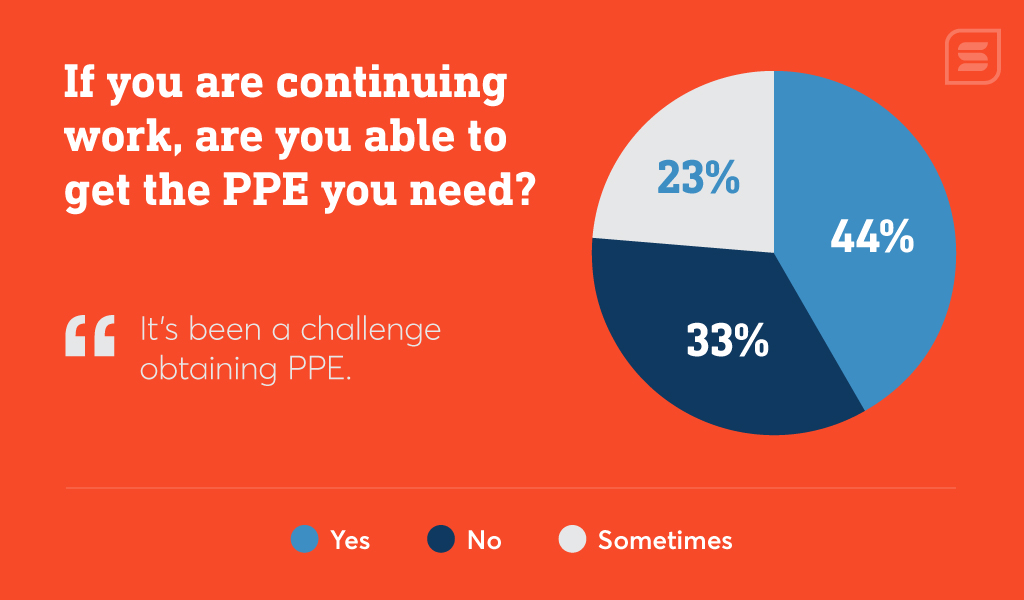 N95 Masks (and Substitutes) Are 25 to 50% More Expensive
Survey participants that can find N95 masks — or their accepted equivalents — are paying an average of 25-50% more than usual. Many users reported paying 50-75% more, but a similar number reported a 10-25% markup.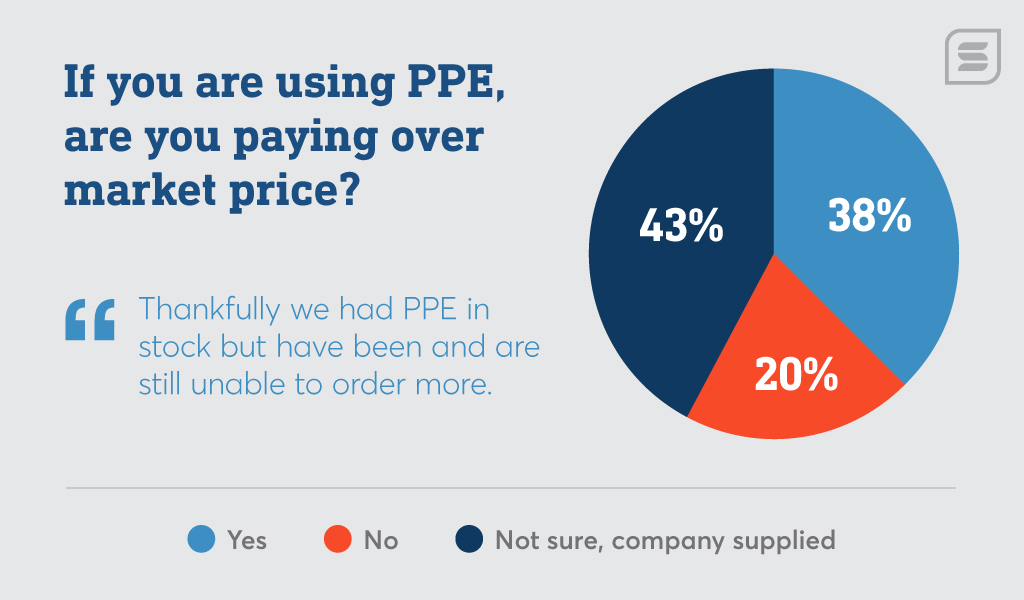 A New York-based participant said the highest price he saw was $8.35 per mask. (Masks typically cost $0.90 each.) Paying for a week's worth of respiratory PPE means forking over hundreds instead of $100.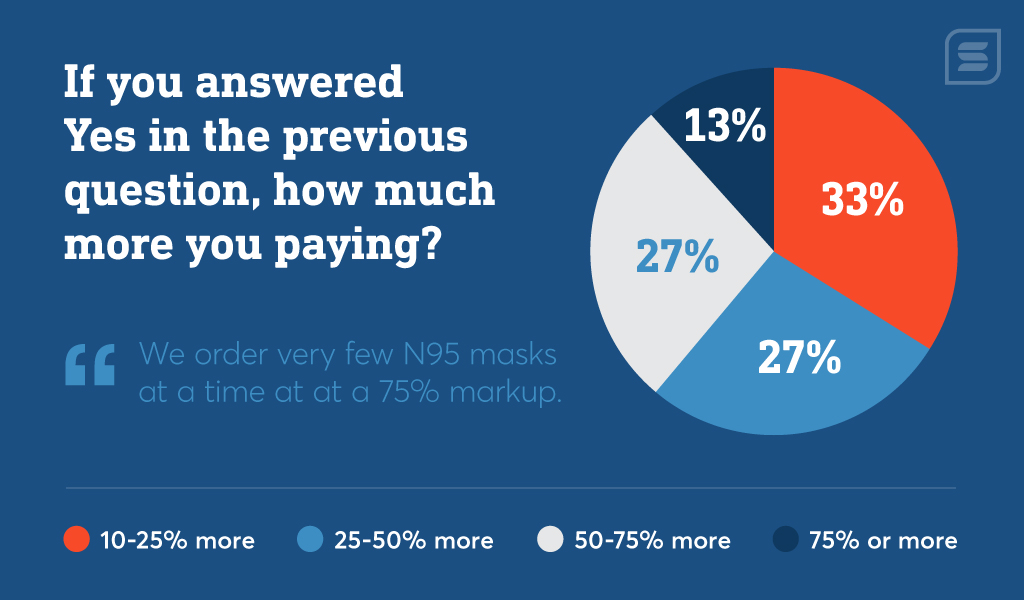 N95 Surgical vs. Construction Masks: Blurred Lines
N95 masks come in a number of different models. Models intended for healthcare use are highly resistant to fluids and filter out pathogens during inhalation and exhalation.
Models designed for construction use have weaknesses in the healthcare setting (but are preferable to basic surgical masks).
One such model, however, includes an exhalation valve, a small "doorway" to allow users to breathe easier. Unfortunately, pathogens and even fluids can get out through it. While N95 respirators with a valve can protect the wearer, they do not protect others in the wearer's vicinity.
For this reason, N95 models such as the 3M 8210V are being banned for use by the general public and "in surgical settings" for the purpose of COVID-19 prevention. These models could be the first wave of affordable resupply for construction companies working around hazardous dust.
COVID-19 Mask Recommendations for Construction
Healthcare demand for N95 surgical masks is still too high for OSHA to request their use for COVID-19 protection in non-healthcare workplaces. To prevent the spread of COVID-19 on construction sites in the US, employers are required to follow OSHA's guidelines to reduce risk through:
infection control (hygiene)
prompt removal of sick employees
infection control policy training and guidance
Many construction companies are bolstering sick leave policies to encourage self-isolating and staying at home. They are supplying personal tools to reduce sharing, disinfecting shared surfaces more often.
While supplying cloth masks is not required for COVID-19 prevention at this time, a number of companies surveyed are choosing to follow CDC guidelines for social distancing and cloth mask donning on the job site.
PPE Compliance During a Shortage
For tasks that require particulate filtering, OSHA recently requested that companies not use N95 masks. Instead, contractors must provide alternative methods (engineering controls) and/or substitute N95 masks with a higher grade of protection.
N95 masks with exhalation valves may be a good starting point for resupplying construction, as they are not recommended for use by healthcare workers.
Sign up for a free Safesite account to receive ongoing updates and guidance on respiratory PPE for construction employees. We're looking into ways to help our customers fulfill their duty to protect and avoid OSHA citations during the N95 shortage.

Hear the Latest from Safesite
Subscribe to our newsletter to receive the latest updates.
Hear the Latest from Safesite
Subscribe to our newsletter to receive the latest updates.