In the 1930s, the Department of Labor released a film called Stop Silicosis. In the 12-minute video, a narrator reports the dangers of silicosis—disease, disablement, death. He then warns: "The cure? None!"
Today, there is still no cure for silicosis, and although protection from silica dust is more advanced and widely known and enforced, silicosis diagnoses keep cropping up—and in younger and younger workers.
Industries Affected by the OSHA Silica Rule
OSHA's updated rule for crystalline silica exposure (29 CFR 1926.1153) was published in 2016. The rule directly affects companies involved with cutting and finishing concrete, as well as road building, interior drywall finishing, masonry, and glazing.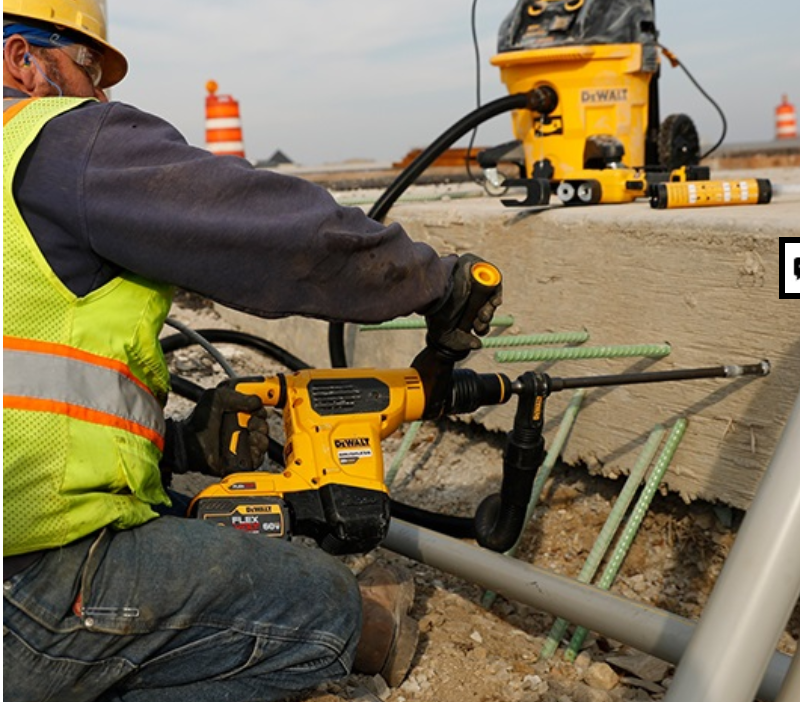 The rule also applies to suppliers of materials like engineered stone and concrete, as well as polished granite and marble, which are composed of high concentrations of silica.
Non-construction sector firms such as painters who use sandblasting equipment, facility maintenance personnel who may drill and anchor equipment in concrete, or those involved in manufacturing ceramic products are also impacted.
7 Steps to Compliance with OSHA Silica Regulations
In September 2019, OSHA put out a request for information on the insufficiencies of the current rule as well as difficulties implementing the Table 1 standards. While OSHA has not yet published a response to the information received from their request, some studies are finding that wet cutting alone does not provide adequate protection. Additional protective measures, PPE, and more sophisticated dust control equipment may be required in the years to come.
For now, abiding by OSHA's standard for silica requires reducing silica dust exposure to 50 micrograms per cubic meter per 8-hour shift. This means consistent monitoring of the environment, your employees, and your equipment to prevent illness caused by inhaling silica-containing dust.
Here are seven steps to bring your silica program into OSHA compliance:
1. Evaluate Table 1 of 29 CFR 1926.1157
Use Table 1 to determine if work tasks you perform expose your employees to silica dust. If you follow the respiratory control measures, work practices and exposure control measures found in Table 1 exactly, then no additional air monitoring for the purpose of employee exposure assessment will be required.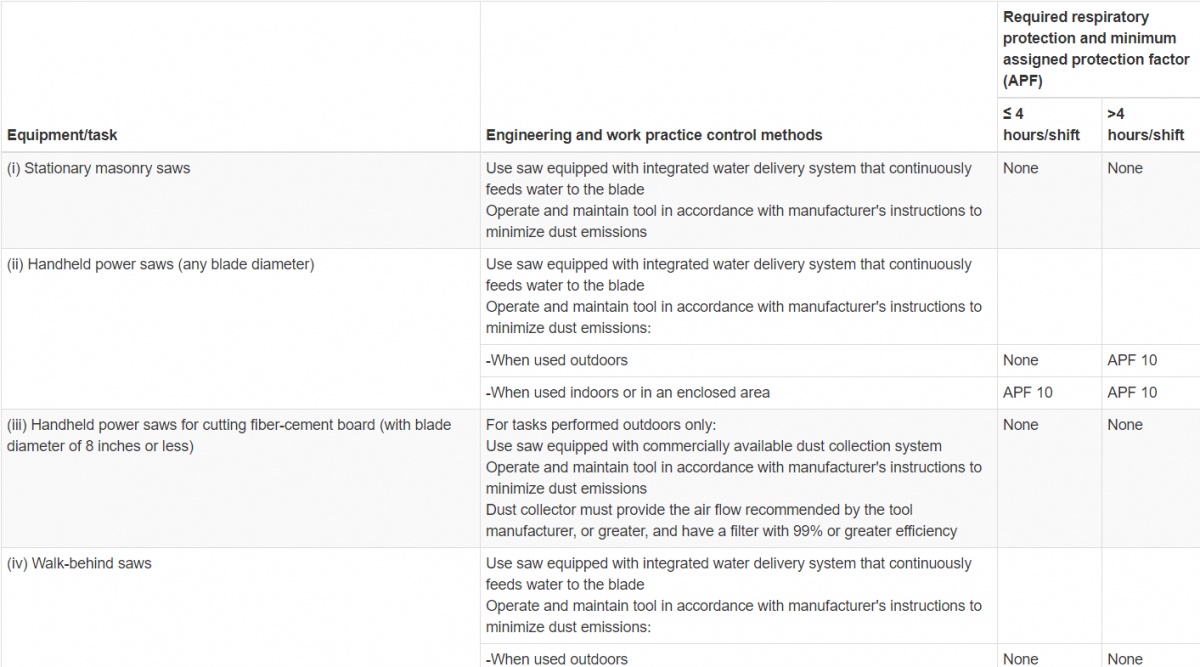 2. Make a Written Exposure Control Plan
List tasks that expose workers to silica. Include the engineering controls, work procedures and respiratory PPE to be used. Additionally, methods to restrict access to silica work areas and housekeeping methods required for dust control must be described.
3. Introduce Engineering Controls
Purchase and install dust control equipment or specialized cutting tools designed to conform to Table 1 requirements.
All housekeeping should use wet methods and no dust removal using compressed air or "leaf blowers" shall be allowed.
4. Inform Employees
Employees exposed to respirable silica dust must be trained on the hazards and on how to use PPE and proper tools to minimize their exposure.
In addition, any employees required to wear tight-fitting respirators must be medically qualified and trained on the use, cleaning and proper storage of their specific type of respirator.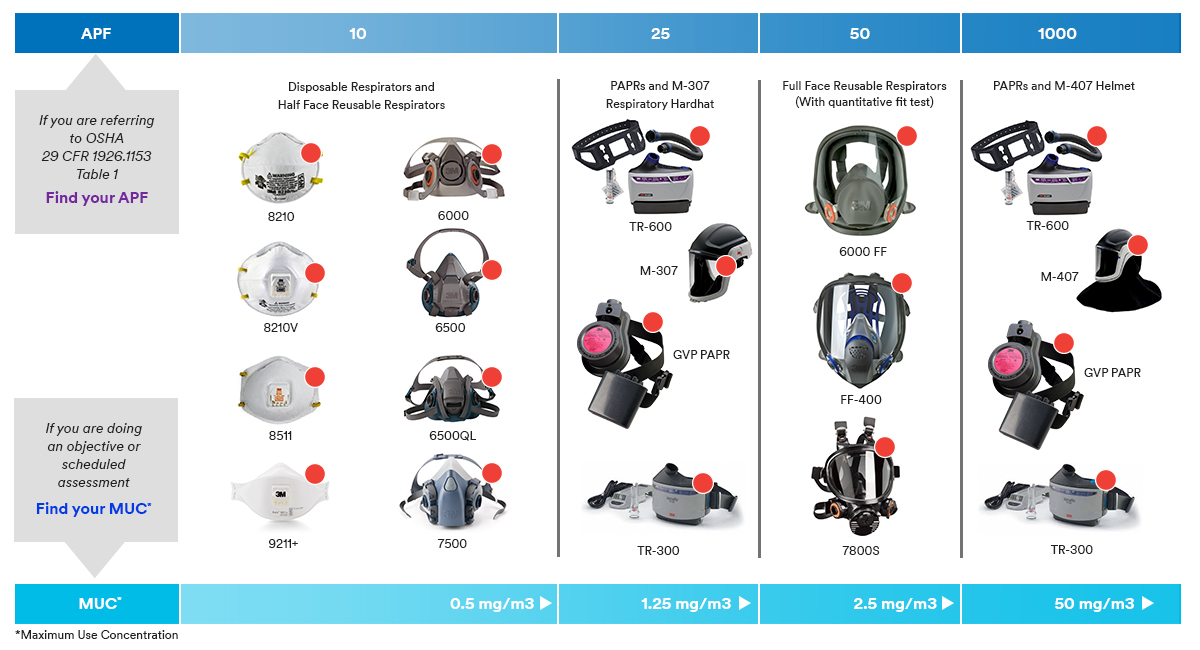 5. Monitor Air Levels
Air monitoring is required for any non-Table 1 task, and to ensure that dust levels remain below the OSHA Permissible Exposure Limit (PEL) at job sites.
Detailed written records should be maintained for all air monitoring and employee exposures above the PEL.
Train a "Competent Person" who will be designated to identify silica hazards and has the authority to take steps to eliminate hazards, or pause work until safe conditions are established.

6. Maintain Employee Health Records
A licensed health care provider should be selected and designated to perform respirator medical examinations and provide medical opinions on fitness for wearing a respirator. The health care provider should also maintain records of the examinations.
The company is required to maintain copies of the medical fitness statement and subsequent respirator fit test and employee training records, and to refer the employee to required continuing medical and retraining sessions.
All of these records must be maintained by the employer for at least 30 years after the employee has left the company or stopped having to use a respirator.
7. Ongoing Silica Management
Although most companies specialize in a range of work activities that are similar (i.e. finishing and sealing concrete floors; installing countertops, etc.) when it comes to Silica dust, each job is unique. That's why it's critical to have a competent person evaluate each job site to ensure the proper silica dust control measures and PPE are being used.
Ongoing air monitoring may not be required in all cases if the work is identical to that found in Table 1 or sample data exists from several prior tasks.
Get This Article as a Checklist
Run through the items in this article periodically by downloading the OSHA Silica Monitoring Checklist as a DOC, PDF, or spreadsheet. Or, use the digital version on the Safesite app (iOS, Android, Desktop).
Safesite is a free safety management system that can improve your silica program by being a centralized, digital source for:
silica documentation
silica program inspections
employee health evaluations and fit tests
illnesses and injuries.
Silica exposure reduction requires commitment and consistency. Safesite allows you to communicate across teams, document problems and solutions in real-time, and implement safety improvements faster.
Hear the Latest from Safesite
Subscribe to our newsletter to receive the latest updates.
Hear the Latest from Safesite
Subscribe to our newsletter to receive the latest updates.