Featured
The Safety Shoes & Steel Toe Boots Selection Guide
The human foot is one of the most complex parts of the body. There are 26 bones, 33 joints, and over 100 ligaments, muscles, and tendons in each foot. To put that in context: the human body features 206 bones. That means 52 of them are in your feet.
Safety shoes protect your feet — and the rest of you — from injury both over the short and long-term. OSHA demands that workers wear safety shoes in specific circumstances, such as when there is a risk of an object piercing your sole or when there's a crush hazard.
In this PPE guide, we're talking about foot safety: what it is, why it's necessary, and how to get started with safety shoes.
Let's step to it.
Intro to OSHA Foot Safety Requirements
OSHA 1910:136(a) says the employer must ensure every affected employee wears protective footwear in any place where they are at risk of foot injuries or when footwear will protect them from electrical hazards. Workers must also wear them when there's exposure to hot, corrosive, or poisonous materials
Additionally, OSHA 29 CFR 1915.156(a) says "workers must wear protective footwear in areas where falling or rolling objects or objects piercing the sole."
Remember that when you're talking about footwear, you're not just talking about safety shoes and steel toe boots. In cases where workers could face injuries to their lower legs and ankles, you must also include PPE to cover legs and feet.
OSHA requires you to use a PPE assessment or hazard assessment to determine the risk of injury, the need for PPE, and the type of footwear employees need before the job.
What footwear do you need to choose? According to OSHA 1910.136, your footwear must comply with any one of these standards:
ASTM F-2412-2005 "Standard Test Methods for Foot Protection" and ASTM F-2413-2005 "Standard Specification for Performance Requirements for Protective Footwear"
ANSI Z14-1999 "American National Standard for Personal Protection — Protective Footwear", or
ANSI Z14-1991 "American National Standard for Personal Protection — Protective Footwear"
If the chosen protective footwear doesn't specifically meet these standards, then you must prove it is at least as effective as the footwear that does.
Choosing the Right Footwear Features with a JHA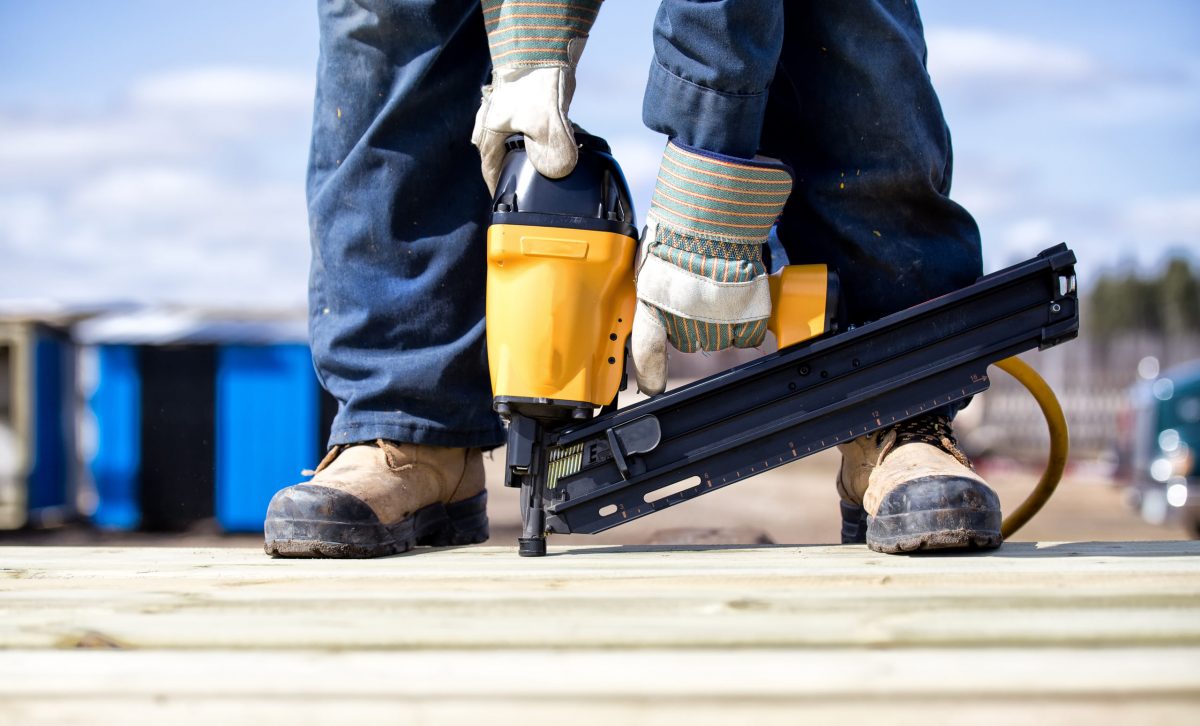 There's no doubt you'll find a long list of safety shoes on the market. Your job is to use a JHA or another risk assessment to find the right footwear features.
In cases where the risk of injury is high and the hazards are severe, you may need to provide a combination foot and shin guard in addition to toe guards. Foot and shin guards protect workers' legs and feet. An example of an appropriate time to add foot-shin guards include when workers use power tools that throw off materials, such as when railroad workers use railroad power adzing machines. Forestry workers also need specialty shoes for extra protection against chainsaws.
Note: Slip-resistance is a great feature for a shoe, and if your work environment warrants it, then go get it. However, it's important to note that OSHA says shoes with a slip-resistant feature alone aren't PPE.
Safety Shoe Sole Options
The soles of the safety shoes play a substantial difference in the protection qualities of the shoe. The chart below
| Sole Material | Properties |
| --- | --- |
| Rubber | withstand heat up to 570℉allows for slip-resistance may have Nitrile or Neoprene for oil and chemical absorption |
| Polyurethane (PU) | resistance to chemicals (except alkalis) and oils)withstand head conditions between 250-300℉ |
| Polyvinyl chloride (PVC) | usually added to rubber for better abrasion resistance low heat tolerance cracks in cold temperatures |
| Thermoplastic urethane (TPU) | excellent resistance to chemical and oil and abrasionlower heat resistance |
| Ethyl vinyl acetate (EVA) | open-cell plastic makes for good midsole poor abrasion decent oil and chemical resistance |
Safety Shoe Features
The American Society for Testing and Materials (ASTM) creates standards for safety footwear both in the U.S. and around the world. Organized in 1898, the organization offers 12,000 new standards every year and has membership from governments, industries, and institutions in 140 countries.
We put together a quick overview of the protection standards definitions and the ASTM features you'll typically look for when buying safety shoes.
| ASTM Features | Description |
| --- | --- |
| Impact I/75 | Protection from dropping 50 lb weight from a height of 18" |
| Compression C/75 | Protection from 2,500 lbs of force |
| Metatarsal MT 75 | Protection from 50 lb weight dropped from 18" |
| Conductive | Protection from static electricity buildup between 0 and 500,000 ohms (not intended for wear near open electrical circuits) |
| Electrical Hazard | Protects against contact with live electrical circuits of up to 18,000 volts at 60 hertz for 1 minute in dry conditions |
| Static Dissipative | Protects against low footwear resistance with lower limit of electrical resistance of 1 megohm and limit of 100 megohms |
| Puncture Resistant | Protects against punctures using permanent feature layered between insole and outsole up to 270 lbs of force |
ASTM Protection Standards Chart
| ASTM Features | Description |
| --- | --- |
| ASTM | Conductive properties meeting ASTM standards |
| Electrical Hazard (EH) | Reduce the flow of electricity and provide secondary protection from electrocutionTested to 18,00 volts at 60 hertz for 1 minuteMeets F2413-11 Section 5.5Soft-toe shoes/boots can't be rated EH; must be safety shoes |
| Static Dissipating (ESD) | Minimize static electricity build-upLower limit of 1 megohmUpper limit 100 megohmsMeet F2413-11 Section 5.6ESD shoes can be safety or non-safet shoes |
| Puncture Resistant | Contains midsole (composite or stainless steel)Withstand minimum puncture resistance of 270 poundsMeet F2413-11 Section 5.6 |
| Steel Toe | Built-in non-removalbe steel toe capExceeds ASTM F2413-11 I/75 and C/75 (impact and compression rating of 75) |
| Composite Safety Toe | Non-metallic safety toeLighter than steel toe bootsSuitable for security environments (passing through metal detectors)ASTM I/75 and C/75 (impact and compression rating of 75) |
| Advanced Toe Protection | Advanced toe protection (non-conductive, resists temperatures)ASTM I/75 C/75 (impact and compression rating of 75) |
| Metatarsal Guard | Provides internal metatarsal guard for flexibility and better movementReduces chance of injury to metatarsal bones on top of foot |
| Chemical Resistant | Leather uppers are chemical resistant |
| Heat resistant | Heat resistant up to 500℉ |
| Shock Absorption | Features cushion comfort insole |
| Slip resistant | Provides slip resistant sole |
| Inside zip | Inside zipper for convenience and support |
ASTM Safety Footwear Features Chart
Safety Tread
The space and depth of the shoe's tread contribute to its anti-slip properties. If the shapes of the outsole are too close together or shallow, then there's not enough spaces to channel any liquids you walk through. Once the liquid gets trapped, you risk hydroplaning and then a slip or fall.
In most cases, you want a tread of around three millimeters to minimize the risk of slips and falls.
Once the tread depth starts to wear, it's time to start considering a replacement.
Comfort
Using footwear to mitigate risks associated with identifiable hazards is step one. Finding a product that's comfortable is step two.
Foot comfort is more important than we often give it credit for because our big focus tends to lie on preventing foot safety disasters, like crushed feet or electrocution.
Safety shouldn't come at the cost of comfort. In fact, they are one and the same. For example, standing in the same place puts workers at risk for back problems, arthritis, and foot pain. These are injuries, even if they happen over many months or years rather than in one fell swoop.
Plus, if the safety shoes provided aren't comfortable, then they're less likely to wear them, which increases their safety risk and can lead to violations if caught out by an OSHA inspector.
To prevent your safety shoes from causing problems at work, you should find shoes that also prioritize:
Comfort
Support
Fit
Flexibility
Some of these factors come down to the shoe itself. Not every workers' feet will feel good in one pair of shoes. You may find it helpful to try out multiple vendors and give workers options.
Fit is a little bit easier to navigate. It's a good idea to ask professionals to measure employees' feet to get the right size. Schedule their fittings for midday in case their feet swell during the day.
Finally, go on the hunt for safety footwear designed for women. For years, women simply put on men's shoes: they simply took a smaller size. Lately, there's been an increase in manufacturer interest in 'female-friendly' safety shoes. So, get in touch with your supplier about these new options.
How to Run a Safety Footwear Program
Many people still think that workplace injuries can't happen to them. They think of injuries as accidents. In reality, injuries are most commonly the product of a series of choices. Because foot protection tends to be overlooked, it's good to reiterate its importance and potential hazards in toolbox talks to empower workers to make the safe choice every time.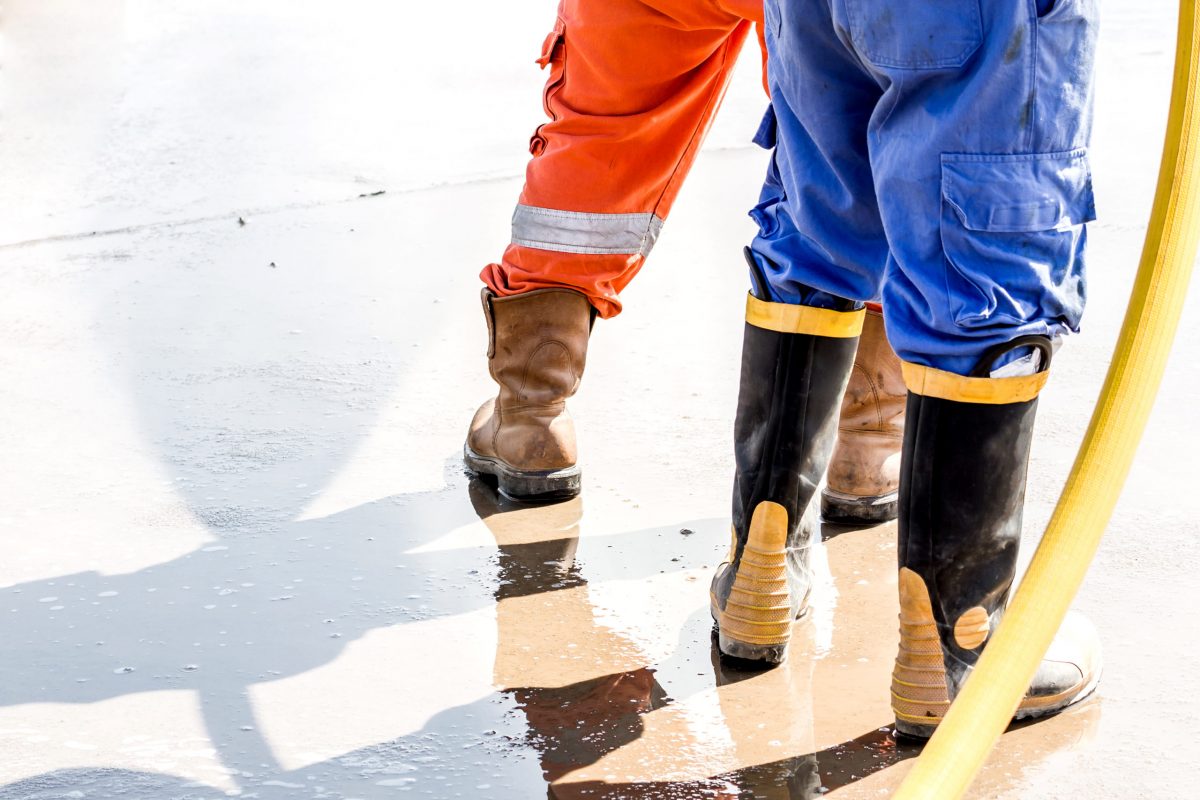 Cover Foot Hazards in Toolbox Talks
First, every new employee should know the expectations around safety footwear before they start the job. If you don't have footwear and foot hazards covered in your onboarding safety training session, then today is the day to add it.
Keep in mind that "one and done" isn't enough given the severity of hazards, even those that seem minor. So, add these talks to the schedule multiple times per year. For example, if you work in a state with harsh winters, then autumn is a good time to re-run a toolbox talk before the winter snow and rain adds chaos and slippery surfaces to the workday.
You should also run toolbox talks covering the specific safety hazards impacting employees' feet. Use your JHA results to deliver the appropriate training to each group of workers — and don't forget to cover the comfort element and its associated risks that apply to all workers.
If you're looking for ways to step up your foot safety program, use the Safesite app. You can find PPE training in the Safesite toolbox talks. The app lets you run meetings, stay on track, and log who has and hasn't completed their training.
Safesite also recommends logging positive observations when you see workers choosing the right footwear, wearing it correctly, and inspecting it before use. Logging these observations gives you a chance to evaluate your weaknesses and reward workers for making safer choices.
Manage Safety Footwear Inventory and Budget
If you don't already have one, now is the time to set up a Foot Protection and Safety Footwear program that covers all employees working in conditions covered by the OSHA footwear guidelines. The program will make sure everyone has the PPE they need for safety and compliance, and it will help you maximize the investment you make.
As you know, OSHA began requiring employers to pay for PPE that's used to comply with OSHA standards back in 2008. That's why you need to pay for metatarsal protection for railroad workers, but you don't need to pay for standard steel toe or non-slip shoes for general workers — unless you want to.
Tip: Providing a safety footwear allowance for all workers regardless of OSHA requirements does make workplaces safer.
Your safety footwear management plan should detail:
Your safety footwear budget or allowance
The date of replacement (e.g., not more frequently than once a year except for specific cases)
Safety footwear training
Recordkeeping for PPE hazard assessments, training, safety footwear maintenance/inspections, and equipment purchase and distribution
You should know who needs and has what pair of shoes and when they got them to manage your inventory and stay on budget.
Safesite put together a guide to creating a PPE management plan. You can find our PPE management post here.
When to Repair and Replace Safety Footwear
So far, we've talked about the need for safety shoes and how to begin the process of choosing the right PPE. The lifecycle of PPE use also includes caring for shoes.
All PPE requires regular inspections to make sure it's safe to use. Every worker should inspect their shoes before heading onto the site to look for:
Cracks and holes
Damage to buckles or laces
Separation of materials
Materials stuck in the soles, (e.g., trapped metal could create electrical hazards)
Any one of these issues damages the protective features of the shoes. If they find a hole or other damage, they need new shoes before they can start work. You may find it's a good idea to add the inspection at the end of the day, so you can order more shoes before the next shift.
When do shoes need replacing? Workers cannot wear shoes with
Leaks
Separated soles
Worn out tread
Dented protective features
Protective components shown through uppers
Of course, everyone wants to make the most of their shoes — they aren't cheap. To get a long life out of your shoes without compromising safety, always follow the manufacturer's care instructions.
Bring Together Features and Fit in Your Safety Shoe Program
Safety shoes protect workers from foot hazards, slip and falls, and even ergonomic hazards. You do need to provide workers with safety shoes when OSHA indicatres it's required, but it's a good idea to provide or train employees on issues like slips, trips, and falls regardless of OSHA rules.
To get your safety footwear program started, you'll need your JHA. Once you have your requirements, get in touch with manufacturers and suppliers to talk through your options. Don't be afraid to trial a few pairs of shoes before you commit. Safety shoes can last a long time, so you want them to be fit for purpose from the start.
Hear the Latest from Safesite
Subscribe to our newsletter to receive the latest updates.
Hear the Latest from Safesite
Subscribe to our newsletter to receive the latest updates.