Featured
5 Steps to Stronger Safety Workflows in Areas with No Service
People working in remote areas may be twice as likely to require hospitalization due to an injury. Not only are injuries more serious, but more time elapses between the incident and emergency treatment.
A strong safety program is possible in areas with no connectivity. The good news is that most of your work requires you to re-focus on the basics: risk assessments, skill assessments, and emergency plans. Including dedicated remote workplace processes in your safety program and emergency plans will ensure you are actively reducing risk.
So, how do you prepare for work on remote job sites? Use these steps to guide you.
1. Start with a Risk Assessment
Before operating in a place with little to no connectivity, you need to conduct a risk assessment that accounts for both conventional hazards and the additional risks of being somewhere with poor cell or data connectivity.
Working in a place with poor coverage usually means working in a remote area. Your risk assessment should:
Consider whether workers have training, knowledge, skills, and equipment to do the job safely and in the environment
Assign responsible parties for the site
Identify general and task hazards
MSHA has a risk assessment outline available for mining workers, the ultimate remote workers. Aptly titled SLAM (Stop, Look, Analyze, Manage), the process includes four parts:
Stop and consider the work involved and whether the worker has the knowledge or training to carry it out.
Look for potential hazards prior to tasks beginning a task.
Analyze the hazards to identify controls to carry out the task safely.
Manage control methods.
There are also remote/low-connectivity issues to consider. You might clock the risk of a severe injury, but you might elevate that injury from severe to life-threatening if the worker is in an area where they are far from medical attention and have little-to-no connectivity.
Make sure your risk assessment also accounts for team sizes. Lone working, in particular, comes with unique hazards. A lone worker is traditionally more vulnerable to outside threats like theft, violence, or assault as they are an easier target. While these attacks are more likely to occur in roles where the lone worker meets the public, it's worth considering depending on the context of the site, too.
2. Plan for Communication and Set Up Failsafes
Communication plans are particularly critical in remote areas with minimal communication options: every aspect of communication should be written down and communicated to all responsible parties before anyone steps foot on site.
Use a communication plan to schedule check-ins and check-outs and provide regular updates based on the risk assessment: a contingency plan for communication failure should also be available.
Modes of Communication for Remote Worksites
In addition to a communication schedule, your plan should include modes of communication, keeping in mind that you need multiple communication methods.
When the connection exists but isn't reliable, you might include several phones, provide multiple SIMs, and a few extra chargers (including power banks or solar chargers). Make sure there's some sort of back up, even if that means a landline or wired emergency phone.
Remember: your tools should cover both on-site communication and off-site communication. So, in addition to wired and wireless phones, you'll want to cover walkie-talkie radios.
If you send workers out into an area with no connectivity, remember that having no connection doesn't mean having any communication. In very remote locations, consider tools like:
satellite phones or terminals
emergency response beacons and panic buttons
personal satellite tracking devices
hardwired communications systems with local wireless setup
discrete antenna systems
radio devices capable of using radio waves to transmit text messages to cell phones
Communication Plan Training
With your plan in place, provide communication training. Make sure employees know:
Their responsibilities in the event of an emergency
The competencies required for their roles
How to communicate updates, issues, and emergencies
Communication training couldn't be more critical: late communication is as dangerous as no communication in some circumstances.
Workers should have communications devices either on-site, in vehicles, on their person, or a combination of these. Remind workers not to keep all communication tools in one place in case of fire or another disaster.
3. Create an Emergency Plan
Every worksite needs an emergency response plan, and nowhere is this plan more important than in areas with no connectivity.
A basic emergency response plan for this kind of area should include at a minimum:
Operational details
Emergency response personnel
Number of workers, including training and competencies
Geography of the working area
Hazards that may cause an emergency
Risk of emergency
The Department of Mines, Industry Regulation and Safety in Western Australia recommends working backward from a worst-case scenario to plan your emergency response.
With these details, you should then consider the means for dealing with the emergency. It's smart to consult with emergency personnel who would respond to the emergency, including:
Police, fire, and emergency services (including air ambulances)
Local and regional hospitals
Occupants of nearby land
State safety regulators
Industry safety regulators
If required, you may notify local emergency teams when you deploy your workers to the site to alert emergency services of their presence.
Be sure to include any emergency communication devices in the plan (i.e., distress beacons, personal satellite tracking, etc.) and share what tools are in use with the emergency stakeholders (fire departments, air ambulances, etc.).
4. Ensure Workers Have a System for Reporting
Your system for hazard and incident reporting should be able to extend across all job sites, including those with no cell service. Paper is one solution, but proactive safety management in these environments depends on the speed and data analysis provided by safety software.
Field workers can use your safety app to provide updates, raise hazards, and conduct inspections. When reception is good, you'll see all activities in real-time. But when it's not so good? You need an offline mode.
What is Offline Mode?
Offline mode allows workers to access and record data in real-time and sync it to your account data when they are back in an area with good service or wifi. Offline functionality allows you to maintain a central system for your safety data and avoid paper forms, data dumps, and late or inaccurate reporting, even when you can't connect to the internet.
Remote Safety Management with Safesite
Safesite is a powerful, easy-to-use safety management solution proven to reduce workplace incidents by up to 57%. All core Safesite features work offline. If your connection drops, you can continue using the app while offline without a delay or interruption. A red alert at the top of your screen lets you know when you've lost connection.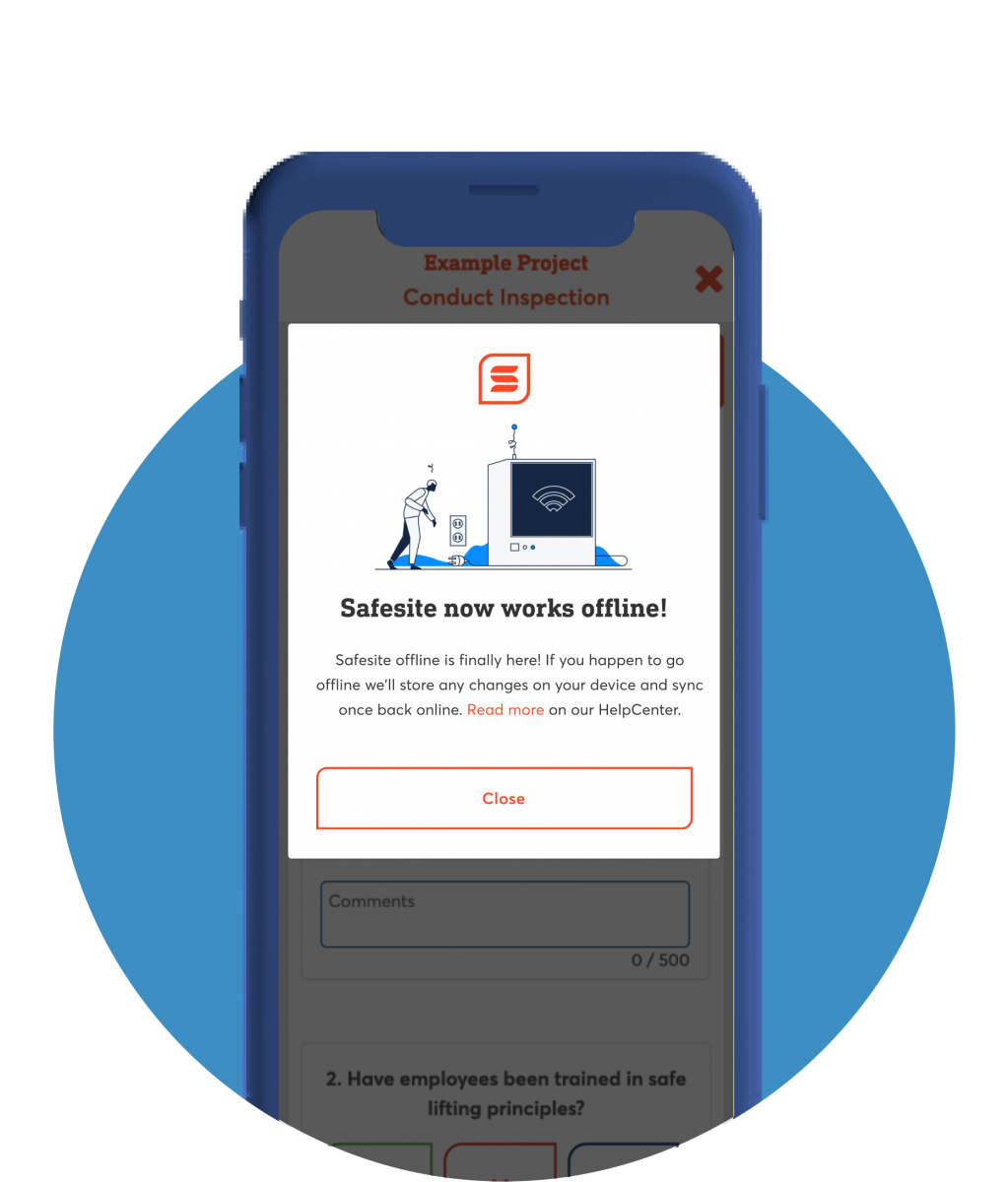 Once you're back online, your app will automatically sync your work, and you'll be able to see it on the safety management dashboard and other devices.
5. Make Scheduled Visits and Fast-Track Potential Hazards
Here's the big question: how often do you need to make the trip out to remote sites? The answer: your risk assessment will dictate the number of scheduled visits you make after the initial visit.
While visits are vital, the site should operate safely when you're not there. You rely on workers with the correct and adequate training to properly communicate and perform duties safely in situations where there's little to no connectivity.
In addition to making sure workers have the skills to do the job safely, you also need to train workers to use checklists, inspections, or other software/apps to check in when you can't be there.
Ideally, your visit agenda should include identifying changes and checking in on workers' welfare. Remember that mental health and wellness are as important as physical health and hazards. People struggling to make it through the day are more likely to find themselves in dangerous situations without realizing it.
Whether it's structural, procedural, or personal, if you see something, fix it ASAP.
Safety Tip: Has your organization elected to use live monitoring? Let workers know and make it very clear from the start.
Keep Your Safety Program Strong, Even Offline
Working in areas with limited connectivity requires a safety plan that adjusts to the limits and realities of being offline. There's little wiggle room in safety in remote areas: the issues you face are compounded when there's the possibility of a lagging response time.
Remote areas with no connection are the places where you can't afford to get a late report or miss a fault in an inspection. Running a strong safety program in remote locales is possible, and keeping it connected to your primary safety solution is possible with the right software.
Hear the Latest from Safesite
Subscribe to our newsletter to receive the latest updates.
Hear the Latest from Safesite
Subscribe to our newsletter to receive the latest updates.