Finding a job during the COVID-19 pandemic can be tough. Many workers have already been laid off, and many industries are cutting back on their workforce. Despite job cuts across the economy, warehouse workers are still in high demand. Many companies are looking for workers, especially those with a forklift license.
To get a pandemic-proof job as a forklift operator, you first need to get your forklift license (certification). A forklift license qualifies you to operate forklifts and start your new role in a warehouse or another setting.
What is a Forklift License?
Workers must be authorized to operate forklifts on the job. Some people refer to this authorization as a forklift license, but there is technically no such thing. OSHA requires employers to certify all forklift operators are trained and competent to operate powered industrial trucks (PITs) safely, including all classes of forklifts. (We'll cover exactly what goes into a certification later on in this article.)
While workers may receive a forklift certification through a third-party trainer, the employer must provide their own evaluation and record up-to-date certifications for all operators.
After your initial certification, you're required to get re-certified every three years or when you must begin operating a different type of PIT.
Certifications aren't just red tape. They exist for many reasons, namely to keep you and your co-workers safe. Here are just a few reasons why forklift certifications are important:
1. Forklifts are dangerous.
Sure, operating a forklift looks like easy driving, but only trained operators make it seem so simple. According to the US Bureau of Labor and Statistics, forklift accidents are responsible for 7,000 workplace injuries every year. Between 2011 to 2017, workplace forklift injuries resulted in a total of 614 deaths.
Forklift certification is not just a formality to qualify for a job. It is necessary to train you on the ins and outs of operating the equipment. Your training ensures both your safety and the safety of the people around you. Employers keep track of forklift certifications to ensure everyone is up-to-date.
2. Forklift training must match your new job duties.
You might be surprised to find that you can't use certification from a previous post when you apply for a new role.
Even if you drove forklifts at your last job, your experience does not exempt you from getting re-certified. Workers need training for the specific equipment used on the warehouse floor.
OSHA puts forklifts into seven classes, and there are many more makes and models. You need a unique certification for each job because the forklift itself may be very different from the machine you used previously.
You also need to learn to use the forklift in your new working conditions. Some of these unique workplace factors include the presence of ramps, extreme temperatures, and exposure to debris. Each employer also has unique safety standards, which may require the use of different features or maneuvers.
Think of seeking re-certification as learning to drive in a new country. When you switch employers, the landscape, equipment, and even the signs may change. Just as you might want driving lessons before driving a left-hand drive on the opposite side of the road for the first time, you need lessons to drive a different forklift in a new-to-you setting. Those lessons make the whole process safer for everyone.
3. A forklift license protects both employer and employee.
A thorough understanding of forklift operation best practices protects you from life-threatening accidents. It also shields your employer from unnecessary expenses, liability, and disruption of business operations.
Accidents are expensive for everyone involved. Equipping every new employee with the right knowledge to operate forklifts is a win-win for everyone.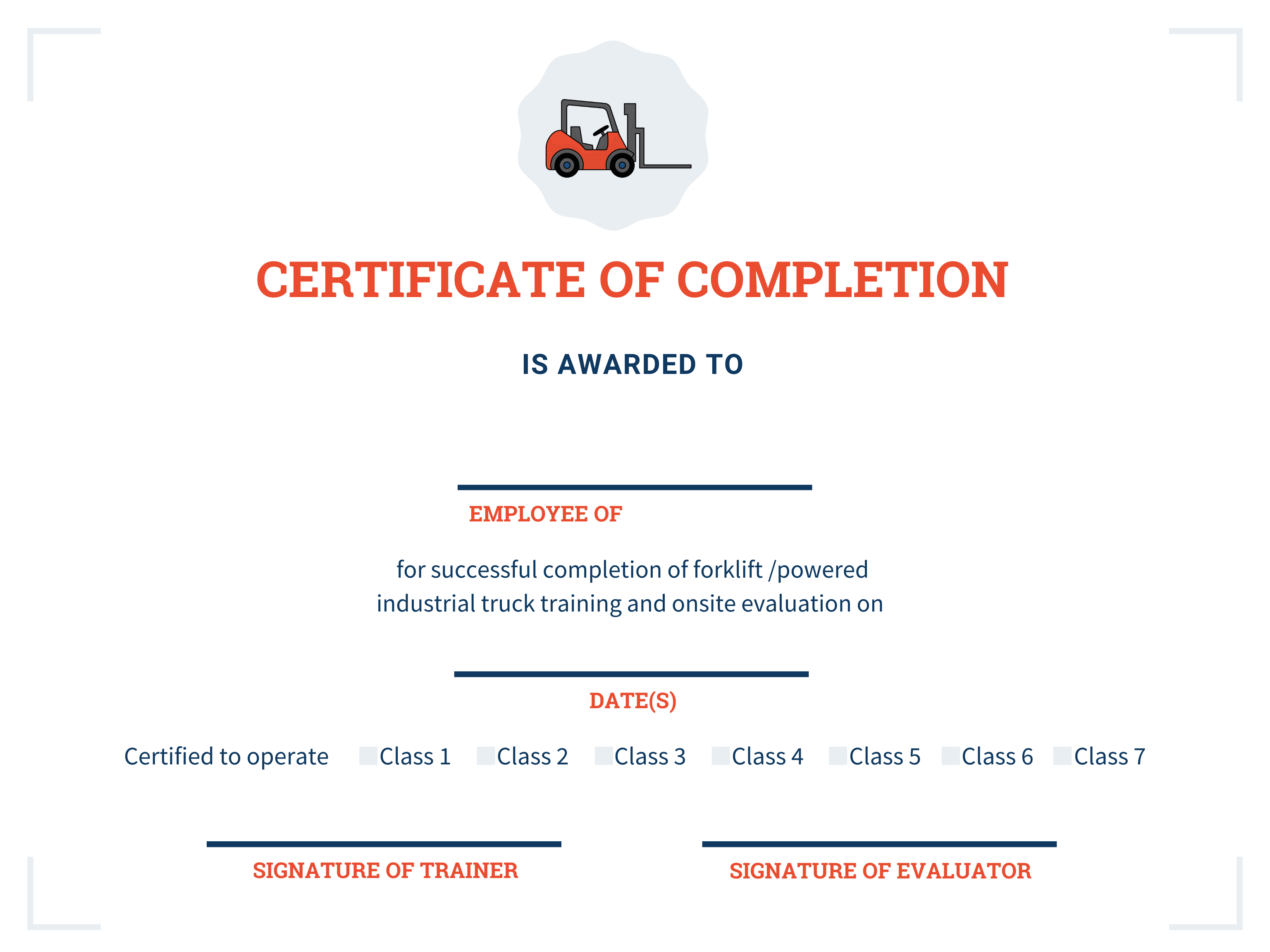 How To Get a Forklift Certification
There are two ways to become a certified forklift operator: online certification and employer-provided training. The route you choose often depends on what your employer offers.
Get Your Own Certification Online
You can get your forklift license through online training providers. Online training is an attractive option because you don't need to leave your house to get certified and you can work at your own pace.
With online training providers, all you need to do is access the lessons from a computer or mobile device and then have the certification documents emailed to you.
The downside of this approach is that you'll pay the expenses yourself. Also, you will only be qualified to apply for a job that uses the same type of forklift that you trained for.
Finally, your employee will still need to evaluate and accept your prior training. If they don't, inform the safety manager, if possible, and cease work if you feel unsafe on the job.
Get Training from Your New Employer
You may also apply for a job with an employer that shoulders the cost of training for you. Going through your employer ensures that you receive training to operate the same forklift you'll use on the job.
The downside is that you don't have control over the mode of training. The employer might prefer to send you to a third-party training location in another city or put you through an in-house training program.
Either way, the goal is to help familiarize you with the best practices involved in forklift operation. The training and certification you get will prepare you to be competent and efficient in your job.
Forklift Certifications Keep You Safe
Forklift operator jobs are already available, and getting hired in this field isn't as hard as it sounds. Be aware that forklift accidents happen, and an accident can be fatal. As a result, getting certified is crucial in order for your employer to comply with OSHA's requirements for keeping employees safe on the job.
Are you looking for more resources? Learn more about the characteristics of a good forklift training program in The True North Guide to Forklift Training.
Hear the Latest from Safesite
Subscribe to our newsletter to receive the latest updates.
Hear the Latest from Safesite
Subscribe to our newsletter to receive the latest updates.