Excavation
To Call 811 or Not? Commonly Asked Questions
There is more than one football field's length of buried utility lines for each individual in the United States — including children. Much of this critical infrastructure is buried less than two feet deep, which helps explain why a utility line is damaged every six minutes.
Available 24/7, 811 is the nationally designated phone number and service for preventing the unintentional strike of underground utility lines while digging.
In honor of National Safe Digging Month (April), here's a closer look at why you should call 811 — and what could happen if you don't.
When Shouldn't I Call 811?
If you're an experienced contractor, landscaper, or DIYer, you already know to call 811 before digging, building, planting, or installing at any depth on the job site.
So when don't you need to call 811? The only time you don't need to call is if you've called 811 or local utility providers so recently that all utility lines are still visibly marked.
Always call 811 before you dig. Because of erosion and time, some utility lines are located mere inches below the surface. Also, depending on your state regulations, call-before-you-dig is the law.
According to Meghan Wade, President of Georgia 811, "One of the biggest mistakes contractors and homeowners make is not contacting Georgia 811 again if they've previously worked at a digsite address. Unfortunately, it's easy to forget the exact location of the lines after the paint fades. That's when totally avoidable accidents happen."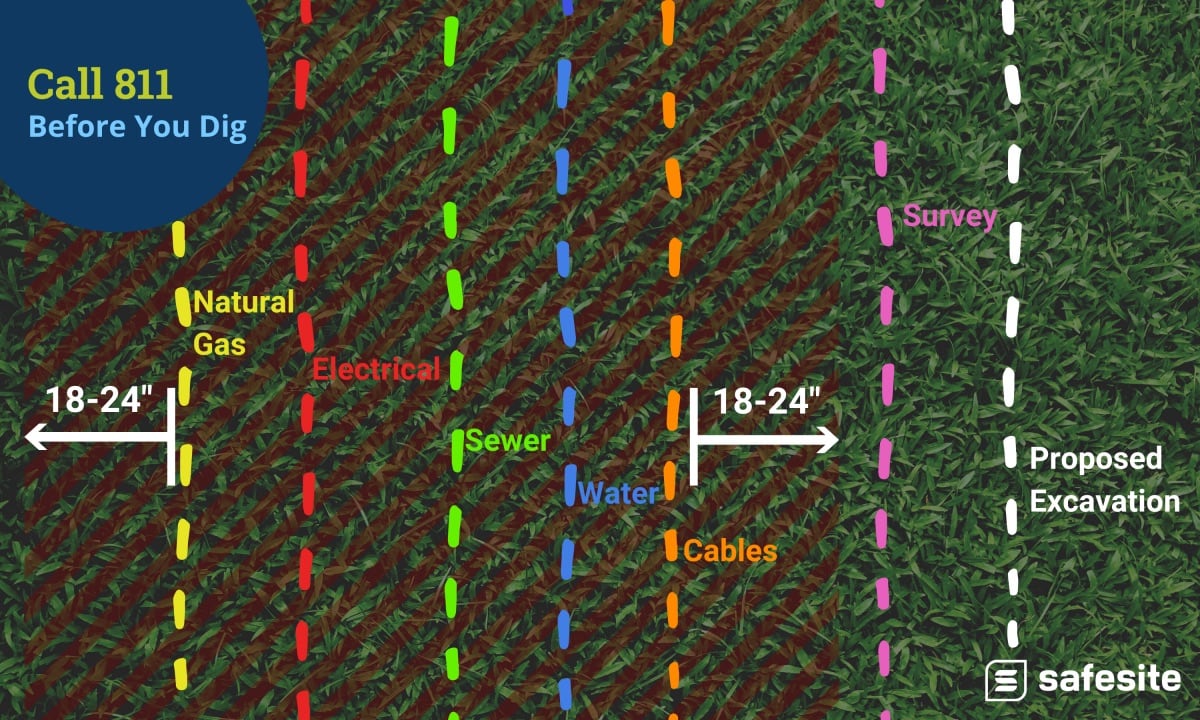 Tip: put "call 811" and "utility line locations confirmed" on your construction safety and excavation checklists to ensure this critical step isn't overlooked. A safety management app, like Safesite, allows you to update your supers in real-time so they know when it's safe to begin working.
Is 811 Free?
Yes! 811 is a free phone number and service. The service includes contacting all affected utility operators who will then send utility locators to your site free of charge. Utility lines will be marked with paint and/or flags, usually within 2-3 days.
How Close Can I Dig to Utility Lines?
Once your lines are marked, keep your trenches or holes at least 18 inches away on either side of the outer edges of the utility. Remember that the tools used to locate underground wires are not always exact.
What Happens if I Hit a Utility Line but Don't Damage It?
Even if it appears there is no damage to the line, call the affected utility provider and 811 immediately. While the damage may be invisible to the eye, over time it can worsen, resulting in major damage or an accident. If the damage has caused a dangerous situation, always call 911 first.
What if They Can't Come Out in Time?
Calling 811 is generally fast, with professional locators deployed to your site within 2-3 business days. However, inclement weather and public health emergencies (like COVID-19) may result in service delays. Your utility provider or county may even declare extraordinary circumstances.
It's always safest to pause the project and wait for utility providers to mark lines before you dig. Refusal to wait may result in even longer project delays — due to utility damages — and liability/fines.
Work Safe: Call 811
The best reason to call 811 is safety. Your workers and the members of the community you serve deserve to be safe on the job and in their homes. That means calling 811 before you dig install, berm, trench, or build.
The 811 system is effective and federally designated to ensure that member utility companies mark the location of their underground utility lines. To learn more about Safe Digging Month, find your state's chapter at 811 in Your State.

Hear the Latest from Safesite
Subscribe to our newsletter to receive the latest updates.
Hear the Latest from Safesite
Subscribe to our newsletter to receive the latest updates.