Career Growth
5 Tricks for Easy Communication with Subcontractors
Subcontractors and trades are at the heart of your business, but they're not always at the center of your communication plan. If you ask them, they might even tell you that they're the last to know even the most important details.
Smooth inter-company communication offers more than just happy trades and subs. Streamlining communication is the easiest way to save money, time, and materials on any project — with no extra effort. And if you want clear communication, you need to have a strong communication plan.
Are you ready to let communication flow and start completing projects on time, on budget, and with fewer incidents? Harness these tips to become expert communicators (and get fewer emails).
1. Embed the Chain of Command in Work Contracts
Do you have emails flying in all directions? Are your trades running to your line manager or your office when they should go directly to your super? It's because you either don't have a chain of command, or you failed to let anyone know what your chain of command is.
Having a clear chain of command ensures that information flows first and foremost to the people who most need it. They can then filter it down, saving everyone time, emails, and headaches.
Everyone, both internally and externally, should know who the general conduit for communications is. In other words, they should know who to contact and when.
You might think, "The site super is the point of contact. Everyone knows that."
But you don't know who does and doesn't know it, which is why you also need to formalize your plan.
Put it in writing and better yet: write it into every contract. Then, you introduce the chain of command from Day 0. No one can tell you they didn't know who to call or they didn't have the right email address.
Tip: You'll also want to walk through the chain of command with trades and subs prior to the project starting and publish it elsewhere, such as in the office and in the site office. Make your chain of command foolproof will pay dividends, especially in an emergency.
2. Create a Top-Tier Communication Plan
Now that you have a chain of command and everyone knows who it is, it's time to think about a formal communications plan.
The average superintendent's phone will vibrate off the table if they let it. They get texts, calls, Whatsapps, emails, and voice memos. There are photos, videos, and even that one subcontractor who still believes in the unbridled power of the fax. Things get lost in the shuffle.
A formal communication plan triages communication. For example, if there's a vital change in plan, like missing materials or being able to start work by the agreed date, that's a phone call. If it's a quick, non-time-sensitive question, it might be an email. But if you can't resolve an issue in a paragraph or two or you need an answer the same day, you might instruct teams to pick up the phone.
Your formal communication plan also helps you maintain compliance. For example, the OSHA HazCom standard requires you to disseminate safety data sheets and information and training to make sure everyone understands the hazards and risks on site.
Ultimately, different needs demand a carefully chosen form of communication. Whatever plan you choose, write it down, share it, and stick to it.
Tip: Want to cut down on emails, texts, and carrier pigeons? Use safety software, like Safesite, to manage all your paperwork and simplify safety communication. When you use Safesite, you can assign safety actions directly to your trades and subs and see when they complete them from your safety management dashboard — no text, email, or site visit required.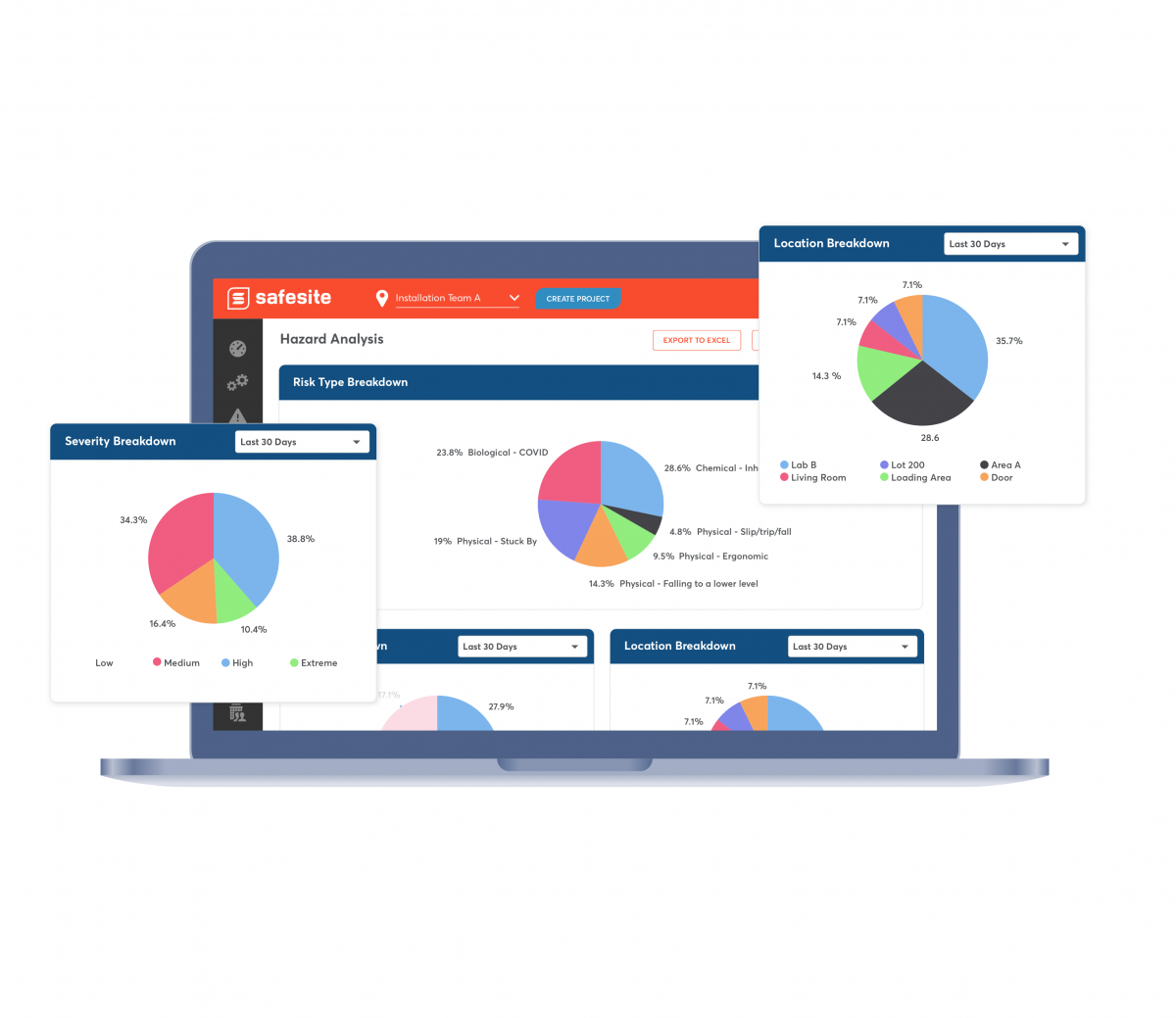 3. Schedule Toolbox Talks and Safety Stand Downs
Your communication plan helps manage email and streamline communication, but it should also incorporate safety communication.
Toolbox talks and safety stand-downs make it easy to disseminate important information including safety policies and changes. You'll want to use toolbox talks to:
Reinforce safety basics
Remind trades and subs of site hazards
Inform teams of changes to the site or working conditions
Talk about accidents or injuries and strategies incident prevention
Running a meeting means you can not only track attendance and identify the strength of your communication, but it creates an open forum for two-way communication.
Safesite users can assign toolbox talks to safety pros, superintendents, or even directly to trades and subs to run among their own teams. You can even set a weekly quota to make sure the meetings happen regularly.
Tip: Looking for toolbox talk ideas? Check out A Year's Worth of Toolbox Talks and browse our template library.
4. Make Messages Clear and Stick to the Point
Now that we've talked about how to free up the lines of communication, let's talk about the messages themselves.
The first rule of inter-company communicaton is to keep it to the point. Limit your messages to a single subject or project. If you can state your business in the subject line, then even better.
As a rule, you want to avoid the "while I have you here" line. Focusing on one thing at once will help everyone accomplish more and get it done faster.
Second, remember that not all subs and trades have the same technical knowledge. Skip jargon where you can and use layman's terms. You don't know what they don't know, so keep it simple.
Finally, think about your tone, even in written communications. When in doubt, refer to points one and two and avoid editorializing where you can. In other words, leave opinions and especially gossip out of your written and verbal communications.
You'll also want to keep your language professional, even when you want to snap the recipient in half. The obvious example is avoiding curse words when you communicate. However, using professional language can also mean taking a breath and coming back to an email or phone call later to avoid saying something personal or unnecessary.
So if a sub tells you they can't start a job for two weeks with only a day's notice, don't pick up your phone and fire off an irate email two minutes later, even if they have really ruined your week. Keep it civil and follow terms set out in your contract. You'll accomplish the same thing, protect your reputation, and potentially even find ways to salvage the situation directly with the subcontractor (yes, you can dream).
5. Encourage Questions & Two-way Communication
The best communciation flows in two directions, particularly when it relates to safety and risk.
Every one needs to feel comfortable asking questions and know who to direct their questions, too. So, you might think about setting up the safety manager as a contact for safety and risk questions. (And make sure you provide the right OSHA contacts for potential whistelblowers.)
Perhaps the most valuable lesson anyone can bring to the workplace is this: listening is more important than talking. So if you find yourself repeating the same messages over and over and over again, it may be time to listen to find out why crews haven't received your message.
Stand Out with Strong Communication
If you find your projects chaotic and your various inboxes overflowing, then the problem may start with a lack of communication, not an abundance of it!
Failing to clarify points of contact, methods for communicating, and overstuffing emails with too many issues is a leading cause of no shows, missed deadlines, lost materials, and persistent headaches.
Using a communication plan sets expectations early and offers benefits across the company from admin to safety. And when it comes to managing trades and subs, it's the difference between racing across the deadline with your tires squealing and meeting your obligations with most of your hair intact.
Are you ready to learn more? Schedule a Safesite demo to learn how you can use safety management software to communicate seamlessly with your trades and subs.
Hear the Latest from Safesite
Subscribe to our newsletter to receive the latest updates.
Hear the Latest from Safesite
Subscribe to our newsletter to receive the latest updates.