COVID-19
Manage COVID-19 Risk with Safety Management Software
COVID-19 ignited safety management awareness and innovation. From providing alerts when workers are less than six feet apart to automatic temperature scanning, health and safety technology has risen to the challenge posed by the highly contagious virus.
Safesite is primed for helping clients deal with the onset of new hazards like COVID-19. Safety in general, and COVID-19 prevention in particular, rely on the use of leading indicators to identify and manage risks. To that end, Safesite's robust safety management system allows users and teams to perform inspections, corrective actions, and investigations with ease.
We talked to some of our clients about how they're using Safesite to manage COVID-19. Their response: Safesite was a vital part of their COVID-19 control.
"They were important and vital to the success of safety in the work that we do… All through this pandemic, we have had zero workers test positive for COVID-19."

Derek S., a Safesite client in construction
In this post, Safesite wants to pass that insight on to you. Here's how Safesite users adjusted their existing workflows to prevent COVID-19 transmission at work.
Want to download this article and read it later? Get the PDF straight to your device.
Assess Hazards More Frequently
Identifying hazards when and where they appear is incredibly important in the context of COVID-19.
With COVID-19, health and safety guidelines shift rapidly. Now, safety managers must monitor local guidelines daily to determine whether local transmission rates indicate the need for more stringent work policies.
Job hazard analyses and risk assessments help you maintain safety during change.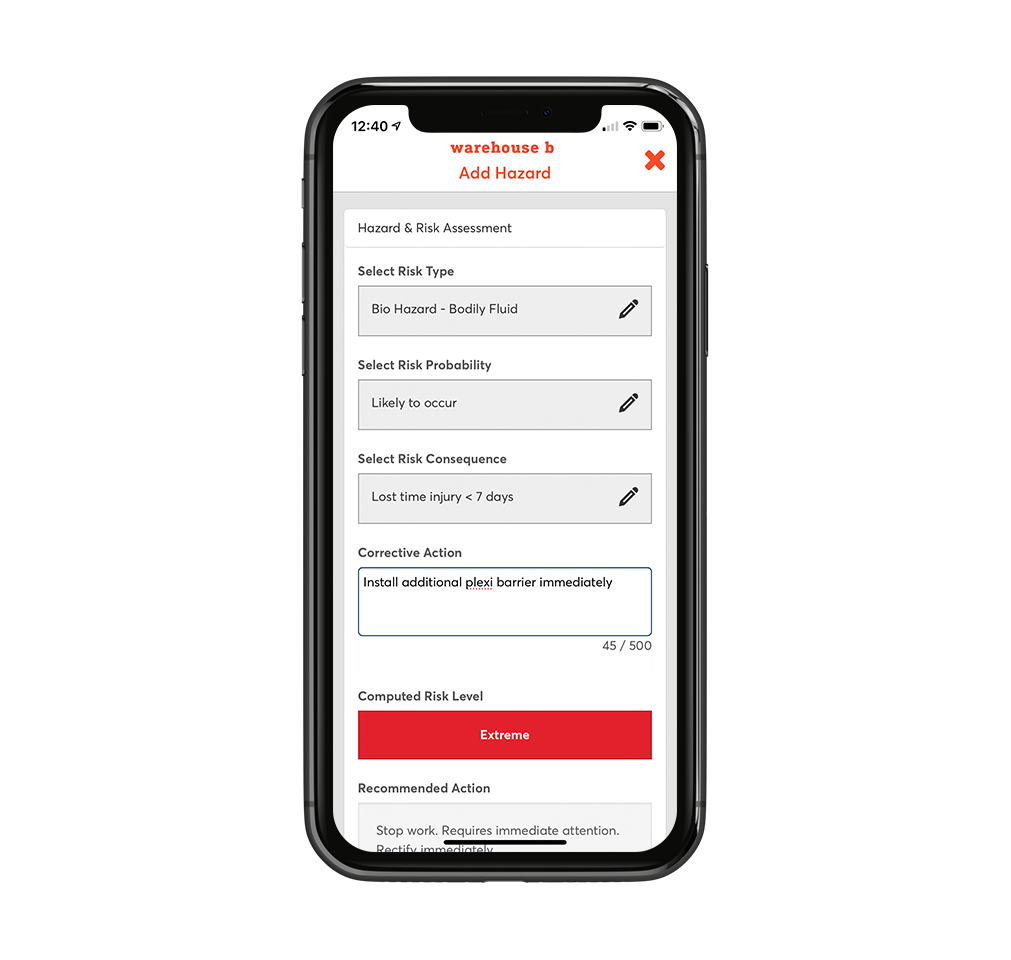 You can regularly assess the risk of spreading COVID-19 through your office and field environments with the Safesite COVID risk assessment tool.
Adjust Policies Accordingly
COVID-19 relies on your team's ability to swiftly adjust and adhere to workplace policies.
Some of these, like hand hygiene, are proper precautions already in the realm of general diseases of life and should be encouraged at work regardless. Others, like mask requirements and social distancing, may feel foreign to workers and need reiterating, explaining, and more careful monitoring.
Examples of Adjustments to COVID-19 Policies
What needs to change on your job site? Here are a few standard practices that fulfill your duty to protect workers from COVID-19 at work:
Encourage frequent hand washing. Provide adequate hand washing facilities and train workers on when and how to wash hands effectively.
Encourage social distancing. Provide barriers or adequately distanced work and consumer areas wherever possible. Train workers on remaining distanced from each other and customers.
Create, review, and communicate cleaning and sanitization policies. Discourage workers from using others' work tools, equipment, desks, phones, and offices, when possible.
Review and communicate your sick policies. Actively encourage sick employees to self-report before their shift begins and stay home. Reiterate your sick policies with companies that provide contractors or temporary employees.
Review and communicate your policies if a worker is confirmed as COVID-19 positive or has been directly exposed to other people who tested positive or became ill.
Additional policies may be required depending on your industry, the nature and length of time workers are in close contact, and your ability to provide adequate COVID-19 PPE. Your state and local requirements and regulations will also shape your protocols.
Use Inspections and Checklists to Activate Policies
Once your policies are in place, you'll want to develop daily and/or pre-shift inspections and checklists to ensure your policies become practice.
Many Safesite users have uploaded their own checklists or edited one of the existing COVID-19 checklists in our library to accomplish this task.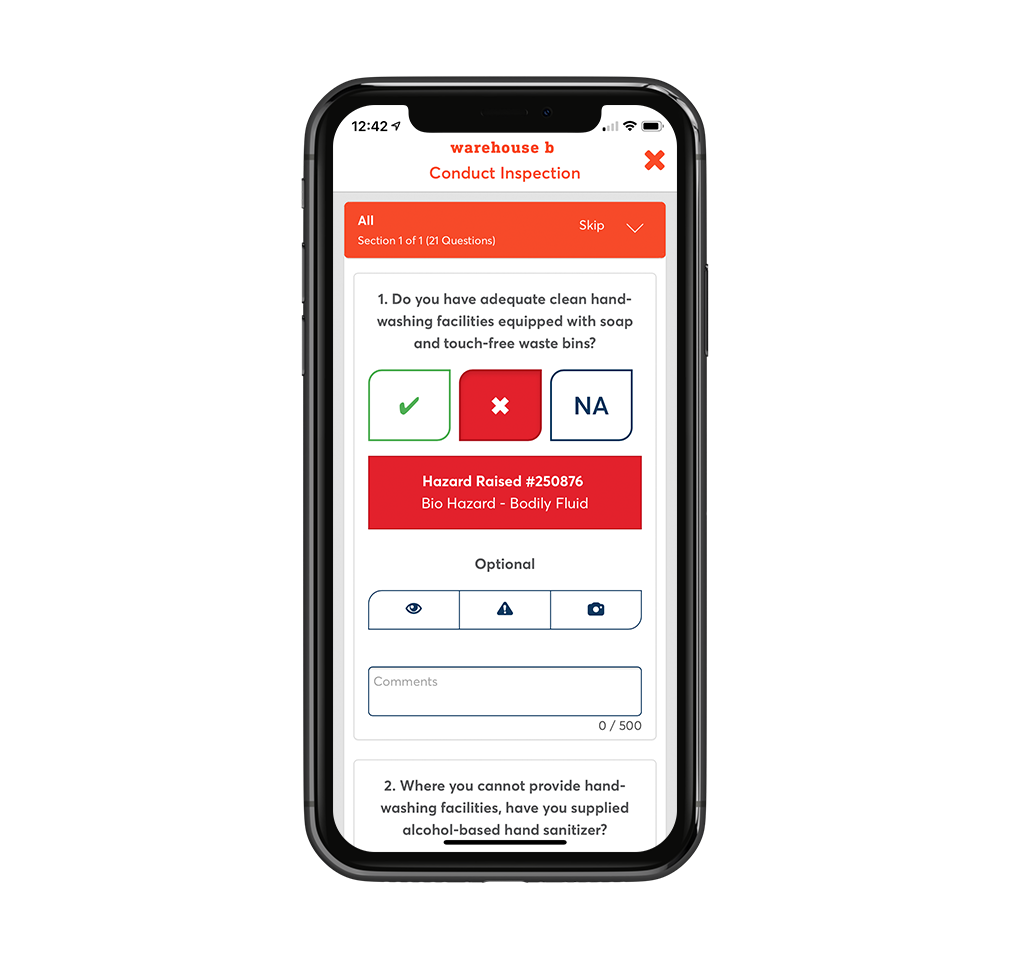 Enforcing your COVID-19 policies may look identical to that of other health and safety violations. However, since many COVID-19 prevention policies are suggestions, you'll likely want to focus on adjusting work environments and tasks.
Creating safer environments will improve adherence rates and mitigate hazards without putting so much focus on controlling individual behaviors.
Tip: Are you a Safesite customer looking to add a template or checklist? Send it over, and you'll find it within your dashboard ASAP!
Train Employees
Training employees on the tools and methods needed to prevent COVID-19 spread in the workplace is vital for preventing the spread of the disease.
Most workers need to follow relatively non-technical steps, such as handwashing social distancing and avoiding tool sharing. At the same time, it's important not to underestimate the power of a training session. Safesite clients are using the library of toolbox talks and training tools to reinforce these core issues among teams.
Research done over the years shows that training markedly improves adherence to hand hygiene. In one study of nurses, specific hand hygiene training saw compliance jump from 42.9% to 61.4% and from 63% to 76% in two cohorts. It's safe to say that training matters.
Using the Safesite app, you can:
Set a meeting
Choose a related COVID-19 topic from the Safesite library (like the handwashing toolbox talk) or upload your own
Run the meeting with an outline on the app
Finish the meeting and record attendees to keep track of who received training and when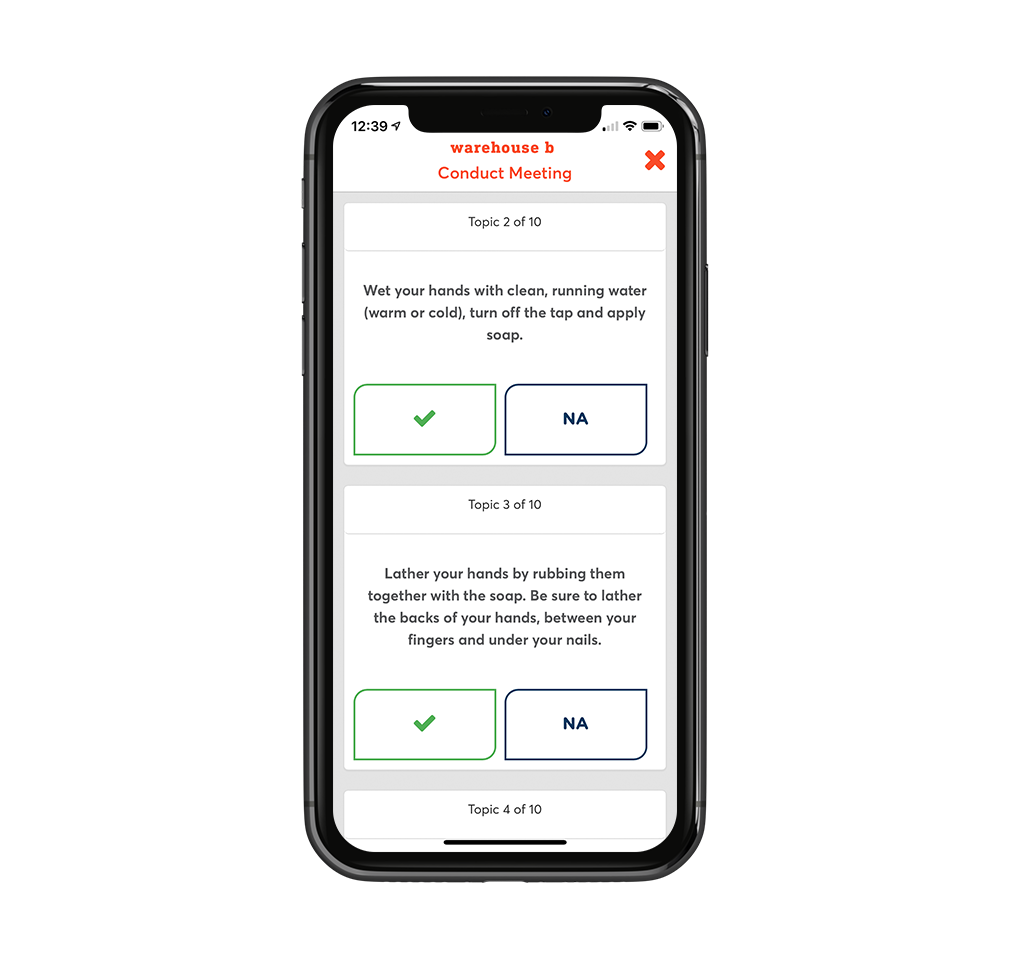 Monitor Preventative Measures
Prevention is key in both safety and managing COVID-19. And your prevention efforts lie in the data you collect. This happens in two ways: documenting observations and recognizing hazards.
You can both document observations and raise hazards within the Safesite app, so you can monitor them in real-time and even offline.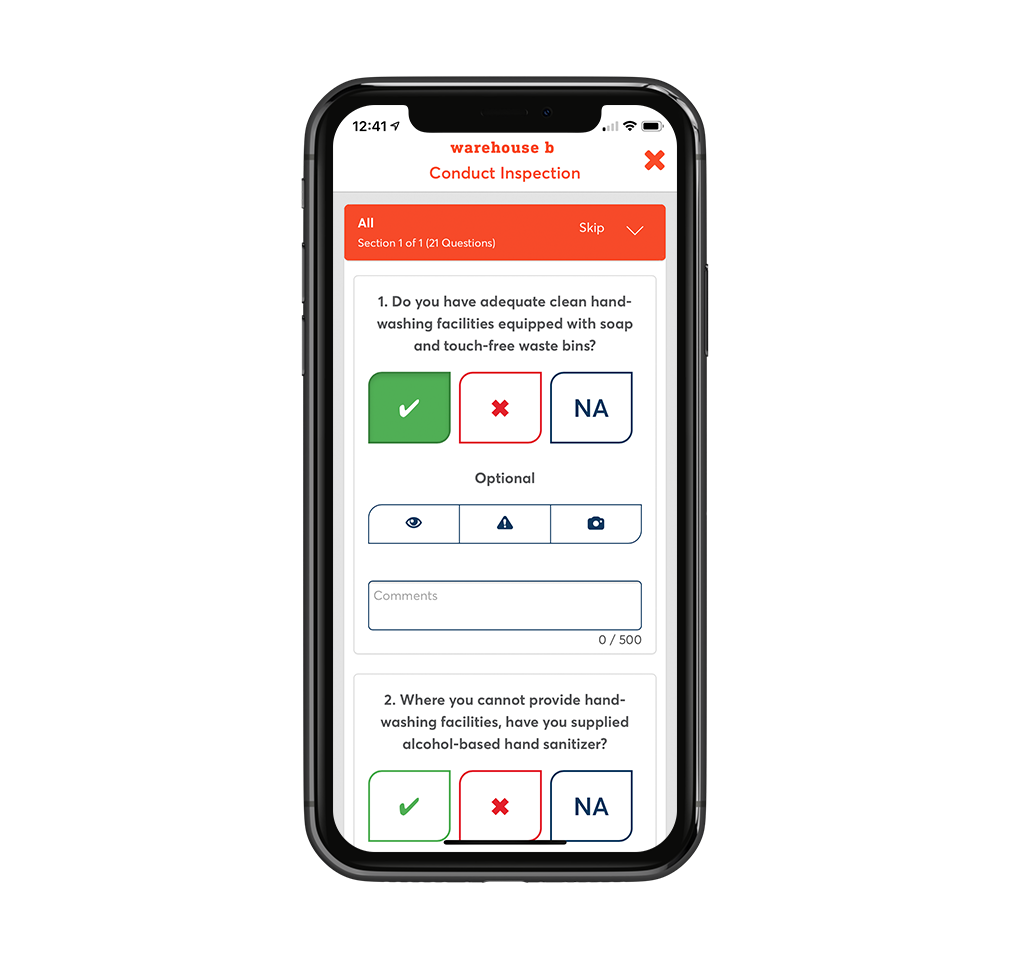 Some of the COVID-19-related observations you might document include:
Disinfecting surfaces and objects
Practicing hand washing (workers and visitors)
Engaging in good respiratory hygiene (e.g., wearing face masks, coughing into sleeves, washing hands after coughing)
Practicing social distancing while on the premises
Using enhanced cleaning measures
Raise and Resolve Hazards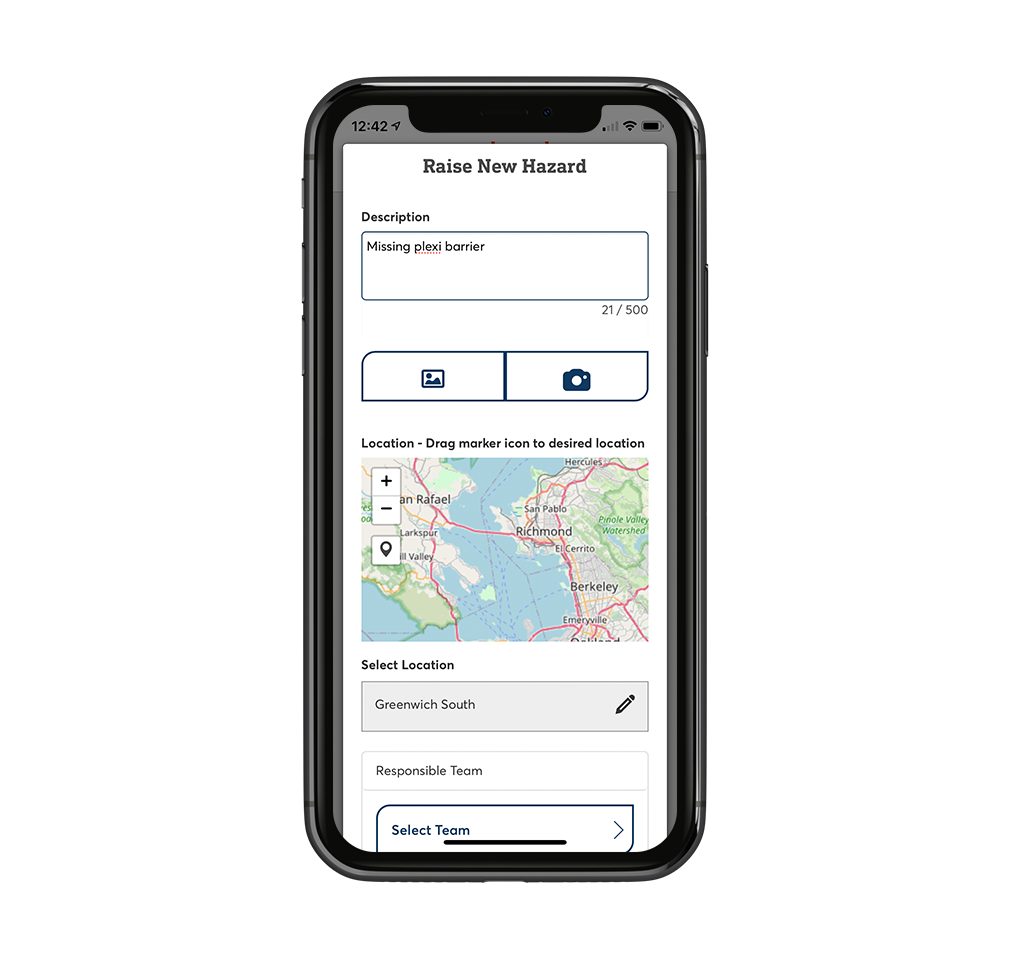 As mentioned earlier, COVID-19 prevention comes with two steps, observing conditions and raising hazards.
Some of the COVID-19 hazards Safesite users might recognize include:
Exhibiting symptoms of COVID-19 (dry cough, fever, malaise)
Demonstrating high temperature during temperature checks
Missing a hand hygiene opportunity
Non-compliance with mask requirements or not properly using masks
Failing to attend COVID-19 toolbox talks
You can also include enviornmental hazards, such as:
Workspaces where social distancing isn't possible
Low stock levels of PPE, sanitizer, or soap
Barriers or floor markings obscured, damaged, or removed
Remember that Safesite allows you to log hazards by location, which makes it easier to see what locations need more help and training. Don't forget: you can implement hazard controls using Safesite, too!
Record and Report
COVID-19 is OSHA-recordable when deemed to be a workplace-related illness. However, you are likely to want to record all cases of COVID-19 on your site anyway for your own use. Testing and tracing better allows everyone to identify sources and manage outbreaks.
You can use Safesite to report incidents and document recordable cases. Check out the Safesite guide on How to Complete Your OSHA 300 Log Digitally using Safesite.
If you want to record the case, but you don't need to add it to your 300 log, then Log Incident feature allows you to choose from incidents — in the case of COVID-19, it's an injury — and then choose your location, date, and time.
With this data, you'll know when and where each potential case or confirmed case appeared. Then, you can work back through the data and contact those who would benefit from testing.
Review Historical Data
What is the location of the hazards? Are the problems behavioral? Is there enough PPE? How much should you order next week?
Safesite's ability to help you navigate COVID-19 just doesn't rest in its hazard recognition, meeting, and observation features. Safesite generates charting and reports so that you can look back at the data you captured in the moment with a thorough review.
Users tell us that they assess the level of severity of risk through charting, which Safesite creates based on what you see in the field.
You'll get a heatmap of Complete Weekly Actions, including Hazards Analysis, which shows you:
Weekly Hazard Action % Complete
Risk Type Breakdown
Raised By
Severity Breakdown
Team Breakdown
Location Breakdown
Hazard Count Per Day
Hazards Resolved Per Day
Find a fuller breakdown of the analysis found on Safesite here.
We Can Prevent COVID-19 With Data
COVID-19 comes with unique challenges for everyone. It's highly contagious and often carried by those who are asymptomatic. But with the right data — and the right safety management system — you, too, can work to prevent COVID-19 from sweeping through your workforce.
Safesite is already helping clients across hazardous industries manage their safety programs. Now, Safesite is playing a role in COVID-19 management. Download the Safesite app to learn more about harnessing the power of your data.
Hear the Latest from Safesite
Subscribe to our newsletter to receive the latest updates.
Hear the Latest from Safesite
Subscribe to our newsletter to receive the latest updates.