The topic of diversity is increasingly popular in the construction industry. Whether it's executive teams talking about future visions and leadership opportunities or hiring managers looking for new talent in a progressively shrinking candidate pool, construction companies increasingly realize that diversity impacts every area of their business.
At the same time, diversity is about more than solving skills shortages or recognizing a business case. Growing diversity is about building better places to work and stronger communities to live in. And to build true diversity that means something to workers, teams, families, and society, we need to overcome a few roadblocks.
The State of Diversity in Construction
The current worker pool in construction — and in the U.S. economy in general — is going through a transformation.
Here are some of the most recent diversity statistics: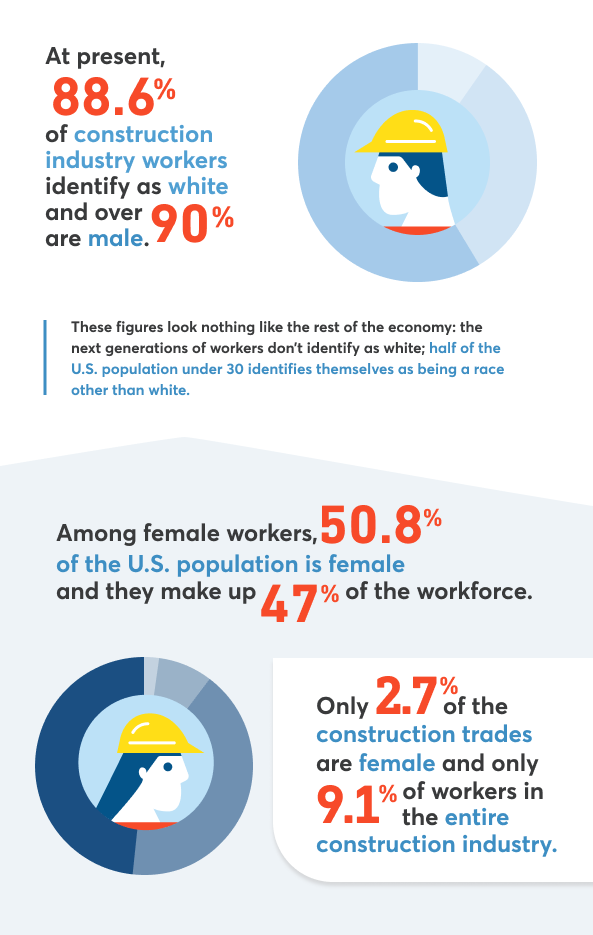 These stats lead to an increasingly accepted truth: construction companies who want to close skill shortages and recruit the next generation of workers into the industry will need to attract talent from an increasingly diverse talent pool.
(The above figures aren't unique to the U.S. construction industry. The UK construction sector is in a similar position with a kindred outlook.)
Large construction companies are already recognizing and acting accordingly. Groups like the Association of General Contractors (AGC) and the Associated Builders and Contractors (ABC) are also encouraging their members to dig deeper into diversity.
But these figures only tell half a story.
Inclusion is Construction's Most Pressing Challenge
While diversity in construction is on an upward trend (at least in theory), many people who identify as members of minority groups say there's still a lack of inclusion in construction. The evidence for inclusion has always tended to be anecdotal; many of us who have worked in construction can recall incidents of prejudice, discriminatory behavior, or even threats or acts of violence from the past or present.
There's a growing number of compelling statistics behind these lived experiences.
The National Institute of Building Sciences recently published survey results indicating that inclusion has a long way to go in the industry. Respondents said they experienced discrimination or prejudice based on ethnicity at alarming rates:
72% of Black or African American respondents
48% of East Asian respondents
48% of South Asian respondents
41% of Hispanic or Latinx respondents
43% of Native American, Alaskan Native, or First Nations respondents
41% of Hispanic or Latinx respondents
38% of East Asian respondents
35% of Middle Eastern or North African respondents
And 66% of respondents said they experience discrimination or prejudice based on their gender.
The survey was produced in 2021. And it demonstrates that the industry has a long way to go before it is truly a home for every worker, regardless of their identity or background.
So, how do we begin the journey from our current position to diverse and inclusive workplaces? After conversations with industry professionals of many backgrounds, we found four common things standing in the way of a truly inclusive workplace.
4 Things Standing in the Way of Diversity in Construction
The entire industry will see the talent pool change in the coming years; in many places, that change is already in progress. There's no cure-all for the structural problems that the construction industry faces. However, by being more aware of these problems, companies can absolutely begin to account for and overcome them.
Failing to Get Leadership Buy-in for Inclusion
Writing a Diversity & Inclusion Policy and Calling It Good
Not Incorporating Diverse Recruiting & Hiring Practices
Ongoing Issues with Workplace Harassment, Bullying, and Violence
1. Failing to Achieve Buy-in from Leadership
Recruitment, growth, and culture are all practices dominated by lead decision-makers within a company. However, decision-makers do more than set the agenda for the organization: they need to buy into the need and the means for building an inclusive workplace — both with their social capital and then through their control of the budget.
When leaders don't invest their social capital in inclusion, they're far less likely to invest the company's financial capital in these programs. A company without true buy-in from leadership will also be unable to address the structural problems that can lead to unsafe workplaces or high turnover rates. It's hard to reevaluate what aspects of the organization will lead to a more inclusive culture, like company benefits or work-life balance, without leadership providing unwavering buy-in to these initiatives.
For leaders, it often means taking a hard look at where you fall on the spectrum. Are you treating DE&I as an add-on or supplementary program? Or have you treated it as an investment in your people and community? Just as investing in a safety program, you need to have strong buy-in and treat diversity and inclusion as part of the design of the company if you want to see meaningful results.
2. Writing a Diversity & Inclusion Policy and Calling it Good
The same NIBS study referenced above found that 43% of respondents reported their company had some form of DE&I program.
Having a DE&I program is only the first step to building a diverse and inclusive workplace. Because it's one thing to say you run a diverse, equitable, and inclusive company and it's another thing to put DE&I into practice in areas that need it most.
Remember that for DE&I to make a meaningful impact on workers and the business, it may require you to tear up your old playbook and leave behind the phrase "that's just the way we do things here."
Inclusivity at construction companies can mean doing things like:
Developing and putting teeth into anti-harassment and discrimination policies
Reinventing the standards for awarding promotions
Reevaluating benefits like sick pay, vacation time, maternity and paternity leave
Creating a safety culture and program that integrates Total Worker Health
Taking a closer look at work-life balance and fostering it in employees
Creating training programs for unconscious bias, allyship, cultural intelligence, and active bystander training
When your workforce changes, so too does the way you work. So, it's important to think carefully about issues beyond technical skills or industry knowledge.
3. Not Incorporating Diverse Recruiting & Hiring Practices
Many industries are filled with companies that hire the same type of employee over and over. In tech and science, companies flock to the same handful of schools; Google recently came under fire for undervaluing and failing to forge a meaningful partnership with Historically Black Colleges and Universities (HBCUs).
Lessons from the construction industry find a similar issue. For example, a study of the London Heathrow Terminal 5 project found that the project was difficult to staff because the construction industry relied on traditional practices and skill structures and struggled to reach out beyond its existing workforce.
If you want to build a diverse team, you need to reach out and shake up the way you hire. That can mean aligning your company more closely with traditional groups like trade unions or apprenticeship programs. However, it can also mean more community networking, like sponsoring local events or awards. Setting up an internal apprenticeship program is also a great way to attract people into the work who have interest but no experience.
Once you get a talent pipeline flowing, you need to shepherd them through the process with diverse hiring practices.
What do diverse hiring practices look like? They include:
Updating job descriptions to remove exclusive language
Re-write descriptions to attract people who have interest in the job but not every single skill
Use a blind resume review process to mitigate unconscious bias
Revitalize your onboarding process to make them welcoming and inclusive
Share details about your company culture on your website
These practices help ensure that when a candidate comes to your door, you're ready to give them not only the best chance at success but make them feel welcome, too.
4. Ongoing Issues with Workplace Harassment, Bullying, and Violence
The final issue is one of the industry's most pressing challenges. It not only seemingly locks entire demographics of workers out of construction, but it's a massive health and safety issue for existing workers in the industry.
Workplace harassment, bullying, and violence continue to plague the construction industry. Instances of horrific gender-based, racial, and homophobic violence make front-page news on a regular basis. And it's not hard to see how these stores impact diversity in the field. You can't blame people for being profoundly uninterested in subjecting themselves to potential harm at work, even if they like the job duties.
Zero-tolerance policies are an essential starting point for tackling workplace harassment and violence. Most large and multinational construction companies already have them. But there's more work that goes into making sure you don't need to enforce the policy on a regular basis.
It's equally important that your zero-tolerance policy is a part of initiating the conversation on what it means to feel safe at work and the need for allyship and active bystander training. It's also a starting point for talking about bullying, retaliation, and less obvious forms of hostility, like emotional intimidation or cyberbullying.
Don't Stop at Diversity in Construction — Aim for Inclusion
The diversity of the construction industry doesn't yet reflect the diversity found in society. And this isn't a situation unique to the U.S. However, more diverse construction crews result in better places to work and stronger, more cohesive societies. What's more, diverse crews make better companies that are more resilient and competitive, providing support to a sector that struggles with volatility.
It isn't enough to want a diverse construction company or even to go out and try to hire team members from different backgrounds. There are still roadblocks that prevent companies from being inclusive places where people of all backgrounds can work without prejudice, discrimination, or violence.
So, what can your company do next?
Go back to your diversity plans and assess whether you're really ready to offer an inclusive workplace to new workers. And if you're not, ask for help.
Diversity and inclusion consultants, associated groups like NAWIC or AGC, and your team can help you ensure your company not only hires people from diverse backgrounds but helps them thrive.
Hear the Latest from Safesite
Subscribe to our newsletter to receive the latest updates.
Hear the Latest from Safesite
Subscribe to our newsletter to receive the latest updates.