Featured
How to Use 5S Lean to Transform Your Safety Program
If you've spent any amount of time in a warehouse or around a construction site, then you've likely heard all about the benefits of Lean, including Six Sigma, Total Quality Management, and a whole host of other management philosophies and methodologies.
But what does Lean have to do with safety? They're reserved for the 'operators' and 'trades' folks, right?
Lean can strengthen your safety program by cutting dead weight, optimizing for efficiency, and simplifying safety engagement. And you can do it all while saving you time and your organization money.
Why is Lean the perfect tool for safety? Grab your clipboard and let's hit the floor!
What is Lean Thinking?
In short, Lean is simply the desire to reduce or eliminate any type of waste that consumes precious resources, such as time, energy, and manpower, but doesn't add any value to your final product.
The goal of Lean, then, is to get rid of any steps, procedures, movements, or underutilized personnel that aren't valuable to the end-user. Lean does this by introducing predictability and repeatability into any system.
Lean shouldn't just be implemented out the shop floor or in supply management.
The same can — and should — be true for safety.
How and Why to Apply Lean 5S to Safety
Now that you're familiar with Lean, it's time to start handing you some tools that will help your safety program:
suck up fewer resources
generate less paperwork
be more easily accessible to managers and auditors alike
The most important of these is 5S, which is a system meant to help you create a clean, uncluttered, and organized site. A safety program following 5S not only prevents accidents in the first place. It also ensures there is a clear, simple process to follow in the event a slip, trip, or spill occurs.
The five 'S's were originally Japanese terms (seiri, seiton, seiso, seiketsu, and shitsuke), but which now stand for the following:
Sort
Sorting means identifying and "red tagging" any tools that are broken or hazardous while also getting rid of any old procedures that don't make sense.
What does this look like? In the safety office, this could include reducing an accident report from three pages to one by getting rid of questions that no longer apply to your warehouse or job site.
Set in Order
Otherwise known as straightening, this means creating a place for everything and then putting everything in its place. In the end, it ensures a seamless flow of safety-related information and updates.
What does straightening look like? After an incident, it means knowing where to file a report and having one central location instead of six share drive locations, two email distribution lists, and a plethora of Microsoft Excel sheets.
Tip: Safesite users can complete and file the incident report directly in the app. Safesite also offers a premium integration for your OSHA 300 log, so you can complete your paperwork with the tap of a button.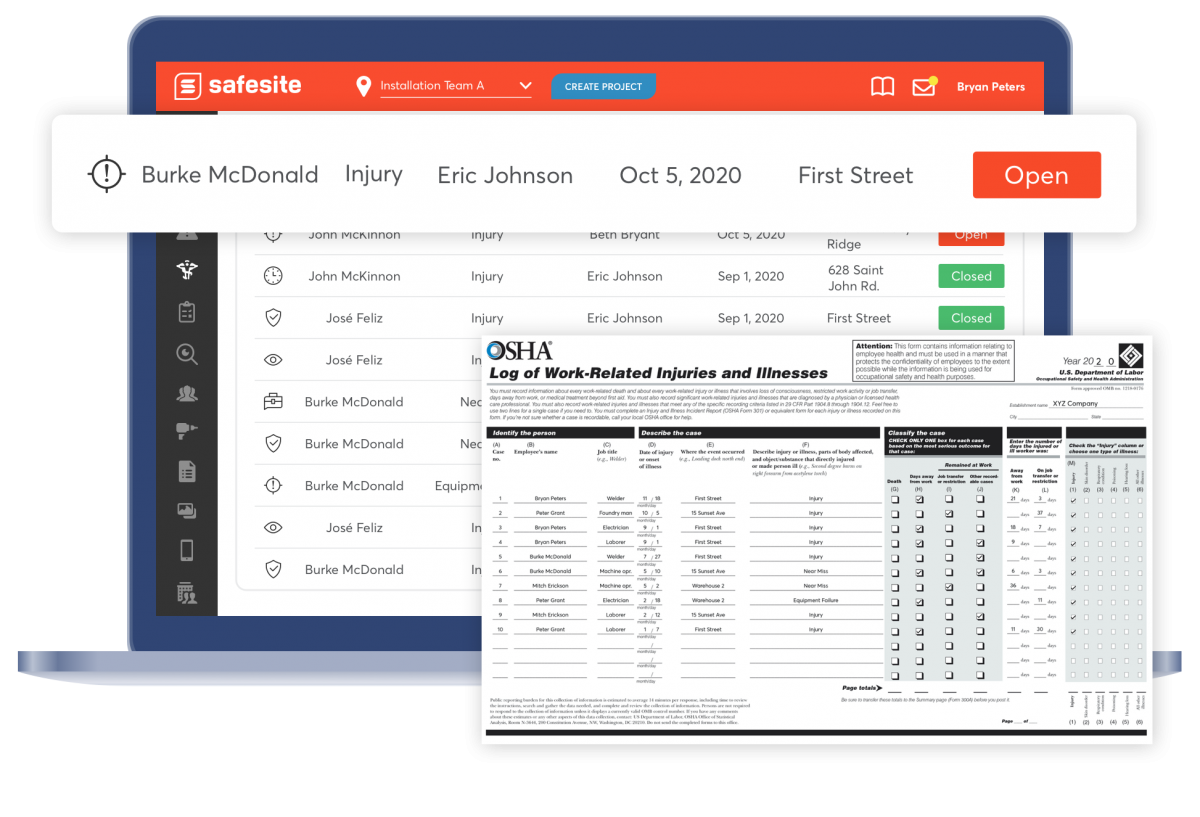 Shine
The intention behind Shine is to cLean and keep your area tidy. What does this look like? This means setting up a schedule to do routine cLeanses of all paperwork and folders — both digital and physical.
Make sure that you assign each task to an individual. Then follow up to ensure that a member of your safety team took ownership of this important step.
You can make this process easy with safety management software. With Safesite, you can assign safety tasks directly from your dashboard. Your team can see their tasks from their in-app to-do lists. Once completed, the action is resolved, and you can see their progress on your safety management dashboard.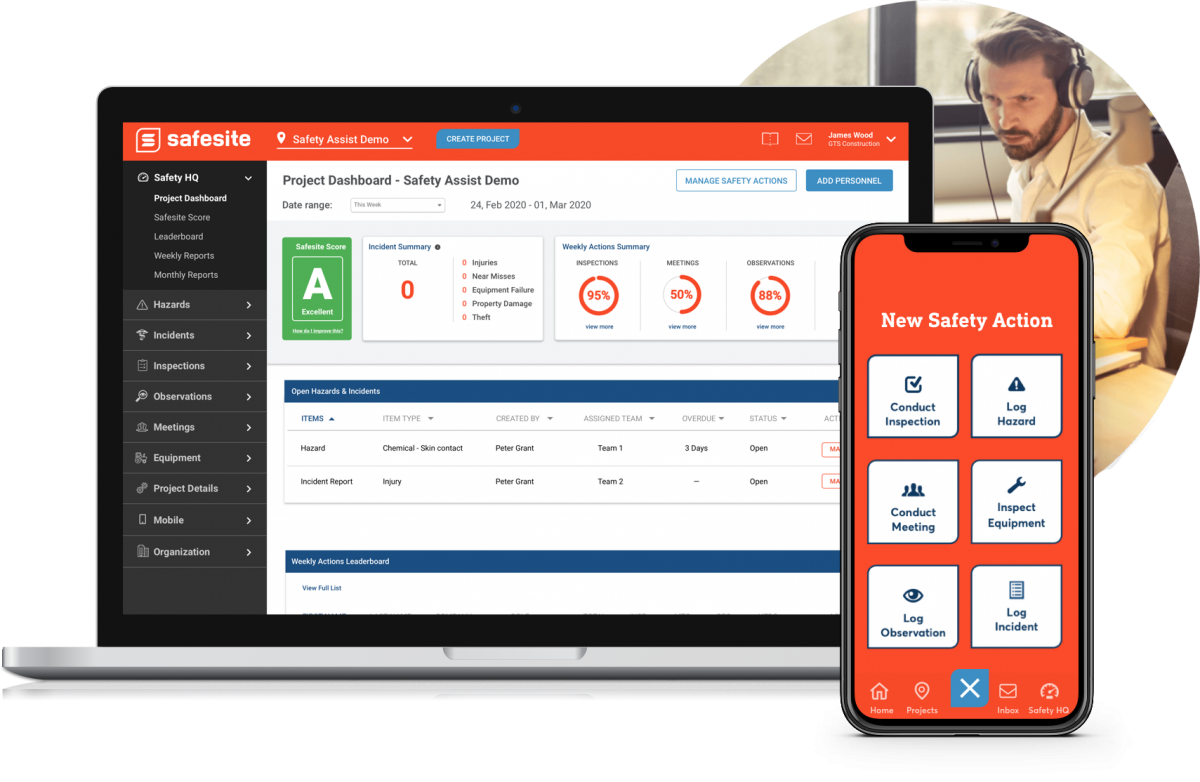 Standardize
Standardization is the keystone of any successful Lean practice since repeatable and predictable steps and procedures naturally result in less wasted time while also ensuring good stewardship over resources on a job site as well as in a warehouse
What does this look like? Back in the safety office, this must include having one set of safety checklists, procedures, and accident reports that are up-to-date and version-controlled. The digitization of your safety materials and use of safety management software reduces the effort involved not only in initial standardization but in updates later.
With Safesite, you can upload your existing safety library quickly. Then, you can fill in gaps by creating new tools or drawing from the hundreds of free safety checklists, OSHA inspections, and toolbox talk topics in the Safesite template library.
Top tip: Set up an anonymous suggestion box or otherwise hold roundtables. You can use it to solicit inputs from managers and reduce their pain points, update all necessary paperwork, and then educate and train all personnel on any new (and standardized!) procedures going forward.
Sustain
Sustain means embedding a Lean safety culture within your organization and routinely helping personnel adopt — or adapt to — new behaviors.
What does this look like? In the back-of-house, pick up where you left off during the standardization stage and run campaigns to help educate managers, foremen, and team leads on what is required — and why — when there is an accident or near-miss.
Top tip: Visually manage any changes by posting signs or distributing pamphlets as well as lanyard cards that anyone can use to help remind workers of the new process.
Safety Software is the Engine Behind Lean Safety
Applying Lean to safety allows you to take careful stock of your safety program, eliminating inefficiencies while boosting productivity. Safety management software, like Safesite, is the powerhouse behind any Lean Safety initiative.
Using Safesite means eliminating countless emails, spreadsheets, and SharePoint pages by standardizing all safety procedures in an easy-to-use application.
Using Safesite also means being able to:
schedule and assign tasks
shorten hazard resolution time
gather insights into your organization's data
Are you ready to learn more? Schedule a Safesite demo to learn how you can use safety management software for Lean 5S.
Hear the Latest from Safesite
Subscribe to our newsletter to receive the latest updates.
Hear the Latest from Safesite
Subscribe to our newsletter to receive the latest updates.