Featured
6 Tips: How to Make the Most of Safety Observation Data
Get out of the office and walk the floor. What do you see? Most of us will see a mix of behaviors as teams work hard to meet quotas and stay productive.
What you see is powerful data called safety observations. A safety observation is part of safety auditing, and it involves recording workers' behaviors on the ground.
Using safety observations isn't as simple as going out and observing employees at work. Misused safety observations lead to the blame game and cause workers to drag their heels, entrenching unsafe behaviors. When used according to best practices, both positive and negative safety observations can strengthen employee and organizational learning, improve self-awareness, and build a more robust safety program.
How do you get started? Get going with these best safety observation practices.
Refresh Your SOP Knowledge
Before you go out and observe a group of workers, you need to know your stuff. So, before you start looking at behaviors, use your Standard Operation Procedure (SOP) and Job Hazard Assessment (JHA) to familiarize yourself with the task at hand.
In fact, why not bring those documents out when you collect your observations?
These documents provide you with a baseline to work from in every scenario. Then you can ask:
Do positive behaviors align with the SOP and JHA?
Are negative actions non-compliant with the SOP or JHA?
Use observations to strengthen SOPs. So if you see a consistent behavior that seems to deviate, ask why that behavior exists. After all, you want to avoid punishing workers for operating in the blank spaces.
Safety Tip: No one knows the ins-and-outs of their jobs better than the people who do them all day, every day. You can't log a safe or unsafe behavior if you don't know what's safe or unsafe in that context. So while SOPs and JHAs should ground your observation, be sure that you're working from an SOP that reflects the reality of the job and take workers' perspectives into account.
Take Observations Religiously
The trick to running a better safety observation campaign is to create a relatively representative sample size. Having more observations gives you a better idea of what behaviors occur regularly and whether they are a once-off event.
For example, if you go out and take stock of safety glass compliance, you want to capture more than one day's work. After all, if the crew sees the safety pro coming, they may put their glasses on just for you. It's kind of them to think of you, but if that's the case, then you have no idea whether they continue those positive behaviors every other day.
Regular data collection means your safety observations provide you with:
Greater data accuracy
Better predictions of future events
Well-informed and easy-to-make decisions
Include safety observation collection in your safety plan, and consider operating using a data collection schedule.
Encourage Employees to Log Observations
To truly unlock the power of safety observations, you need to enlist help. And who better to log observations than your employees?
Getting workers and team leads involved helps mitigate the spate of good behaviors when teams know the safety manager is on-site. It also drives self-awareness among teams, reinforcing the idea of safety as part of the company's culture.
It's important to reinforce the safety observations' purpose: remind them that you're not looking for blame or finger-pointing. You want the right mix of observations that includes what workers do well and what's amiss. Anyone recording safety observations also needs working knowledge of the SOP and JHA for the tasks they record.
Safesite users can add managers to their team to grant them access to the observation feature directly from managers' phones. If you're on a mission to increase your observation data, you can also set the number of observations you want to see in any given day or week to increase engagement.
Balance Your Positive and Negative Observations
You want to take observations frequently, but you don't want an overwhelming pile of similar data. To ensure you have a well-rounded data set, emphasize recording at least as many positive observations as negative ones.
What's the difference between a positive and negative safety observation?
A positive safety observation might be seeing someone using proper manual handling technique to lift a box.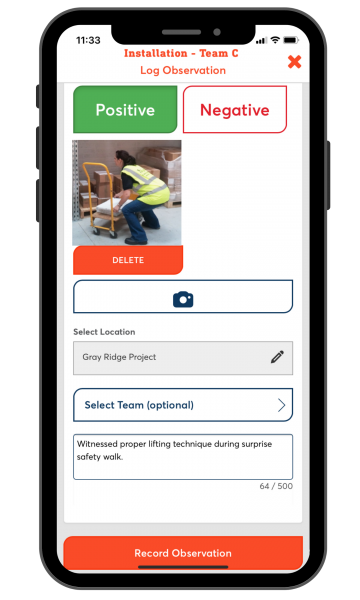 A negative safety observation is someone use their knees, forget their brace, and lift a box in a way that makes you wince from across the room.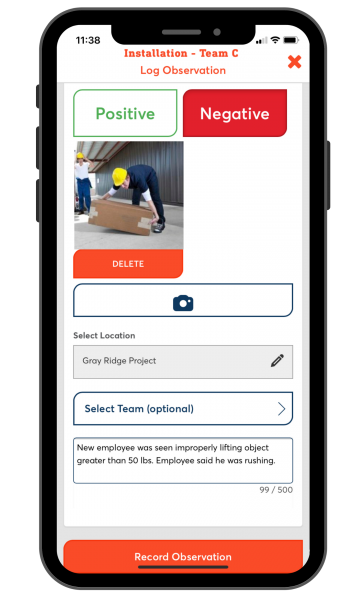 Why is balance so important? If you have 250 positive observations and two negative ones, you have a lopsided view of what's happening on the ground. So, if you go out into the field and spot 20 people lifting boxes using a safe technique, but you don't record the 10 people who nearly threw their back out, then your data doesn't give you an accurate picture.
Balancing positive and negative observations helps you avoid blind spots and prevents you from playing the blame game. You can use positive observations to figure out what's working and negative observations to find weaknesses in your strategy.
Record Safety Observations in Context
You just did a walk through and saw everyone in the correct PPE. It's going to be a good day, alright!
When you record your observation, include more than the fact that everyone's rocking their gloves and glasses. You want your safety observations to have a context to frame what's happening.
There's no need to write a full report. You can compromise your safety data by making it too complicated. Instead, use a standardized observation form to include details like:
Make contextual observations even simpler by recording all your observations in the Safesite app. Then, you'll find all your data in one place, and you have a standardized, custom format at your fingertips, so you can record the detail you need without going overboard.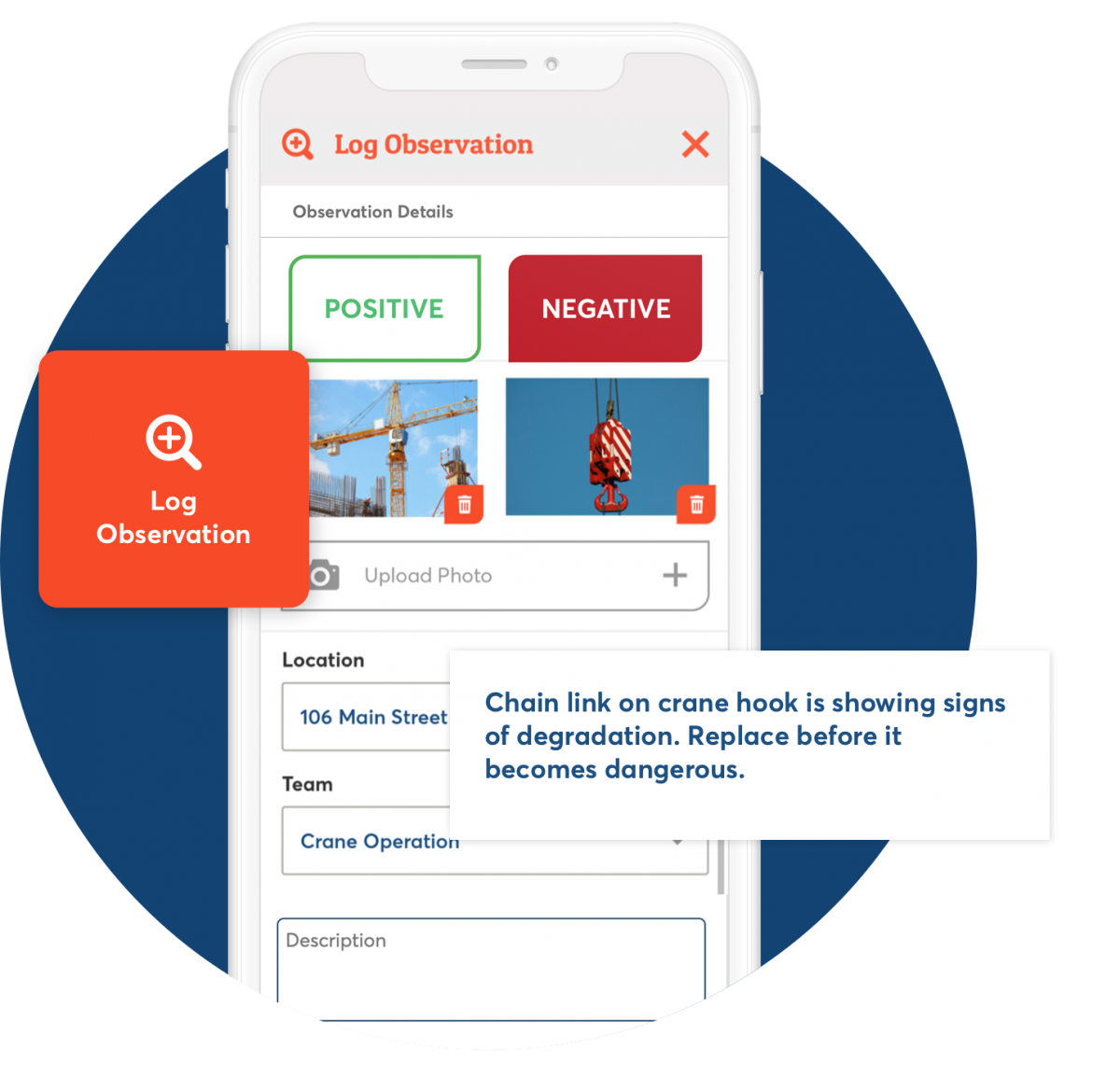 Safety Tip: Use photos and videos to capture the moment and help you understand the progress you make over time. As a bonus, they also provide hard evidence of compliance and engagement, which you can share with your boss, company leadership, clients, and even your insurer.
Share the Knowledge with Workers
As you gain insights, share and review them with managers and teams. These are a great way to use positive reinforcement for safe behaviors and begin to adjust unsafe behaviors that pop up. It also lets teams know what you're up to and what you see, which means you look less like you're sneaking around.
Don't forget to say "thanks" when you provide positive reinforcement. There are times where the "safe" way takes more time or energy. While choosing the safe course is always worth it, any message is better received when it comes from a place of gratitude.
Measure Improvement with Observation Data
The data you have is precious, and you want to spread it far and wide. And these observations just so happen to make compelling reports.
If you logged your observations using Safesite, then the software generates these reports for you. Use Safesite's data analysis to take a deep dive into specific data or see the big picture. Plus, Safesite's predictive engine breaks down ways to increase safety based on your progress. And it's easy to track, download, or share those analytics across your organization.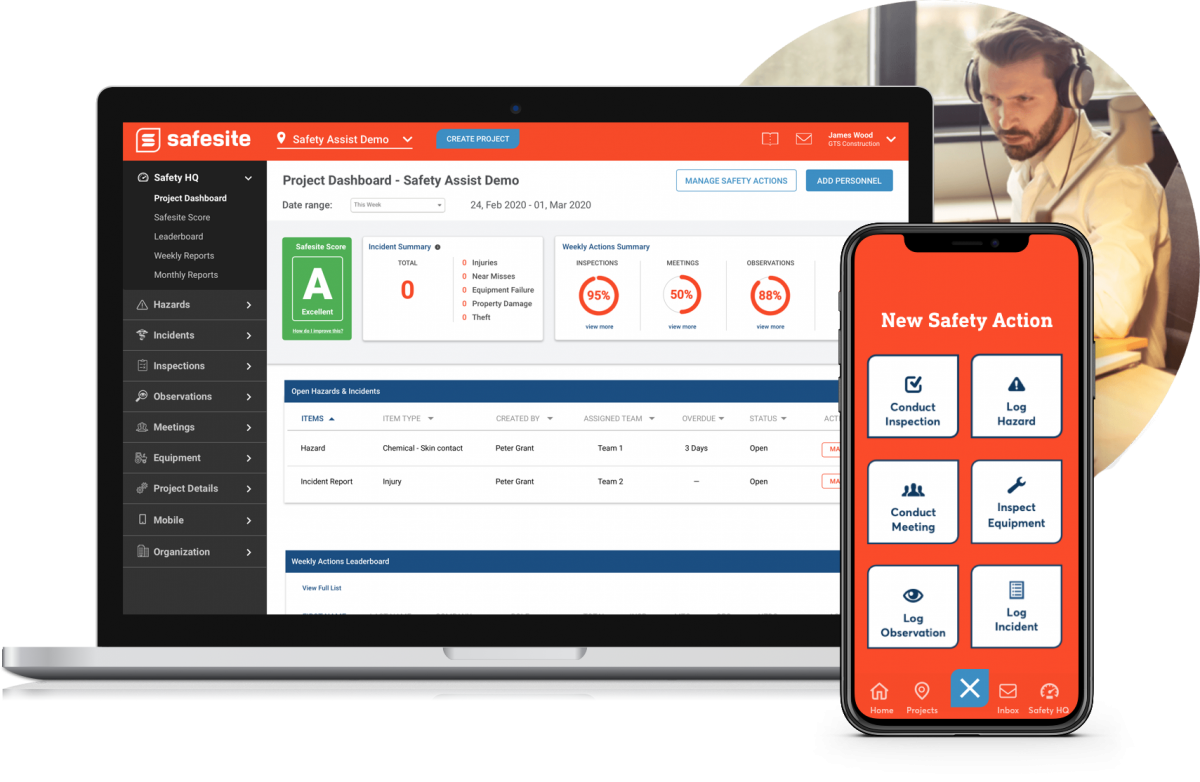 Your reports stay within your dashboard, making it easy to go back and compare progress over time. Share your results with the team to boost morale and with your boss when it's time to go after that performance bonus.
Let Observations Show You the Way Forward
Safety observations give you vital insight into what's happening on the ground. When you set up a collection plan that involves workers and keeps context in mind, you can turn what's happening in front of your eyes into measurable, actionable data.
Safesite helps you make sense of safety observation data. By empowering teams to collect uniform data and showing you the future through data analysis, you'll find it easier to see what parts of your safety program are working and where you need to go back to the drawing board.
Hear the Latest from Safesite
Subscribe to our newsletter to receive the latest updates.
Hear the Latest from Safesite
Subscribe to our newsletter to receive the latest updates.