Whether you're starting out in a career in safety or growing the safety program at your organization, you'll need to know what to expect in terms of job responsibilities and salaries for various industries in the US.
In this post, we're exploring job descriptions and salaries for the most common workplace safety management roles in the US.
Each role has a different level of responsibility, and as the roles advance in seniority, they require higher levels of knowledge, experience, and education — not only in safety management but also in related fields, such as leadership, employee wellness, information technology, business, and public health. Explore them all below!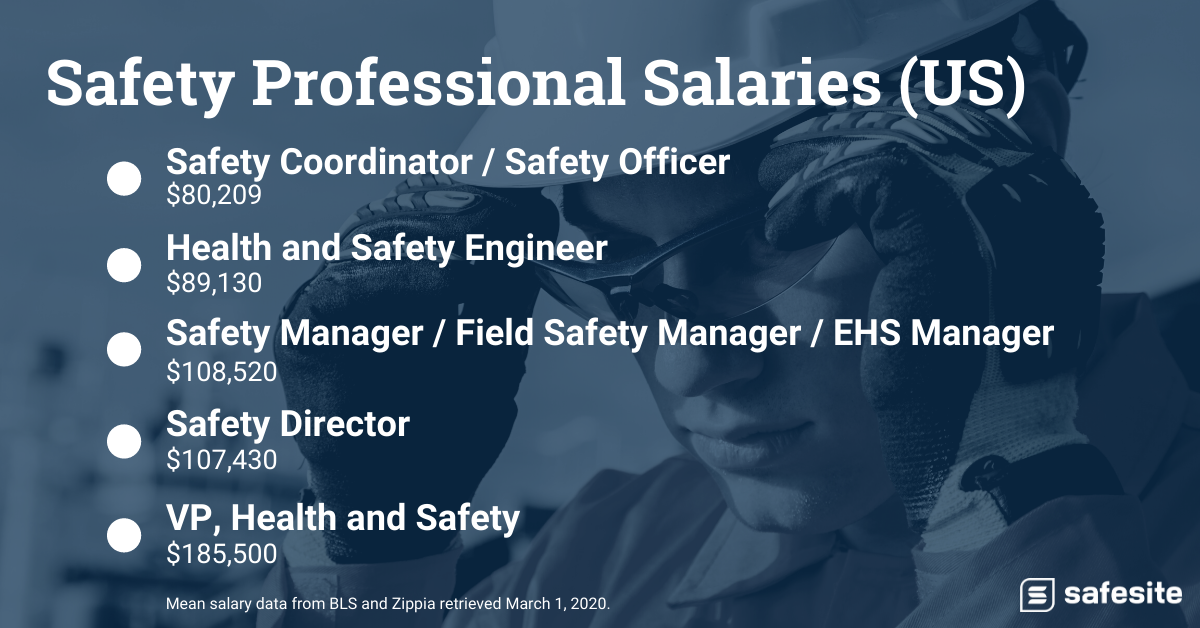 Safety Coordinator or Safety Officer
A Safety Coordinator or Safety Officer is responsible for the planning, execution, and assessment of employee safety. To accomplish this, they create safety policies and procedures that are in line with regulatory requirements, such as the U.S. Occupational Health and Safety (OHS) guidelines.
The role isn't just involved in planning workplace safety policy. They're also the lead investigator in the event of an accident. Their job is to identify the cause of the accident and assess whether it was the product of a safety policy (or a gap in the policy) or if it occurred in violation of the safety policy.
Safety Coordinators and Officers are also in charge of safety training and safety documentation. In the U.S., they are usually the position in charge of updating and displaying the OSHA Form 300 log, which is the record of recordable workplace accidents.
Research from Zippia shows that the average Safety Coordinator pay differs by industry with an average salary ranging between $78,484 and almost $84,000. The top-paying industries include:
Retail – $83,716
Energy $82,790
Utilities – $80,457
Construction – $80,209
Transportation – $79,585
Manufacturing – $78,458
Safety Manager or Field Safety Manager
The Safety Manager is the key overseer of any organization's safety program and ensures compliance with all federal, state, and local laws and regulations. They take on roles like providing the appropriate training for managers and supervisors, assisting in inspections, and providing materials for supporting health and safety at work.
Safety Managers also work with the Safety Officer in investigating accidents and ensuring that injured employees have access to the right resources.
Finally, they serve as the liaison between the company and relevant regulatory agencies when applicable.
In cases where the worksite or project site is distributed, the Field Safety Manager conducts site visits to audit safety processes. These visits make up the vast majority of the Field Safety Manager's work week, and paperwork and reporting make up around 25% of the workload.
These positions usually require a minimum of eight years of safety experience with at least five years of experience in supervisory positions. At this point, you'll need at least five years of experience in the field in which you apply to work (construction, manufacturing, etc.).
Given that Safety Managers and Field Safety Managers are among the top earners in the health and safety specialist field, they can expect to be among the highest 10% of earners, with salaries at or around $108,520 (according to the Bureau of Labor Statistics).
According to Zippia, Safety Managers earn average salaries between $76,000 and $80,000, but top earning potential breaks into the six-figures.
The rank of top-paying industries almost flips between Safety Officer and Safety Manager as construction takes the top spot and utilities, retail, and transport hang out near the bottom of the list:
Construction – $80,145
Finance – $80,106
Energy – $80,029
Manufacturing – $78,629
Retail – $78,522
Utilities – $78,032
Hospitality – $77,058
Transportation – $76,725.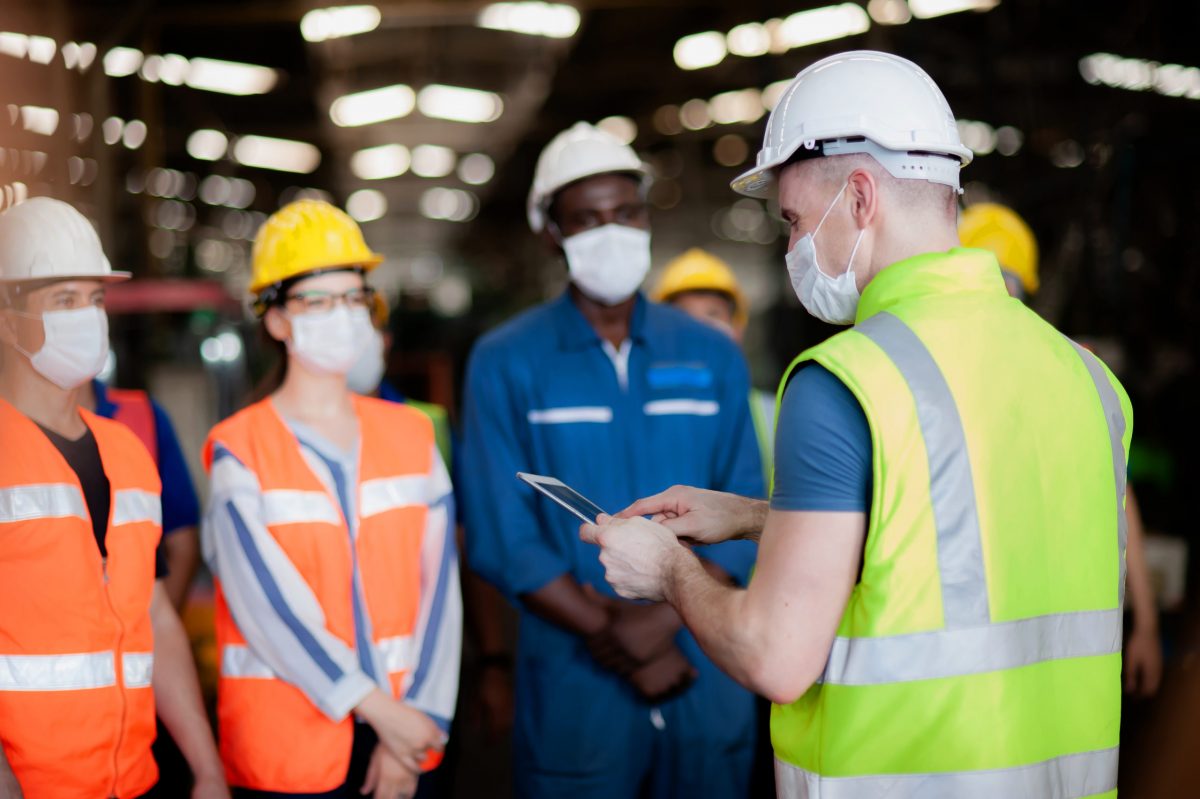 Environmental Health & Safety (EHS or HSE or SHE) Manager
The EHS manager's role reflects new attempts by organizations to roll health, safety, and environmental concerns into one position or department.
An EHS manager not only concerns themselves with company processes and procedures but the workplace environment itself, which can include air quality, ergonomics, and even increasingly factors like stress.
Unlike other safety roles, the EHS will also cater to the public as a stakeholder, as the environment also impacts those who aren't working on-site.
An EHS manager works to ensure the company complies with environmental regulations and standards, but they also work with senior management to assess workflow more generally to minimize threats and risk of injury.
Like other safety roles, they can also investigate incidents, participate in safety training, and work to streamline operations to ensure that optimal safety standards are reached without contributing to a decline in production.
The average salary for an EHS manager varies by industry. The Bureau of Labor Statistics places the role within the field of environmental scientists and specialists.
BLS statistics show an average salary of $71,130 for the field in 2018. However, the EHS manager also has substantial earning potential compared to other roles: the top 10% of earners in the field brought home over $124,620.
Zippia's data for EHS managers shows an average salary between $80,000 and $85,000. The highest paying industries tend to be:
Retail – $84,134
Telecommunication – $84,050
Manufacturing – $83,204
Construction – $82,331
Technology – $80,788
Health & Safety Engineer
Unlike a Health and Safety Manager, a Health and Safety Engineer engages in the actual design and creation of environments, systems, and policies and procedures to keep people safe at work.
The role is a dynamic one because it requires you to use best engineering principles as well as best practices in R&D and health & safety to minimize the potential for occupational accidents and injuries.
n addition to their own specialization, the role also collaborates with internal teams and external organizations and regulatory bodies, like the fire service or governmental organizations.
A Health & Safety Engineer may also find themselves installing, maintaining, and upgrading the safety devices they deem necessary for their programs.
They may also work with the Health & Safety Manager and any trainers to explain the systems they create to all stakeholders, including workers, managers, government regulators, and investors.
According to the U.S. Bureau of Labor Statistics, the median pay for Health and Safety Engineers in 2018 was $89,130 per year or $42.85 per hour. Zippia's data for the position shows salaries that are similar to the BLS data:
Retail – $92,630
Construction – $87,584
Automotive – $86,374
Technology – $85,138
Manufacturing – $83,610
Safety Director
The Safety Director role is a senior-level role that oversees both Safety Officers and Safety Managers in all programs across an organization. While many Safety Directors work for state and local governments, there is also a significant number of manufacturers, contractors, and subcontractors adopting this role.
Because of the breadth of the Safety Director's role, they typically require experience and certifications in each of the areas that they must manage.
For example, in the public sector, a city's Safety Director may oversee the police department, emergency medical services, fire service, and emergency manager. As a result, a public sector Safety Director will need certifications in law enforcement, fire fighting, EMT training, and FEMA certifications in addition to their supervisory and safety experience.
While all safety roles concern themselves with meeting regulatory requirements, this is a significant focus for the Safety Director.
The Safety Director must stay on top of changing laws and best practices from all regulatory and legislative bodies and be ready to communicate and implement them at their place of work.
The Safety Director typically reports to top-level leadership (either the C-suite in a private company or government leadership in the public sector). For example, the Safety Director for a city may report to the mayor of the town.
The median Safety Director salary was $107,430 in 2016, with the figure varying depending on both geographic location and industry. Third-party consultancy positions tend to pay more than local government jobs. Zippia found the average Safety Director salary varies by industry (but not much:
Healthcare – $100,772
Hospitality – $100,744
Transportation – $99,301
Manufacturing – $98,172
Energy – $97,844
Construction – $94,679
Retail – $93,338
Vice President, Health and Safety
The Vice President of Health and Safety role is a senior management position that provides strategic leadership for all safety personnel in the organization. Their responsibilities typically revolve around ensuring the effectiveness of all health and safety programs in place within the company as well as mentoring Safety Managers.
Perhaps the biggest difference between the Safety Director and the VP of Health and Safety is the participation in strategic management and change.
The Vice President typically reports directly to the CEO, which means they have a greater focus on integrating health and safety strategy with the overall organizational strategy. They will also analyze the risk potential of both existing operations as well as new opportunities.
Entering the Vice President role usually requires a minimum of a bachelor's degree and all relevant certifications as well as 10-15 years of experience in a related management or executive role.
Travel is also usually required, either to different worksites and/or on client and stakeholder visits.
Being a senior management role, the VP comes with a substantially higher salary, but because the number of roles available is limited, there's little available data on average salaries.
Some self-reported salaries suggest a salary range of $123,000 to $248,000 with a total compensation range of up to $410,000 (stock options, 401k contributions, benefits, etc.).
Executive with Safety Oversight Responsibilities
Not everyone with health and safety responsibilities has a named title. Both the CEO and the COO have responsibilities for occupational safety and health, even if they do differ from those with a hands-on role.
Their roles aren't just implied given their position in leadership. CEOs and COOs have duties that include:
Proper control of health and safety duties
Providing and ensuring a suitable work environment
Delegating duties but not accountability for safety
Taking responsibilities for health and safety management
Familiarity with regulatory requirements
In some places, like South Africa, these requirements are codified into law.
The Most Important Quality
When considering applicants for a safety job, ask yourself: can they coach employees to consider safety first?
If you're applying for a safety job, describe how you would lead your coworkers to take responsibility for their own safety.
No safety program is complete without leaders that can inspire every employee to work safely.
Hear the Latest from Safesite
Subscribe to our newsletter to receive the latest updates.
Hear the Latest from Safesite
Subscribe to our newsletter to receive the latest updates.